This shop has been compensated by Collective Bias, Inc. and its advertiser. All opinions are mine alone. #ArtofEntertaining #CollectiveBias The following content is intended for readers who are 21 or older.
My family just got back from our annual weeklong vacation to June Lake in the California mountains. And by family, I mean, not only my kids and husband but also my mom and dad plus my sister and her family. It's a lot. We rent three cabins, which have a large shared common area, and we plan all our meals together. Being that I am the youngest, and the least skilled cook of our group, I am not usually tasked with making dinner. But I still want to pitch in so where I really get to shine is in the appetizer department. And what goes better with an appetizer than a little wine? An appetizer that you make on vacation needs to be easy and delicious and this Burrata appetizer is both! There is nothing happier than happy hour on vacation!
I could have waited to shoot this recipe post until I got home but I decided that it would be way more fun to shoot it while actually sharing it with my family instead of just in theory (blog spoiler alert - sometimes things are staged...shhhhh...) You'll notice it looks a little different from my usual posts because I used only dishes that we had in our rented cabin. It was a nice departure from how I usually work. Although at the exact time I decided to start making the Burrata appetizer they decided to stock the lake with fish and everyone in our lake front cabins abandoned me to watch it. The great thing about this appetizer is that it doesn't need to be cold and the cheese might actually be better at room temperature. Thank goodness. I just knew I was going to catch one of those five pounders that they put in the lake but that didn't end up happening. Next year, fish, next year.
If you don't know what Burrata is, it is a cream filled mozzarella. And it's amazing. it's easy to find at some super markets and it's a nice change of pace from the basic cheeses usually brought out as an appetizer. It also seems a little bit fancy even though it's totally not. It's a great way to show off without doing any extra work. If that's what you are looking for in an appetizer, that is...
To go along with the creaminess of the cheese, I wanted to make a basil oil to give lots of fresh flavor. Fresh basil is my favorite!! When paired with a sweet, aged balsamic vinegar it's even more delicious.
I love to add a little bit of fresh lemon zest when working with fresh herbs. It adds a nice brightness without distracting from the bold flavors. And salt. Everything is better with salt.
Bread. Yum. I like to layer flavors even when I'm trying to make a simple appetizer. Because kids would be eating this Burrata appetizer too, I didn't want to have too much garlic flavor. One of my favorite things to do with bread is to rub it with a little raw garlic while it's still warm to give it an extra bit of flavor. There are no big bitter, chunks for the kids to get too much heat from but you get a yummy, subtle garlic flavor.
The basil oil was super simple to make. I just mixed everything together in a small bowl. I tried to chiffonade the basil as small as I could and then chopped the thin strings. If I had been at home, I probably would have given it a quick spin in the food processor but in this case I was just using what I had.
I poured the basil oil over the Burrata right before bringing it outside. Not a bad view, right? Every good happy hour includes wine. This Pinot Grigio from Estancia was a perfect wine to pair with this appetizer. Not only does it go really well with food, it's a great wine to serve to a group of people whose drinking preferences you don't know or have a wide range of tastes. It's a crowd pleaser. Estancia was one of the brands I remember from when I was just starting to try different wines about 5 years ago. A goal of the brand is to over deliver on quality for the price point of the bottle. They don't compromise on their processes and are able to keep the costs low and produce a great tasting product. This Pinot Grigio is dry, not too sweet and totally drinkable. Estancia also believes that the best wines capture the spirit of their place of origin, as in the terrior or soil and climate of where the wine is made. As with many great wines, this comes from California and while I don't love a Sauvignon Blanc from California, I LOVE Pinot Grigio made here.
I get to see my sister and her family, on this vacation, once a year. So you can bet that we have a lot to catch up on. Being able to grab a bottle of great wine and share it around a yummy pre dinner snack is one of the things I most look forward to each year. The tropical notes of this wine, paired with its minerality, mean we all enjoyed drinking this handcrafted wine.
One of the reasons that I love to be in charge of happy hour is that it's sort of an extra special, not expected, chance to relax. While I like to entertain at home, I LOVE to bring the same principles of taking care of people and creating a fun experience for them to our vacation. Plus the acceptable start of happy hour is much earlier on vacation...The art of entertaining doesn't require fancy serving pieces, or a complicated menu. All you need is great food, good company and something yummy to sip on like Estancia Pinot Grigio.
Burrata Appetizer with Basil and Garlic Oil
Burrata is the BEST for easy appetizer recipes! This Burrata is paired with a delicious blend of garlic and basil oil to make the perfect bite of creamy goodness.
Print
Pin
Rate
Save
Saved!
Instructions
Slice baguette in to approximately ¼ inch rounds.

Brush lightly with olive oil and toast in a 325 degree oven for about 8 minutes or until golden brown.

Remove and let cool slightly.

Use the garlic that you cut in half and rub it on one side of the toasted bread rounds, then discard garlic.
Nutrition
Serving:
8
Servings
|
Calories:
182
kcal
|
Carbohydrates:
22
g
|
Protein:
6
g
|
Fat:
8
g
|
Saturated Fat:
2
g
|
Polyunsaturated Fat:
5
g
|
Cholesterol:
6
mg
|
Sodium:
328
mg
|
Fiber:
1
g
|
Sugar:
2
g
See more great wine pairings on the Estancia's Entertain and Pair site.
You may also like these delicious Burrata recipes: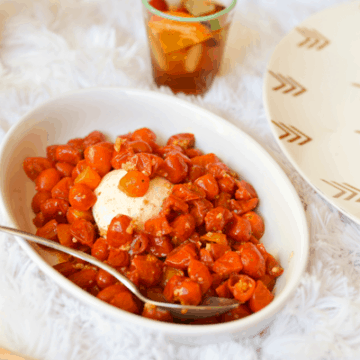 Peach and Burrata Salad . Roasted Tomatoes and Burrata Appetizer