Don't get stuck in the kitchen! These Spice 'n Easy Recipe Mixes from Savory Spice are the best dinner solution around! Who knew a seasoning packet could be my favorite dinner helper! They create delicious meals, FAST!
*I was given a few products from Savory Spice to try. I've since purchased more for my family because I love them so much.
I make dinner at home at least 4 nights a week. So I'm always looking for shortcuts and easy dinner ideas to speed things up.
I got an email about these Spice 'n Easy recipe mixes and was like, YES! This is what every mom needs in their life. They make dinner easy and stress-free.
Jump to:
Why Use a Recipe Mix
Recipe mixes are such a great idea. They usually consist of a seasoning packet along with a shortlist of other ingredients you need as well as cooking instructions.
Such is the case with these Spice 'n Easy mixes from Savory Spice. I'm a long-time user of their other spices so I know that these dinner starters are made with quality ingredients.
Using one of these helpers to make dinner saves time, gives you a break from trying to decide what to make for dinner (which, let's be honest can be the hardest part!) and you get to serve a delicious meal that your family will love!
These are also a great, easy way to get the kids started with making dinner. The recipes are uncomplicated and the directions are easy to follow.
The flavors are amazing and you can tell from the moment you open the seasoning pouch that you're going to LOVE your meal.
So if you don't want to take the time to jazz up a rotisserie chicken or make Creamy Chicken Eden Isle, these kits are for YOU!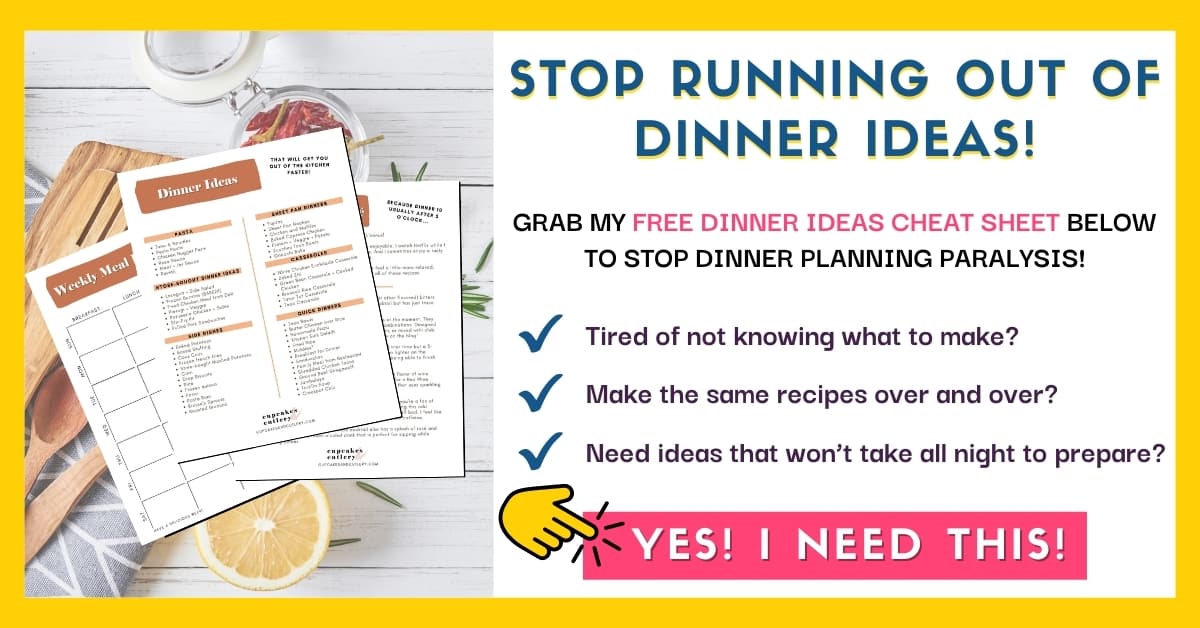 What Kind of Meals Can You Make
There are a variety of meals you can make using these Spice 'n Easy packets. The flavors range from classic to international. It's a great way to try out some a new style of cuisine with your family.
Some of these packets are made to use in the slow cooker, while others can be made on the stove in minutes!
You know your family best so browse the kits to see which flavors your family might like best. A few of our favorites are:
How to Work Them Into Your Meal Plan
While I am always budget-conscious, I am not that girl who is going to skip out on convenience products at all costs. I like to add one of these dinner starters to our meal plan once or twice a month.
When I'm planning my meals for the week I just go browse the dinner kits I have on hand and choose which one I feel like making that week.
Then every once in a while I head to the site to repurchase our favorites and see if they've released any new ones.
*Tip: Be prepared! The site has so many awesome products that you will end up with a full cart. Watch for their specials as you're shopping. It's a great way to try out some new things to see if you like them while saving money! (The Cinnamon Bun Popcorn Seasoning...YOU GUYS!)
How to Use The Seasoning Packet
Each recipe packet will tell you the other ingredients you need to buy. Once I've picked which recipe I want to make, I look to see if I have everything else I need or if I need to add something to my grocery list.
Most of these packets only require a handful of other ingredients. To make the Sloppy Joes you see in these images, I just needed to add water and ground turkey.
The directions walk you through how to make the meal and even give you serving suggestions. Putting your meal together couldn't be easier.
Can You Make Things Other Than Dinner
Yes! There are spice kits available to make things other than dinner!
Where to Buy These Recipe Mixes
These recipe mixes are exclusive to Savory Spice. You can buy all of them online but there are a handful of stores around the country that may also have them available.
Use the store locator to find a shop near you.
The mixes are sold separately but it looks like now you can also bundle 3 of the same mix to save! You can also subscribe and save. And shipping is free for over $25.
You can also shop from Savory Spice on Amazon! They are not part of prime so you will need to pay for shipping on top of the cost of the item.
Final Review
Not all dinner kits are created equal. The flavors on these kits from Savory Spice are my favorite! They are worth every penny.
The flavors are bold and you can tell the spices are fresh. There aren't a ton of additives so these feel like a better choice than most dinner kits you can find on the shelves of your local grocery store.
We haven't made one of these meals that we didn't like! Even the kids!
These would make a great gift idea for new parents, newlyweds and even your kids heading off to college.
And, of course, these are perfect for busy moms who love delicious food but need a bit of a break!
Frequently Asked Questions
How long do the Spice 'n Easy meals take to make?
The Jerk Chicken was FAST! It required browning the meat and then mixing the seasoning packet with water in the pan. The Huli Huli Chicken was a little bit more hands-on but still ready in under 30 minutes. You can see the directions for each mix on the site to make sure it fits your needs.
Can you modify the recipes?
Yes. While the spice packets are pre-mixed, you can change up any of the other ingredients the package calls for. For the Huli Huli Chicken, I used chicken breast instead of the chicken thighs. For the Sweet Jerk Sloppy Joe's I used the ground turkey as they suggested but you could easily use ground beef or a plant-based alternative.
How much do the recipe mixes cost?
The dips start at $3.99 with the dinners varying between about $5 and $11 (for a package that comes with lentils so basically it is including the protein in the package as well).
Related Posts