Use my free printable wine label on a bottle of rosé and drop off a sippable surprise for a friend who is having a bad day. "Bad Day Rosé" takes less than 5 minutes to make at home and will turn a frown upside down.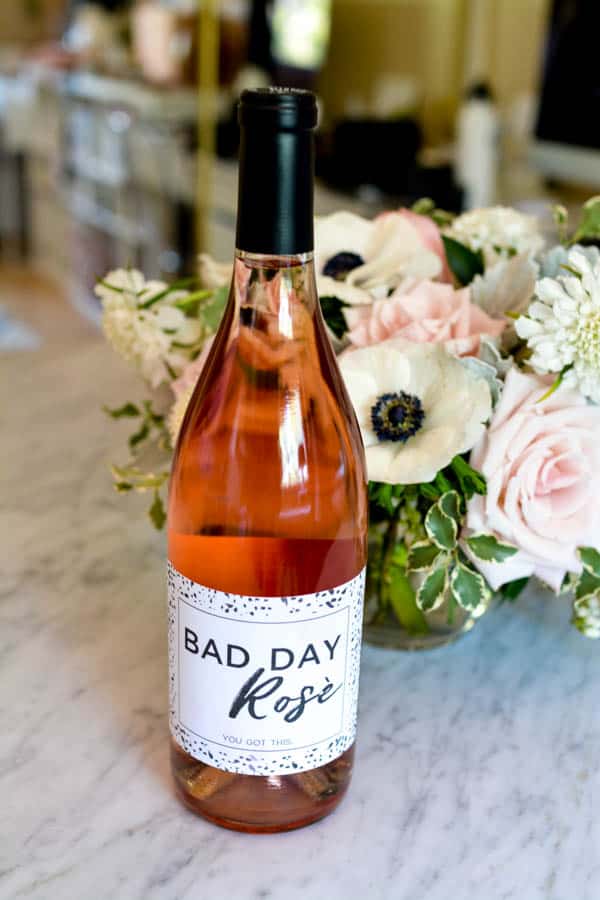 Download a Printable Wine Label
Dropping off a bottle of wine is a nice gesture to let a friend know you are thinking about them. But adding a fun printable wine label can make it even more enjoyable.
If you're looking for the perfect solution for brightening someone's day who lives in your neighborhood, it doesn't get much easier than gifting a bottle of wine.
Related: 5 Bottles of Good Rosé
This is a super simple DIY gift idea that will help brighten someone's day with very little effort and a fairly low cost. Just print out the "Bad Day Rosé" label and add it to a favorite bottle of rosé wine.
This drop off gift idea would pair perfectly with a batch of Rosé Cupcakes...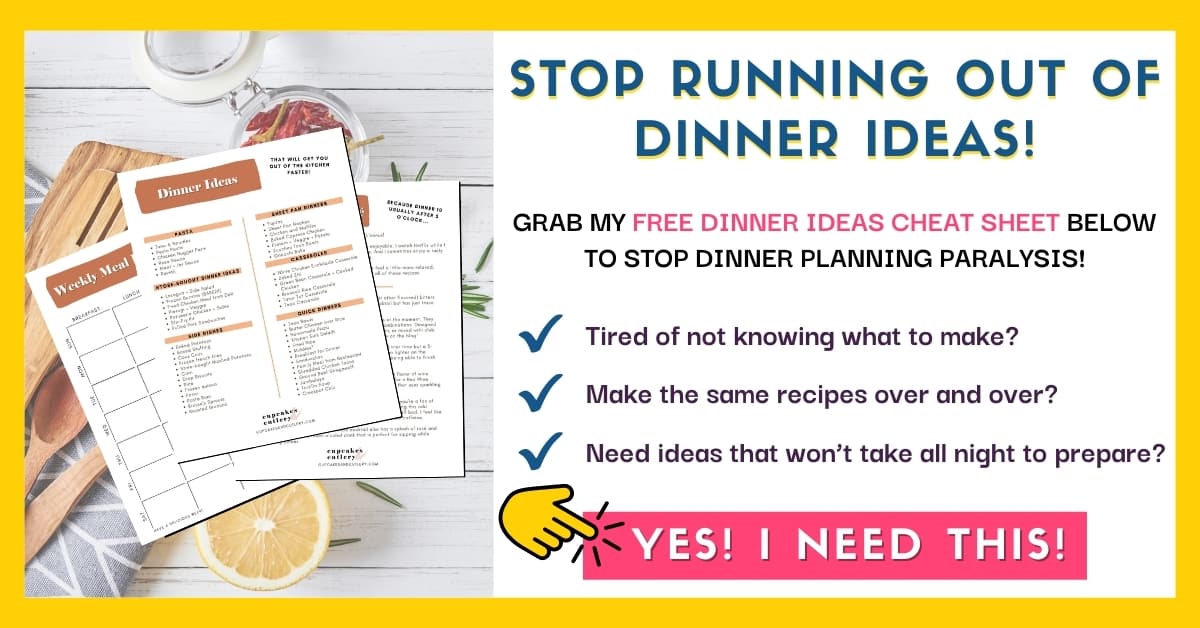 Supplies
As long as you can download a pdf and send it to a printer at home, you won't have any trouble making this wine gift.
Scissors will help you cut the labels and I prefer to use full-sheet label paper so that they will stick right to the bottle.
And you just need a bottle of wine to put it on. You can use plain rosé wine or a sparkling rosé.
How to Use These Printable Wine Labels
Download
To make it easy, I created two wine labels for a page. Use one now and save one for later. We KNOW that our mom friends have bad days. The second printable label will get used. Trust.
Download the Bad Day Rosé label by clicking on this link.
Print
Print the wine label out on full-page sticker paper (probably my favorite labels ever made because they're so versatile).
Cut
Then cut out the free printable wine labels. You can use regular scissors or a paper cutter. Whichever you have or prefer.
Stick Label on a Bottle of Rosé
Place your smile-inducing label on the bottle of wine and you're all set.
I didn't even bother to remove the other label. I just put this printable wine label over it. If the original label was too large, you can use warm water and some dish soap to remove it. They usually come off pretty easily.
Drop off wine
Your friend doesn't even need to be home to give them this gift. Just leave it on the doorstep and send them a text letting them know to look for a little pick-me-up.
Your encouragement (the wine, too, don't get me wrong...) is what your mom friend really needs when the day has gone wrong. Let her know you are thinking about her with this simple gift idea.
Whether she drinks the wine straight or makes a Rosé Lemonade Cocktail, she'll love the sentiment.
Keep these free printable wine labels for bottles of rosé handy and ready to use. And hope that someone returns the favor when you need it.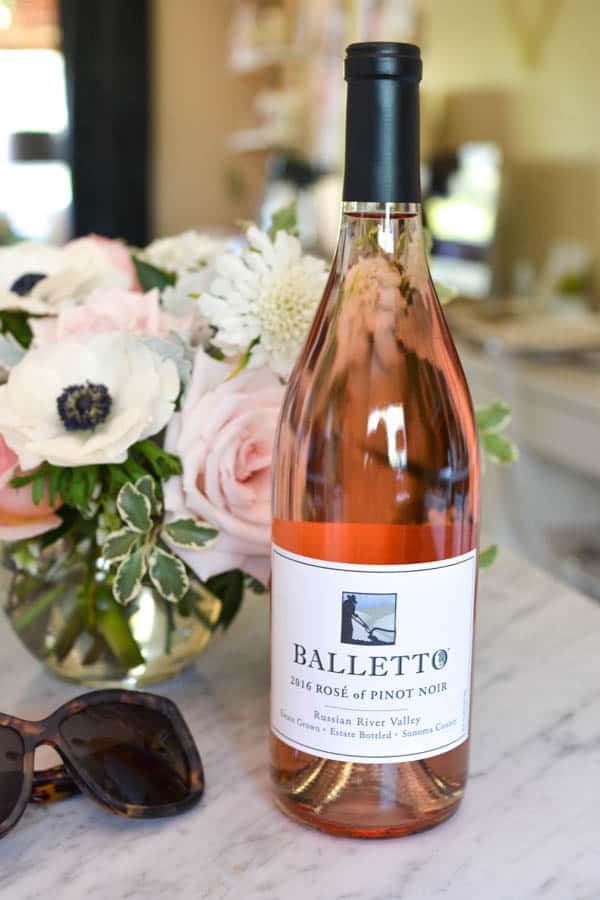 Why I like Balletto Rosé
Balletto Vineyards sent me a bottle of their 2016 Rose of Pinot Noir to try. Grown in the Russian River Valley of California, this wine has notes of cherry, strawberry and lime (YUM!) combined with perfect acidity, minerality and a delicate texture. YOU GUYS.
I get sent wine and some are better than others. This one is delicious! I generally like my rosé from Provence. But this one is giving my fave brand a run for its money!
I like the tiny hint of sweetness with all that minerality. It's crisp and bright and perfect for warm weather. I'm going to go ahead and finish this bottle. You know, just to make sure it's as good as I think it is.
Or you can check out more good rosés that I really like. Truthfully any bottle of rose looks darling with my printable wine labels.
Thank you to brands, like Balletto Vineyards, who send me wine. Because that's awesome.
More easy gift ideas for friends
More rosé posts