Hosting Thanksgiving? With all the hot out of the oven dishes you'll be serving, you need to make sure you have the perfect place to put them.
These easy DIY Tile Trivets will protect your table and fit in with any table decor. You can make as many as you need and keep your table looking cohesive at the same time.
If you love to host friends and family, these trivets can be used over and over again.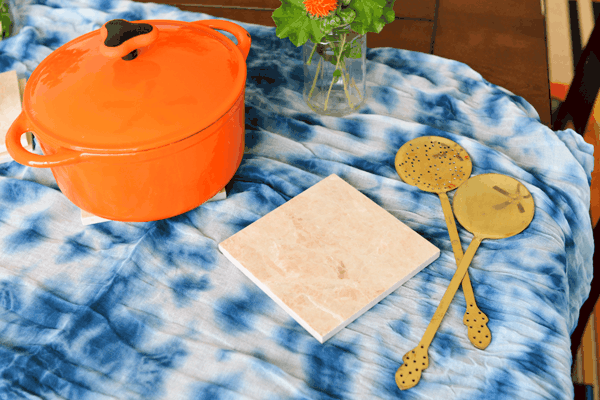 Some links in this post may be affiliate links. As an Amazon Associate in the Amazon Services LLC Associates Program, I earn from qualifying purchases by linking to Amazon.com and affiliated sites. I also participate in affiliate programs for other retailers.
You need trivets
Do we have enough plates? Glassware? Will we be out of forks by dessert?
One thing I always find I don't have enough of are trivets. They are the last thing I want to spend money on but you need a bunch of them for your holiday meal.
I figured out an inexpensive way to create a nice looking trivet.
Thanksgiving is an intricate dance of getting all the side dishes timed perfectly to get to the table at the same time as the turkey.
And all those hot pots need somewhere to sit.
One trip to your local hardware store is all you need to make these easy them.
You'll have a set of matching trivets (I don't know why it bums me out when trivets don't match...), a bountiful table of food, and a full stomach in no time!
Shop my Pumpkin Cookbook
Want more pumpkin recipes? Check out the digital cookbook I created with some of my favorite bloggers.
How to Make DIY Tile Trivets
I found this 4-pack of marble tiles at my local hardware store.
Head to the tile section to see what your store has to offer. They have all kinds of sizes and colors.
The pack I chose was less than $7 and is a neutral color that will go with just about every decor.
I didn't want to have to figure out how to get the tile cut so I just went with something right off the shelf to keep things super easy.
In another section of the store, I found these stick-on felt pads to keep the tiles from moving around and protect your wood tables from getting scratched.
See, so easy. Just put one felt pad on each corner of the tile.
If you want these to be more permanent you could always give them a little dab of hot glue or E6000.
If you wanted to make these into more of a hostess gift, you could easily pick up a cute rub-on saying from your local craft store or even hand paint a personal sentiment on the bottom.
My writing looks like a 6 year olds so I decided to leave mine plain. But as with all my crafts, I encourage you to take my idea and make them even better. Put your own stamp on them!
Use some string of colorful ribbon and tie them together for a super simple and easy gift idea.
They will take up a little bit of space. I got rid of some old, mismatched hot pads to make room.
I am not sure if these are food safe on their own, but you could easily turn these into little cheese boards if you cover them with a piece of waxed paper first.
And while trivets are usually good for hot items, these would also work as an extra large coaster for a pitcher of an iced beverage. It won't absorb the water, but will help to protect your table as the condensation happens.
Just add food and wine and your table is ready to party.
These modern trivets fit right into any table decor and won't stand out unless you want them to.
More holiday entertaining posts
Fun recipes for your holiday parties
How to Make Your Own Trivets From Tile
These DIY Trivets use tile samples you can get from the hardware store to help protect your table for all your holiday parties! Just 5 minutes is all you need to create a set for yourself or as a hostess gift.
Print
Pin
Rate
Save
Saved!
Ingredients
Floor tiles

size and shape can vary - choose a color or material that you love

Stick on felt pads
Instructions
Lay the tiles, face side on the table.

Use a damp cloth to quickly wipe the four corners.

Place a stick-on felt pad at each corner.
Notes
To ensure that the felt pads stick more permanently, you can add a dab of glue before you stick on the pad.
You can easily make a set of matching tile trivets to use over and over again! Pin to save this project for later!