For years I have been making my own custom party banners, using the same simple idea you see in stores. Cut-out letters and brads are all you need!
I'm showing you my favorite party decoration technique in this DIY Minecraft Birthday Banner tutorial. (But it works with literally any party theme or color scheme – because you can customize it!). If you love hosting parties, you'll love this simple project.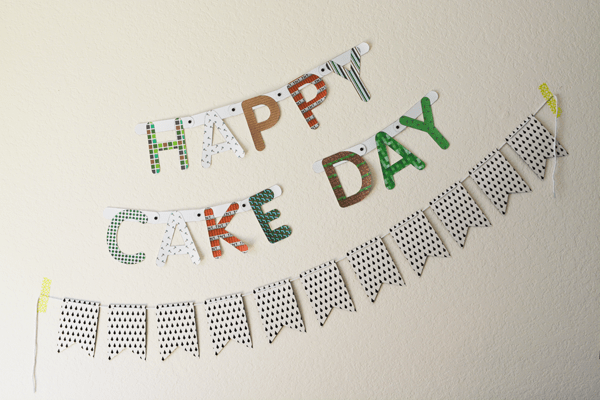 I freaking love those pre-made banners they sell in the stores. You know, the ones with mostly primary colors and they say the generic terms like, "happy birthday" or "happy anniversary" and are held together with brads?
Urban Outfitters sometimes carries them that have profanity in them too, but my kids don't know what all those words are yet and I'm not going to teach them on a special occasion. (Update – my kids are older now and know everything. About everything).
My oldest son requested a Minecraft party this year. I didn't want to have a real party. I billed it more as a playdate and invited just a few school friends over. That being said, he still expected some decorating.
Turns out Party City didn't sell Minecraft stuff (at the time). 2 days before the party is not the time you want to be finding this out. While now I could turn to Etsy, back then I did a lot of party DIYs to get the look I wanted.
So I decided to make my own DIY Minecraft Birthday Banner. But this idea will work with any type of party or theme. I have made these for years for all kinds of things.
They're especially fun to make for things that you may not otherwise find banners for like: "You went poo poo in the potty!" or "I'm sorry she broke up with you."
It does take a little planning to figure out how many of each letter you need and what you want the letters to look like (plain paper, patterned paper, fabric, etc). But it's the perfect way to personalize a party!
You can also hang a sign from a balloon, make a giant wall card, make a photo garland or put the guest of honor's photo on a balloon to add more fun details to your party.
Supplies
Computer
Letter templates (I used free ones from Quality Kids Crafts)
Paper to print on (cardstock is great!)
Optional, digital pattern to create a mask with to create a custom banner
I found Quality Kids Crafts around my youngest son's 2nd birthday. I made one of these brad banners that said "Miles is Awesome. And 2."
To make it easy, this site has a few ready-made sayings that you can just print out and cut. But they also have each letter of the alphabet and numbers too. Which is perfect for making your own signs.
I'm not going to lie. These take some time. Especially if you are crazy like I am and want to add your own patterns to the letters.
But if you are just printing and cutting, they really don't take all that long. Most of my crafts can be done while watching Naked and Afraid (my then-favorite show) or another show of your choosing.
How to Make a Custom Minecraft Banner
There are a few ways you can do the letters so they are specific to your party theme, in this case, Minecraft.
The easiest way would be to just print these out on colored cardstock, cut out and hang.
Because I needed to inject a little bit of Minecraft flavor into the decor, I bought Minecraft digital papers on Etsy.
I could have just printed out the pattern first, to make patterned paper, then put the patterned paper back in the printer to print the letters on (just make sure you know how your printer prints and if you need to the put the pattern face up or face down – do a test before printing the whole banner).
With my very basic knowledge of Illustrator (but you can also do this with Canva but you'd have to figure out how to add the "tab" part at the top of each letter.) I was able to use something called clipping masks to create each letter out of the pattern. (See image below).
I've also done this where I print the letter on cardstock in reverse. Then I used spray adhesive and stuck fabric to the back. Then cut out the letter so that it was the correct way when the fabric side was facing forward.
Choose whichever way makes sense for your crafty skill level.
The actual putting-together part of this Minecraft banner is super simple.
To save paper, I put two letters on a page. I found these great small black brads.
Cut out each letter and then punch a hole in each side of the tab across the top.
And then you just put the letters together. DIY Minecraft birthday banner. So easy.
This worked like a charm. My kid was stoked that he had a Minecraft banner. It was super easy to make and looked more like I wanted the party to look. Two birds. One stone.
Pair it with a loom garland or reusable fabric fringe garlands to create a fun party wall decoration.
Related Posts