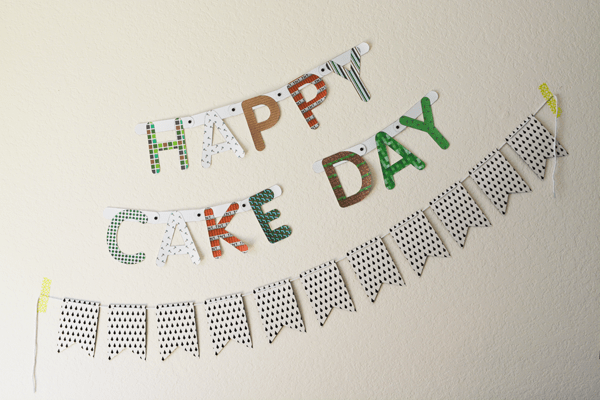 I freaking love those pre-made banners they sell in the stores. You know, the ones with mostly primary colors and they say the generic terms like, "happy birthday" or "happy anniversary" and are held together with brads? Urban Outfitters sometimes carries them that have profanity in them too, but my kids don't know what all those words are yet and I'm not going to teach them on a special ocassion. For years I have been making my own custom banners, using the same simple idea and brads. I have no idea why I haven't shared them before. But you simply have to start making these for anything and everything. My oldest son requested a Minecraft party this year. I didn't want to have a real party. I billed it more as a playdate and invited just a few school friends over. That being said, he still expected some decorating. Turns out Party City doesn't sell Minecraft stuff. 2 days before the party is not the time you want to be finding this out. So I decided to make my own DIY Minecraft Birthday Banner.
I found Quality Kids Crafts around my youngest son's 2nd birthday. I made one of these brad banners that said "Miles is Awesome. And 2." To make it easy, this site has a few ready made sayings that you can just print out and cut. But they also have each letter of the alphabet and numbers too. Which is perfect for making your own signs. I'm not going to lie. These take some time. Especially if you are crazy like I am and want to add your own patterns to the letters. But if you are just printing and cutting, they really don't take all that long. Most of my crafts can be done while watching Naked and Afraid (my new favorite show) or another show of your choosing.
Because I needed to inject a little bit of Minecraft flavor in to the decor, I bought these Minecraft digital papers. And with my very basic knowledge of Illustrator I was able to use clipping masks to create each letter. You could also just print and cut out the letters as is and then trace them on to patterned paper. I've also done this where I print the letter on cardstock in reverse. Then I used spray adhesive and stuck fabric to the back. Then cut out the letter so that it was the correct way when the fabric side was facing forward.
To save paper, I put two letters on a page. I found these great small black brads from Michaels, which also happened to be on sale. Yeah!
My mother-in-law helped me cut these out and then we punched a hole in each side of the tab across the top.
And then you just put the letters together. DIY Minecraft birthday banner. So easy.
This worked like a charm. My kid was stoked that he had a Minecraft banner. It was super easy to make and looked more like I wanted the party to look. Two birds. One stone.
May I also just add that I recently added a blog plug in to help with SEO and the mo fo took away my spell check? So…just keep that in mind if you see spelling errors. Yes, I fully rely on spell check to keep me looking smart.