Whether you're looking for smoother skin, help with wrinkles or improving the look of your acne scars, there's a treatment that many medical and spa professionals turn to to help rejuvenate aging skin. So what is microneedling? Is it right for you? Read on.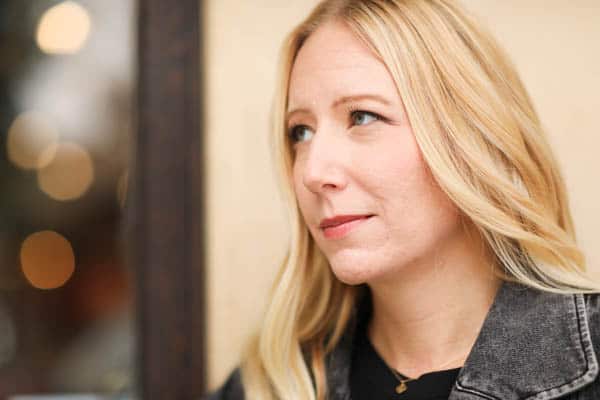 As a CosmetiCare ambassador, I receive treatments and share the experience with you. I am not paying for these treatments and will share the good (awesome results), the bad and the ugly (yup, you'll see pictures of recovery) as I experience it.
This post was originally published on October 5, 2017 and has now been updated with more details so you'll know what to expect before and after your microneedling appointment.
Acne scars are a frustrating problem for many people. And it's not just the physical scarring that's an issue. Often there are emotional and psychological effects on your self-esteem.
Microneedling might be the answer to your skincare woes. This process triggers a healing response in the body's tissues, and has been used for centuries to treat conditions such as acne scars, stretch marks, wrinkles and even cellulite.
Medical professionals have embraced this treatment in recent years with many dermatologists offering it as a way to rejuvenate aging skin. The best results are seen after multiple treatments done over the course of several months which means you can get back to enjoying life.
My trouble with acne started in my college years. It wasn't cystic, but I was left with scarring which has always bothered me.
While I try to use great anti-aging skincare products, it just doesn't get deep enough.
What is Microneedling?
A microneedling facial treatment, otherwise known as collagen induction therapy (CIT), is a great non-surgical option for skin tightening and reducing the appearance of fine lines, wrinkles, acne scars and other skin traumas.
This encourages collagen re-growth. The stamp-like motion of the device helps to break up the fibers and uneven scar tissue helping the skin to look smoother.
What is so cool about the microneedling is that it takes advantage of the body's own powerful growth factors which stimulate healing and rejuvenation.
Microneedling compliments other skin treatments, like chemical peels and laser treatments, as well.
Microneedling with PRP
They also offer microneedling with PRP therapy. Sometimes referred to as the Vampire Facial, the process includes reintroducing your own plasma to the areas where the micro wounds are which is said to help stimulate the collagen even more. Yikes, right?
If you want to skip ahead, you can head to my post with extreme detail about the actual procedure and what I thought of the final results:
Do you Need Multiple Sessions
The best results are seen after multiple treatments, done over the course of several months. This is not a fast fix as it will take up to 6 months to see the full results.
You can do a single appointment, as any stimulation of your collagen won't be a bad idea, but if you are doing this for a specific reason, like acne scarring or stretch marks, you'll want to do multiple treatments.
How it Works
A small device, with a tip holding 11 tiny needles, is used to create small, controlled, punctures in the skin.
The stamp-like motion of the device helps to break up the fibers and uneven scar tissue helping the skin to look smoother.
CosmetiCare offers several options for microneedling facial treatments. Since my scarring is pretty pronounced, I'll be doing a few treatments with a nurse, who is able to go deeper into the skin for better results.
An aesthetician can also do the procedure, at a more surface level, for cases that aren't as severe.
There are also at-home, rolling devices that can be purchased. But I would not recommend those unless you have a background in skincare. Making micro-injuries seems advanced and I wouldn't want to take that into my own hands.
Who This Treatment is Best For
Microneedling may be a viable solution for those who are struggling with the physical and emotional consequences of chronic acne. It is also suitable for those who have suffered from severe scarring, or stretch marks.
As we age, the skin becomes less elastic and the microneedling process can help to restore some of that flexibility and reduce the appearance of fine lines.
The benefits of this treatment are that it works on pretty much any area of skin, (although it isn't right for all skin tones) triggers a healing response in the body's own tissues and they are always adding new techniques and additions making this a great treatment to start out with.
How Long do Results Last
This is a loaded question. The results are based on factors, like age, skin issues you are trying to treat and an individual's skin health.
They say treatment results aren't permanent but I think my skin looks amazing still and it's a few years since I've done the three treatments.
It takes a few weeks to see the results after your treatment. And your skin will look the best for the next few months with all that new plump collagen. I notice that, even now, my skin looks the best if I stay really hydrated by drinking tons of water and also using a great skin care routine.
I've seen reports of people doing follow-up treatments about once a year after their initial treatments. I haven't done that (after my first 3 treatments) and I still love my results.
How Much Does Microneedling Cost
The cost varies, depending on several factors but is in the ballpark of $800 per treatment. I suggest scheduling a consultation appointment with CosmetiCare to see what your own treatment plan would look like.
This specific treatment was one of the reasons I was so excited to become an ambassador with CosmetiCare! It can be quite an expense to do beauty treatments especially the ones that require multiple visits.
(Spoiler alert: If you are looking for great results for your acne scars and are concerned about cost, you should also check out the CO2 Laser treatment. I feel like my results were AMAZING with just one treatment.)
Microneedling in Orange County, CA
I know not all of my readers are local to this area, but if you do live in Southern California, you should check out CosmetiCare. They are based in Newport Beach, CA right on the bay.
They have the best views from the waiting room. It's a great way to ease into your treatment if you've come with any nerves.
This is where I have had all 3 of my treatments done and have a few friends that have had them done here as well. They are professional and so knowledgeable about all these treatments and also skin health in general.
The best microneedling near me is definitely in Newport Beach at CosmetiCare. Check them out!
I've also done Botox with them several times as well as Restylane which made my dark circles look so much better!
What to Expect for Your Appointment
Skin Prep Ahead of Time
Skin preparation is dependent mostly on age. Since I am in my 40's I was instructed to stop using any lotions or soaps with acids (that you typically find in anti-aging products and acne products) for about a week prior.
Does it Hurt
As there are needles involved, you must arrive to the office 45 minutes early to have a numbing gel applied. If doing the PRP therapy, they will also draw blood when you first arrive so that the plasma can be separated out.
I don't want to gloss over this part. If done with an aesthetician at a more surface level, the pain shouldn't be too great. With a nurse, you go deeper into the skin, and it will probably hurt a little more.
From my personal experience, my first treatment was totally tolerable. It was uncomfortable at times, but fine. My second time, however, was excruciating. Turns out you can feel pain more if you are near or on your period. WHO KNEW!
For my 3rd and final treatment, I made sure to schedule it around that time of the month. It was better but still a bit painful.
How Long Does it Take
When the skin is sufficiently numb, the skin is cleaned off and you are ready to begin. A serum is applied to the skin to make sure the needles can slide across the skin.
The serum also helps skin to heal faster. The microneedling takes about 45 minutes depending on the size of the area being done (I'm doing my whole face).
Typically they do two passes on the face in the appointment. Be sure to point out any areas that really bother you so they can make sure to focus on those areas.
Video
Recovery Process
Is There Downtime?
The recovery time depends on which type of treatment you do. When you have an appointment with a nurse, the needles go a little deeper into the skin, and leave you with about 5 days of "downtime."
There is a little bit of redness immediately following, and potentially the next day, followed by a few days of peeling. Downtime after a session with an aesthetician is closer to 3 days as the micro-injuries aren't as severe.
You can see from the video in the post that my face was RED when the procedure was over. You will want to go straight home if at all possible. My youngest son cried when he saw me. It was my first major skin treatment and he thought it looked painful. It's that red.
On the day of my procedure, my skin was REALLY red and felt hot. I was not in pain, there was just a mild discomfort.
The next day, my skin began to feel like it was starting to dry out a bit. The peeling started and my skin felt itchy.
The major peeling happened on day 2-3 and by day 4 was almost all done. I could have worn makeup starting around day 3 but wanted to keep my skin as clean as possible as long as I could.
By day 5, I just had a few places with a bit of redness and almost no peeling. I could wear makeup and it looked almost completely normal.
How to Care for Your Skin After
It's important to keep your skin hydrated while healing. Your technician may suggest specific products to use at home in the days following.
My skin is very sensitive so I worked with them to find something that would help my skin heal and not cause more breakouts.
I made sure to keep my skin clean and pat my face dry. It's a pretty simple routine that didn't require elaborate steps or anything.
It's important to wear SPF (after day 4) as your skin can be very sensitive to light.
Related Posts
If you have aging skin or acne scars, then microneedling may be the answer to your skincare woes. This process is minimally invasive and has been used for centuries as a way to rejuvenate skin.
Medical professionals say this procedure is effective for treating acne scars, stretch marks, and even cellulite in addition to helping with lines on the face caused by age. If you're interested in learning more make a consultation appointment with Cosmeticare!