Kids' party themes can come from anywhere and this 2nd birthday party for my son was based on one of our favorite kid's books.
With whimsical illustrations and simple activities, I was able to create a memorable party, with a sweet message, that kids and adults loved. Use these ideas to plan your own unique event at home.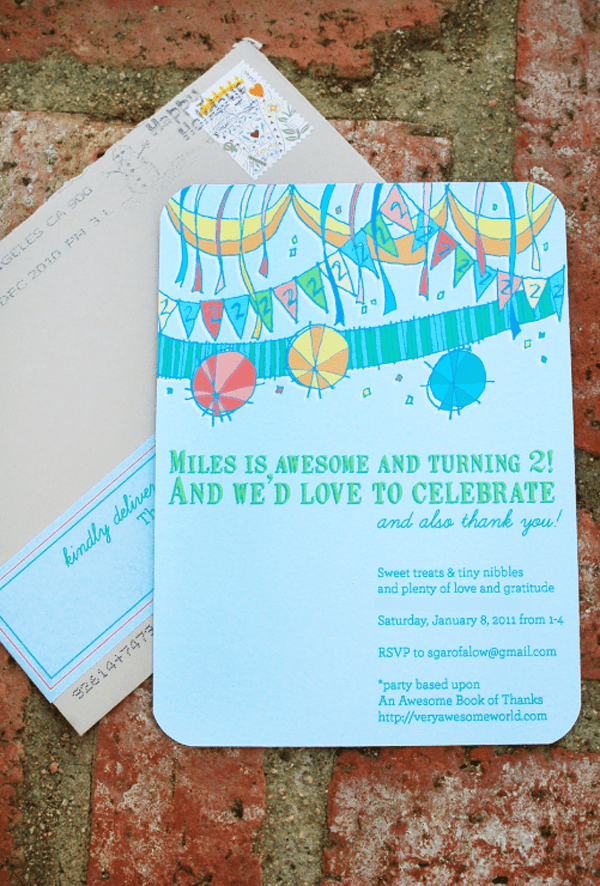 My youngest son turned 2 right after Christmas (almost 11 years ago!!) and I based his party on a book by one of my favorite children's book authors, Dallas Clayton. The book is called "An Awesome Book of Thanks" and it reminds kids to be thankful for all we have. You can click here to read the whole book.
The illustrations in the book are whimsical, the writing is playful but the message is important!
And because our friends and family are very important to us, we thought it would be a cool way to say "thank you" to them as well.
*These photos are OLD! And I can't find the originals. Hopefully, you can see the gem of the idea buried under the subpar photography.
How to Turn Your Favorite Book Into a Party Theme
Because I loved the message and art in the book was inspiring, it was pretty easy to turn it into a party theme.
Whether it's a book you read nightly with your kids or a book that you recently found, it will guide your planning and give you tons of ideas if you open your mind and stay creative.
I like to take a few notes of overall themes in the book, if a color palette jumps off the page at me, I note that too. Often, the vibe of something will drive me to make a playlist since I think music can be a really great way to enforce the theme at a party.
From there I make a list of all the things I will need for the party, like invitations, favors and food and see if the book can inspire details for those areas.
Invitations
I don't consider myself great at designing. And while it wasn't around when I was planning this party, Canva is my go-to place to create custom party graphics.
In this case, though I worked with Amber of Pitbulls and Posies. She read the book online and then drew up a quick draft of the invitation for me to review.
You can see in the image above, that she was inspired by the books design but able to make it feel new and fresh. It clearly looks like a kid's party invitation but elevated.
Reinforce the Theme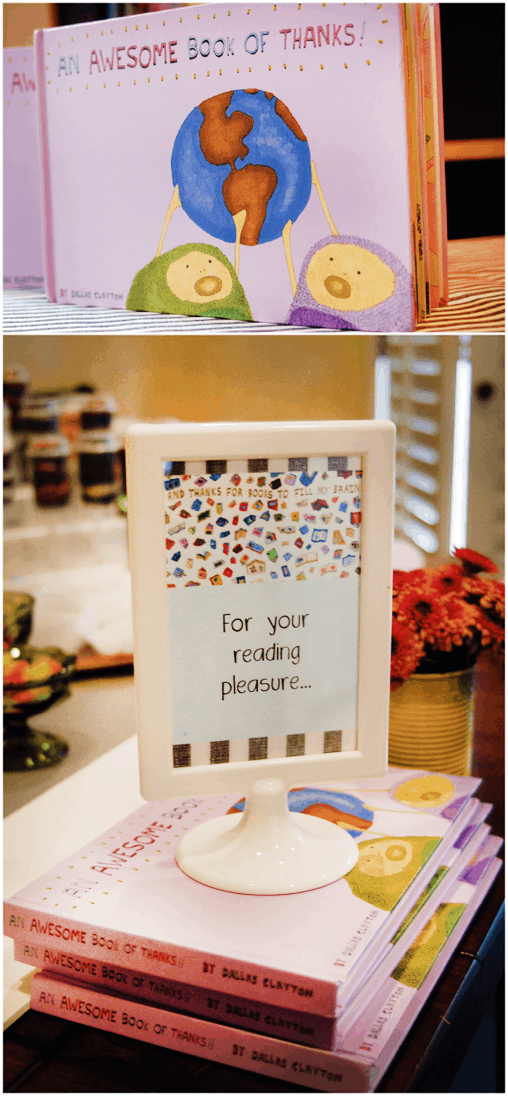 We put the web address for the full book to read online, on the invitation so that people were familiar with the book before they came to the party.
But in case they didn't get a chance to read it, I had plenty of copies around for anyone who wanted to read it. I also made sure they took one home if they felt compelled.
Not only did having the physical books remind people that the party was based on this special book, but because of the awesome design, it worked as decor as well.
Custom Decorations
The decor for this party was super fun because there was no guide and no expectations. It let me be creative and just have fun with it. I used braided fabric garlands (I used patterned fabrics as well as old t-shirts) outside and love how they look.
I don't think the picture does them justice. They gave the outside area a really fun atmosphere.
A knotted garland, fabric fringe garland or plastic tablecloth streamers would work too.
I scanned pages of the book and used some of the illustrations to create party signs and patterns to create custom party decor.
While I know that it is copyrighted work, I would never resell the items and just used the for the party making sure everyone knew who the original artist was.
For many more popular kids' books, you may be able to find custom party decor and supplies on sites like Etsy.
I was (and continue to be) really into custom word banners for parties. You can use my Minecraft banner tutorial to find out how I made the one in the image below. Again, I used copied pages from the book to create patterned paper that I then cut out into the letters.
I scanned in posters that were available on the Awesome Book website and printed them out larger in sections. Then I added them to colorful boards to make it bright.
Because we rented that house, I didn't want to use a ton of staples or anything. I just leaned the large boards around the exterior and it worked great.
Since I love mixing patterns I scanned a grey and white fabric that I had for the "tab" part of the banner.
And then a simple braided garland made from pieces of multi-colored fabric was used to add a little more decoration to the wall behind the food table.
I used empty cans that were spray painted in tons of fun colors to hold utensils, flowers and anything else that needed holding. It was a simple DIY that you can use with something you would typically recycle.
Party Food
We held the party in the afternoon and provided some simple snacks. I added a few photos of my son to the table to personalize the food table.
I served a simple Chex Mix and other simple party food like popcorn and fresh veggies. Those are just filler.
I much prefer to serve all the sweet stuff! Some brownie bites (or even a brownie cake would be great!) and cookies, in individual cupcakes paper liners were easy for guests to grab and go.
I didn't theme the food to the book, but could have. Sometimes you have to get extra creative, but if nothing else I could have named each item as something that was inspired by the book.
One of the treats I served were Push Cakes from Meringue Bake Shop. This was the first time I have served them at a party and they were a huge hit! She did three flavors, chocolate oreo, strawberry vanilla and chocolate pretzel - because I am obsessed with choco pretzels.
These were all vegan so they were safe for my older son's food allergies and they were scrumptious enough for everyone to enjoy. I set out some colorful gelato spoons in case people wanted to eat it that way as opposed to pushing them up.
I had my dad create the stand to display them because I wanted a riser situation. The adults were just as jazzed as the kids and several of them kept their container because they just knew they could use it for something else.
I did these in place of cake or cupcakes for everyone and just let people eat them when they wanted. No need to wait for a ceremonial cake cutting to dig in to the good stuff. I also didn't need extra plates or silverware.
A food table can be a great focal point for a party but you can get as elaborate or as simple as you want to.
Make Your Own Soda Bar
My four year old son came up with the idea of having a juice bar one day. Brilliant! My intention was to juice everything fresh and have everyone make their own blends. But then I realized (luckily early enough in the week) that it takes about 6 apples for 1 small cup of juice...totally too much work.
Instead, I went to Whole Foods and bought some natural juices and decided we would make it a make-your-own fruit soda bar. I provided club soda, Pelligrino and also Champagne (for the adults, of course) along with some agave syrup and ginger syrup.
I gave two recipe examples, but for the most part wanted to keep it up to the guest. I was so excited I got to use the alaphabet cups as I have been coveting them since I first saw them online. I think they fit in perfectly.
Since this was on my dining room table I was worried about the liquids and the condensation from the ice in the ice bucket. To fix that, I used a piece of wood that I had painted white and grey stripes on top of the table runner to display the juices and ice buckets on. It worked perfectly.
As with my other parties, I made a food information sign that let people know what was in everything I served. From food allergies to vegan preferences we cover a lot of bases with our friends and family.
This way I know that people can feel comfortable eating at my parties. To create the signs I copied some of the images from the book online and typed the info in the blank spaces.
Party Activities
I had two small activities at the party. I had my friend Erika read the story to the kids. Most of the kids enjoyed it. :) I did this because I knew the kids probably weren't all that familiar with the book.
Also, the book is pretty short so I knew that they wouldn't get too antsy.
The other activity was a watercolor activity. This idea came from Amber of Pitbulls and Posies. She suggested printing out some of the pages on watercolor paper for the kids to pain.
I thought it was a great idea but decided to add lines and ask them to write a thank you note to anyone they felt like they wanted to thank.
I set up a quick watercolor station with a tablecloth and inexpensive paints that they could use to color these pages. They let them dry in another area and could grab them on their way out of the party.
A Cool Cake Idea
I had just seen a pinata cake idea in a Donna Hay magazine and had to try it.
It's a cake with a hole removed from the center that is filled with candy then covered in a hard chocolate dome that has to be broken to get to the cake!
I gave my son a toy hammer to break the chocolate and it was hilarious to watch. The kids had no idea what was going on.
When the chocolate finally broke, the kids could see all the candy inside and they all cheered.
This is, by far, the best party idea ever.
All the kids were totally in to it.
Without the candy shell, you can see the rest of the frosted birthday cake and candy.
Since I already had the Push Cakes in the house, I didn't worry about cake for the adults. But I easily could have had a sheet cake in the house (away from grubby fingers).
Party Favors
For the favors I decided to let the kids put their own bag of goodies together. To tie it in to the book I printed out pages from the book and decoupaged them on to a board. I spray painted empty tin cans to hold the doodads and provided fun striped bags for the loot.
I used more painted cans to hold each item (making sure they weren't sharp at the top).
Most of the favor items were chosen because of things mentioned in the story. For example, one page shows a kid skateboarding, falling and getting a cut. I found finger skateboards and tied a few bandages to it.
Another one was a page showing sea animals. I found sea animal silly bandz and put them in cute little vending machine-style holders. Other items were little bundles of glow in the dark stars, rubber bracelets, magic rocks that my older son helped paint, rubber balls, plastic french horns and googly eye finger puppets.
The kids really liked the favor board.
This was such a fun party to plan because I got to be really creative and I loved all the colors and patterns I used.
You can use these same tips to create a party based on any book your kids love.
We put up a photo backdrop but no props or anything. I love that the fabric from Ikea already had a banner print on it and required virtually no jazzing up.
(Side note - my poor birthday boy got a fever right before the party started and while he tolerated everything, I am fairly sure we couldn't say that he had fun. :()
Related Posts
This post was originally published on Feb 13, 2011!