It's time! The bins are coming down and the holiday decorations are going up. And in the next few weeks, you'll be bringing home a tree.
Follow these tips for how to get your Christmas tree home.
It's one of our favorite holiday traditions!
Whether you're cutting your own tree or buying one from a lot, here's how to safely bring it home.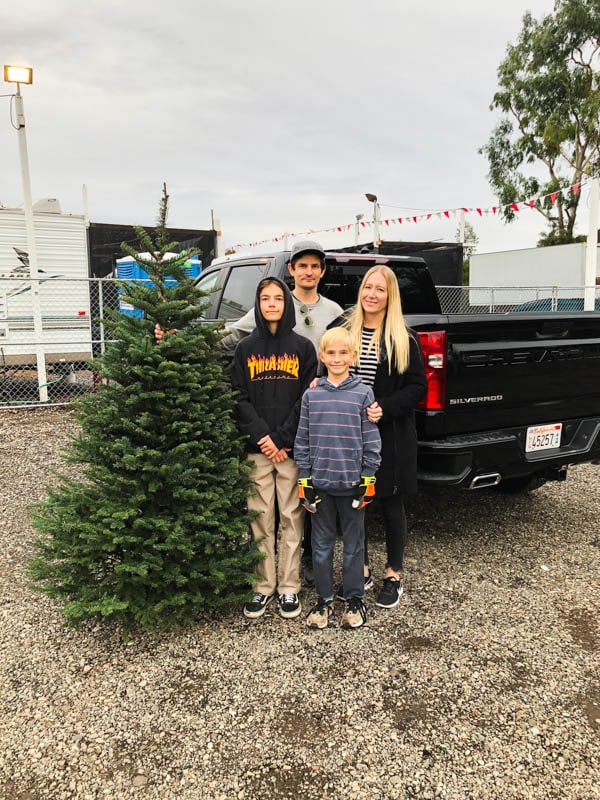 This post was created in collaboration with Chevrolet. They loaned me a 2019 Silverado to take Christmas Tree shopping!
This post was originally published on December 3, 2019, and has now been updated with details and reformatted for clarity.
Growing up, we always had a truck to get our Christmas tree home.
So when I got married, to a man with no truck, I was unsure about how this holiday tradition would go.
Between my husband and the tree farm employees, we always managed to get it tied to the top of our vehicle.
And it was an exciting ride home, wondering if the ropes would hold.
They always did thank goodness.
But I don't want you to have those same worries.
If you know how to secure a Christmas tree, you'll feel much more confident about the whole process.
Chevy dropped off the 2019 Silverado at my house and our entire family instantly fell in love. I was super nervous to drive it at first.
It's really big. But I just took a deep breath and I'm so glad I did! It was so much fun to drive.
It helped that I leveled up from an Equinox to a Traverse in summer. It was a great transition to driving the truck.
But if I'm being honest, I didn't get as much experience with it as I had hoped.
My husband took it every chance he got. And the kids actually wanted to run errands with us. All it took was a big 'ole truck!
Places to Cut Your Own Christmas Tree in LA and Orange County
We have never cut down our own Christmas tree before so we thought it would be a fun family adventure to do it this year.
I had no idea wandering through a field of Christmas trees would be so much fun. The kids loved every minute of it!
The Silverado was so fun to explore in. It's really comfortable and the boys loved the legroom in the back seat.
Cut Your Own Lots in LA
Cut Your Own Lots in Orange County
So Cal Field Trips put together a really awesome list of all the places to cut down Christmas Trees in Southern California!
From San Diego to North of Los Angeles, she found all the spots!
We went to the Peltzer Pines in Silverado Canyon.
And it was really fun. We got a little silly.
They ended up not having the type of tree we like so we played in the tree farm for a while and then headed to our fave mom and pop lot by our house.
But I wouldn't leave until we saw a tree get cut down. I wanted that experience.
What to Know About Cutting Your Own Christmas Tree
Measure
Before you go, be sure to measure the space in your home (including height!) where the tree will go.
It's hard to tell scale when you are standing in a field surrounded by trees.
And if your family is like mine, the kids always want bigger!
Be Prepared
Check out the FAQs of the Christmas Tree Farm you are heading to. Find out what you need to bring.
Gloves are always a good idea. And maybe boots. The farm we went to was pretty muddy after some rain.
Most of these spots will be happy to handle cutting down the tree for you.
They are trained. They have all the tools.
Test Your Tree
I think back to so many years where we visited 2 and 3 Christmas tree lots to find the "perfect" tree.
While I'm not suggesting being that discerning, you do want to touch the tree and make sure it's not super dry.
The needles should be spring-y.
Especially in California where it can warm up during December, you want to start out with a fresh, healthy tree.
How to Cut a Christmas Tree
If you decided to do it yourself, cut the tree low to the ground and straight across.
Have a buddy pull the tree slightly away from the side you're cutting to prevent the saw from binding and make it easier to cut all the way through.
How to Secure a Christmas Tree in a Truck
Christmas Tree Netting
If at all possible, have your tree put into Christmas Tree netting to make it easy and keep it safe as you take your Christmas tree home.
Because of the size of our tree and the size of the truck bed, they didn't put ours in a net.
Stump First
Put the stump-end of the tree towards the front of your truck to help mitigate movement within the bed of the truck.
Tie it Down Tight
Center your tree in the bed of the truck, loop twine through the integrated tie-down hooks and repeat to cinch with a "figure-8" motion securing the tree.
In the 2019 Silverado, there are 12 fixed tie-downs stationed throughout the bed of the truck to help you secure the tree from moving around while you drive.
Tailgate Up
The best way to transport your tree is with the tailgate up.
If your tree is bigger than your truck bed, you can transport it with the tailgate down – just make sure to tie a red ribbon on the end of the tree so drivers behind you can see it and follow local laws about items extending beyond your vehicle.
Securing a Christmas Tree to a Car
If you have a roof rack, it's a little bit easier to transport your tree home on top of a car.
You can secure the tree (stump towards the front of the car), with rope making sure to tie it tightly at multiple points on the rack.
You'll definitely want to have the netting.
And you may want to put a blanket down to protect the top of your car.
If you don't have a roof rack, it's a little bit harder but can still be done. Popular Mechanics goes into super detail!
Even though we ended up not cutting down our own tree, we still followed the tips above.
Don't forget to water your tree once you bring it home! Most often, the tree lot will give you tips for tree care.
But make sure to keep it watered daily. Dry trees are a fire hazard.
Now let's talk about the Chevy. Because we didn't want to give it back.
I loved how high the truck was. You felt like you were flying.
The size was totally fine. It might have been just a little bit wider than my Traverse.
And with the front sensor, I didn't miss not having a front camera for parking.
The rear camera definitely helped me when parallel parking or pulling out of a parking spot.
2019 Chevrolet Silverado
We drove the 2019 Silverado 4WD LT TB Crew in Black with Jet Black interior. It was an 8 speed automatic with a V8.
I am shocked at how great the gas mileage was on the truck! Like, I was really pleasantly surprised.
Unfortunately, I don't know anything about towing or pulling a trailer. But this truck can do it. And there are so many awesome features for it.
We also didn't take it out to test the 4 wheel drive. I just might not be that adventure-y.
It had a tailgate with lift assist that works with the remote that my boys geeked out about.
The center console was HUGE! I used it to hide my purse AND camera bag at the tree lot.
There are convenience features throughout like a little tray to put your phone on top of the center console. Everything is really thoughtful which I love.
Heated seats. LOVE!
The back seats had little storage compartments that were a fun idea. They wouldn't hold much but it was a great use of the space!
The side blind zone alerts and cross-traffic alert were awesome features.
The front console is full of buttons. You can control everything right there.
From making sure the trailer is attached properly to turning the lights on in the bed of the truck, it's all right at your fingertips.
It was such a fun experience buying our Christmas Tree this year! This is the earliest we've ever done it.
And now our house is a winter wonderland.
You'll definitely want to listen to this Christmas playlist while you trim your tree.
Related Posts:
If you feel unsure of how to get your Christmas tree home, these tips will help you secure it so you can bring home the holiday magic!