I live with 3 boys. So sometimes I need something that can help me make the house smell a little bit better. I'm also a wannabe hippie so I love the idea of good vibes and positivity and blah, blah, blah.
I love to diffuse oils but I also wanted to make a DIY room spray for good vibes to make it super easy to spritz around when needed. Because boys stink. With just a few ingredients you can make your own essential oil based room spray that will make your home smell great and bring all the good vibes with it.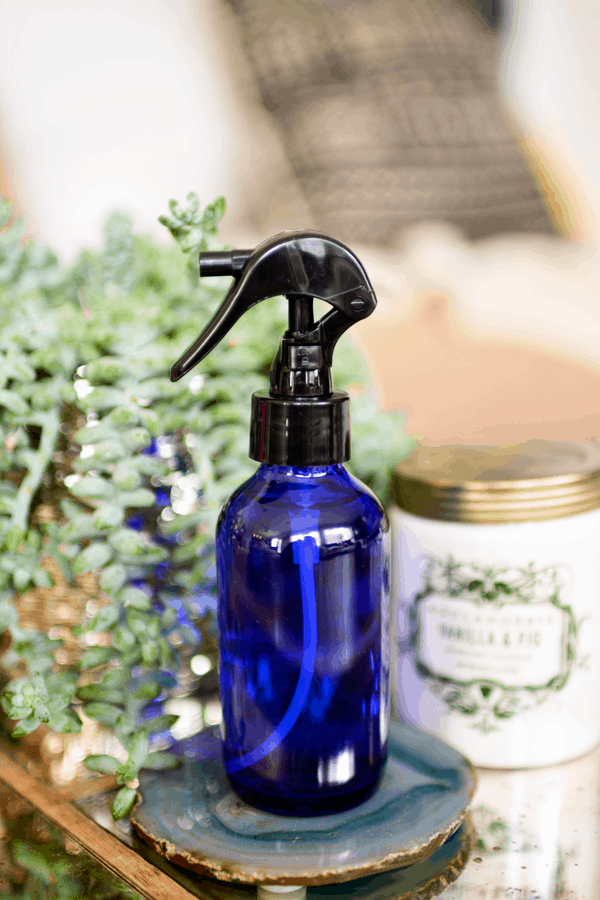 I only share things I love and think you will too. This post includes affiliate links, which means, if you purchase something through one of these links, I am compensated.
Your House Needs Good Vibes

Do you ever have one of those days? Yeah, one of THOSE days where either everything is going wrong or you just feel blah? I've been having way more of them than I would like to. So I decided that I needed to figure out how to get myself out of my funk when I find myself in a downward spiral headed towards rocking back and forth in a corner.
I love essential oils and have tons of them (I think they are a great way to include a little "me time" during your day). So I decided I needed to be more intentional with using them.
Regardless of whether you believe in oils or not, they smell amazing. And to me, good smells help me shift my mind frame. I made this good vibes spray to help change my negative Nancy mood. Mom life can stress a gal out, yo.
I'm guessing you can use some good vibes too.
How to Make Good Vibes DIY Room Spray
I don't remember where I came across it, but I read about a product called Agua de Florida. It's a Peruvian perfume (kind of), with lots of floral and citrus notes. It's supposed to be good for cleansing and washing away the bad vibes.
And if you read a little more, you find that a traditional Agua de Florida involves making it by moonlight and chant and such. Imma skip that part.
This smells amazing and if it happens to help lift up my spirits, all the better.
Supplies to make this rosewater room spray DIY
•glass spray bottle (I used a 4 ounce bottle)
•rose water
•witch hazel
•lavender essential oil
•bergamot essential oil
•ylang ylang essential oil
•lemon essential oil
•juniper berry essential oil
Instructions for your DIY room spray:
To your glass bottle, add 1 ounce of witch hazel. Add your essential oils and put on the lid. Shake well. Add 3 ounces rose water. Put the lid back on and shake well again. The witch hazel will help the oils distribute in the water better.
You will still need shake well each time you use it but this will help it to mix really well.

Everybody knows that lavender is the best and totally relaxing. Ylang ylang, lemon and bergamot are also mood uplifting and calming. And while I picked Juniper Berry because of how the smell works with the other essential oils, it also helps relieve tension and stress.
Feel free to change-up the oils based on the smells you like, but this is a fairly "traditional" recipe from my agua de florida research. Good vibes are just around the corner. Make this DIY room spray and spray all your cares away!
More Essential Oil Posts:
Shop For Room Spray Supplies
Pin this Good Vibes Room Spray for Later
If you feel like you or your home are in a funk you should definitely make this DIY Room Spray for good vibes! This refreshing blend of essential oils will help change your mood! Just spritz and smile.