Plan your patriotic party with one of these fun 4th of July drinks that will make your party pop! These red, white, and blue drinks are perfect for any festive celebration. No need to be a mixologist, these recipes are simple and easy to make. So, let's raise a glass and toast to America with one of these delicious drinks!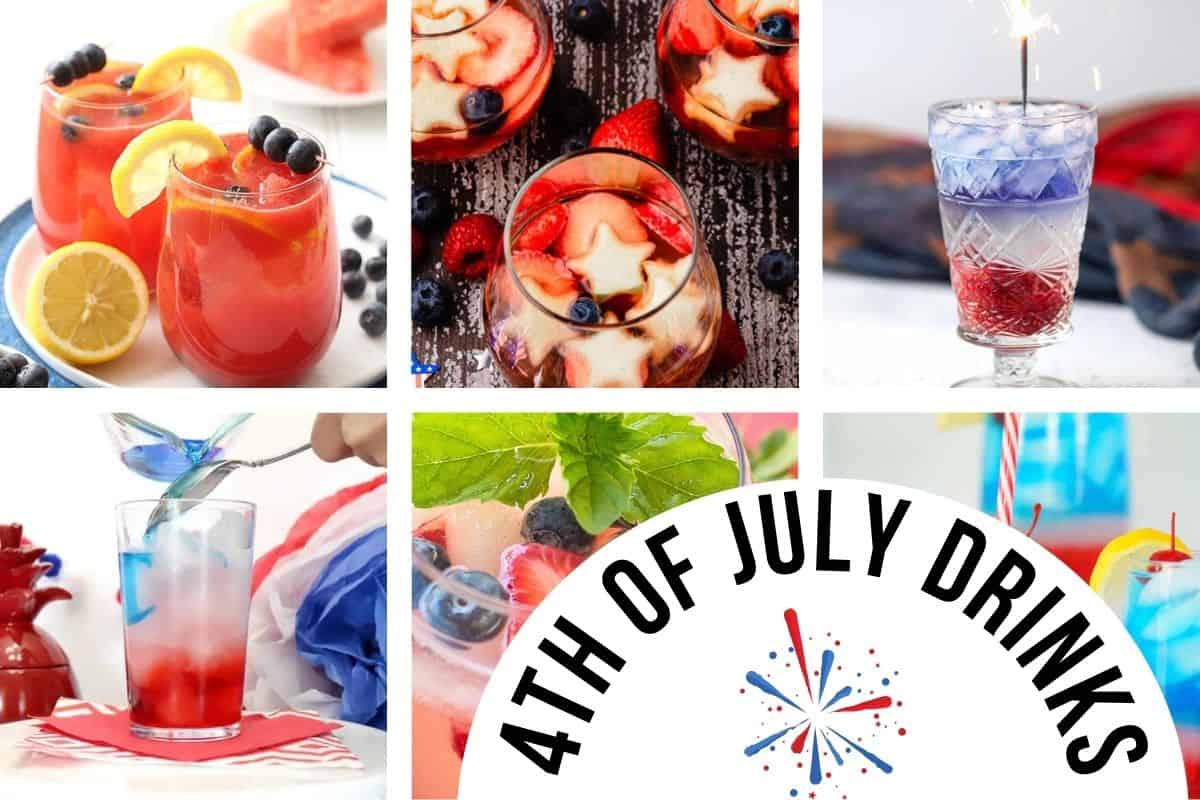 Jump to:
Easy Patriotic Cocktails
These easy Fourth of July cocktails with sweet fruits and berries, fresh herbs, simple syrups, and tart citrus are the perfect cocktails for patriotic parties. They are festive and stunning in red, white, and blue.
While I typically try to stay away from specialty liquors, especially the ones with wacky colors, sometimes people use the 4th of July as an excuse to buy something blue.
This list of red white and blue alcoholic drinks may include ingredients that you don't already have in your home bar. It's up to you if you want to buy a new bottle or if you want to choose a recipe with things you already have on hand.
Related post: 4th of July Jello Shots
4th of July Cocktails don't have to be hard. The drinks in this collection not only look incredible, but they come together quickly and taste great too. It's a win-win-win and they are perfect to serve at all your summer parties from Memorial Day on!
13 Easy and Delicious 4th of July Drinks
These simple 4th of July Drinks are red, white, blue, and perfect for patriotic entertaining. They are full of easy-to-source ingredients and will wow your guests.
Tips
Use fresh ingredients: Make sure to use fresh fruits and juices to create vibrant colors and flavors in your drinks. For example, use fresh blueberries in red cocktails and strawberries in clear drinks to create easy, festive cocktails.
Chill your drinks: Be sure to chill your drinks before serving. No one likes a warm cocktail on a hot day! You can also use frozen fruits to add a nice touch and keep your drinks cold.
Have fun with garnishes: Add a fun and festive touch to your drinks with creative garnishes like star-shaped fruits or colorful straws. Don't be afraid to get creative and make your drinks Instagram-worthy!
Serve in clear glasses: Serve your drinks in clear glasses to show off their beautiful colors. This also makes for a great presentation and adds to the festive mood of the party.
Make it a mocktail: Not everyone drinks alcohol, so consider offering a non-alcoholic version of your red, white, and blue cocktail. You can use the same ingredients and make it a fun and refreshing mocktail that everyone can enjoy.
Frequently Asked Questions
Can I use food coloring to create the red, white, and blue colors in my drinks?
While you can use food coloring, it's not the best option as it can alter the taste of the drinks. Instead, try using natural ingredients like berries or fruit juices to create the colors.
Can I make these drinks ahead of time?
This will depend on what recipe you are making. It's usually best to make the drinks as close to serving time as possible to ensure freshness and optimal taste. However, you can prepare some of the ingredients ahead of time and chill them separately before mixing them together right before serving.
Can I use any type of alcohol for these drinks?
Again, this will depend on which recipe you choose. Usually, you can use any type of alcohol you like, but keep in mind that certain types of alcohol may alter the color or taste of the drink. For example, using blue curaçao can give your drink a vibrant blue color, while using red wine will not create a red color. It's best to experiment with different types of alcohol to find the best combination that works for you.
Save and pin these recipes for later!
Save these recipes for later by pinning this post or clicking the teal heart at the bottom right of the page. For more recipes make sure you're following me on Pinterest, Instagram, and like my page on Facebook. If you make one of these recipes, be sure to leave a star rating and tag me in your pictures!
More easy cocktails