These drinks with Aperol have the perfect mix of bright citrus flavors and earthy undertones and are easy to make at home. They are delicious and unique enough to impress your guests (and your tastebuds!).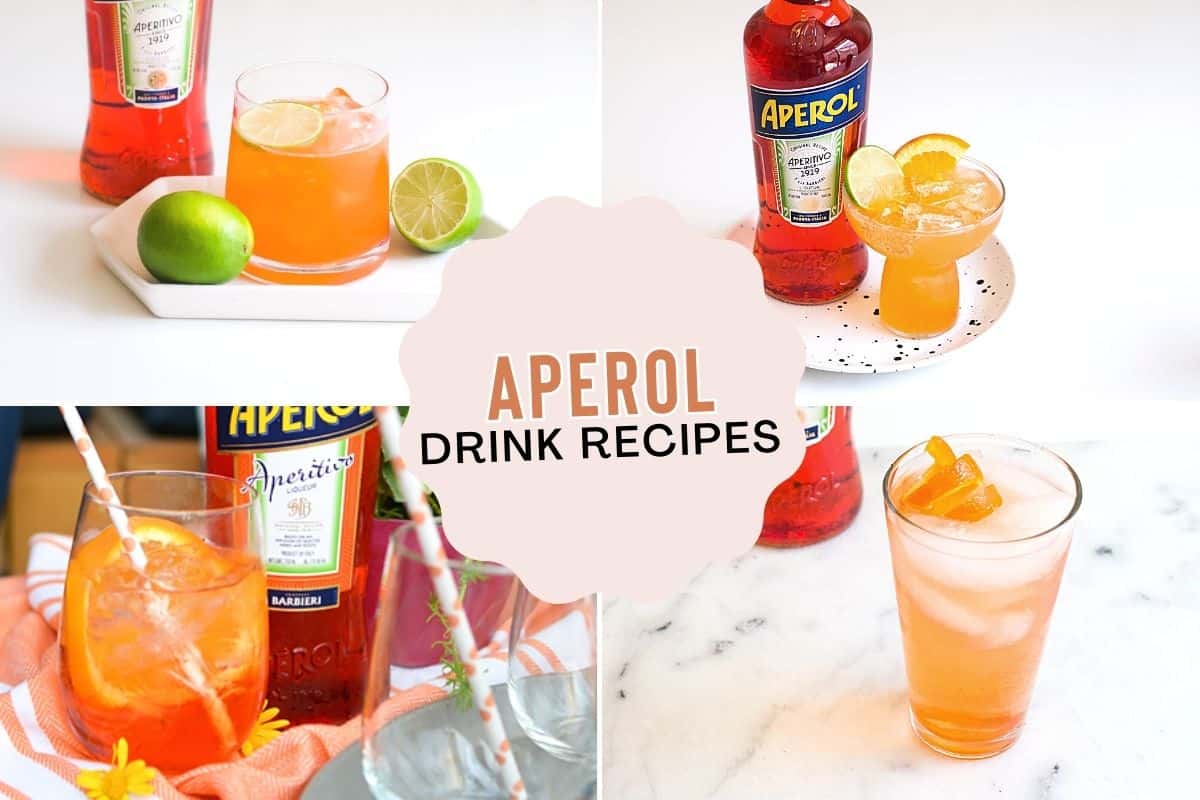 Jump to:
You'll love these Aperol drink recipes
These Aperol drink recipes are easy, and delicious and will give you more ideas of how to use that bottle of bright orange liquor you probably bought to make an Aperol Spritz.
The slightly bitter citrus-flavored aperitif mixes really well with your favorite spirits like gin, rum, vodka, and even sparkling wine and has become very popular over the years.
Aperol gets its unique flavor from a blend of flowers, fruit (like rhubarb) and bark (much like standard cocktail bitters).
Related: Flavored Margarita Recipes
At 11 % alcohol by volume, it isn't as boozy as tequila or whiskey, but it shouldn't be considered low alcohol. Especially since many of these Aperol cocktails include another type of liquor as well.
I never like to add a bottle of specialty liquor to my home bar unless I know I can make a wide variety of drinks with it. And as this collection of recipes shows, it's quite versatile!
These cocktails with Aperol have variations of orange tones thanks to the signature vibrant color. They are flavorful and oh-so-tempting on a hot summer day or with small gatherings of friends.
And while a spritz is classic (and delicious) there really are tons of other great ways to use it.
15 Aperol Cocktails
These cocktails with Aperol have vibrant colors and are full of unique, citrusy flavor. From simple drink recipes with just a few ingredients to more complex cocktails this list will help you decide what to mix up next.
Tips
Fresh citrus pairs really well with any drinks with Aperol. It helps to cut through the sweetness and the slightly syrupy vibe of the liquor.
Adding a splash of soda water to any of these cocktails is a great way to add even more interest to the glass. And it helps to dilute the recipes a bit if you're worried about how boozy they are.
Feel free to modify any of these recipes to suit your own taste preferences!
Frequently Asked Questions
Storage
Keeping your bottle of Aperol in the fridge is a great idea for two reasons. It's best served chilled so you'll always have it ready to go when making any of these Aperol cocktails. Keeping it in the refrigerator will also ensure its freshness for up to three months.
Does Aperol need to be refrigerated?
A bottle of Aperol doesn't need to be refrigerated but it will help to keep it fresh for about 3 months. It is also a great idea to use cold ingredients when making mixed drinks so this kills two birds with one stone.
How long does a bottle of Aperol last once opened?
If unopened, a bottle of Aperol can last for several years, when stored in a cool, dark place. Once opened it is recommended that you get through the bottle in a year.
What mixes well with Aperol?
Aperol is a great mixer for cocktails. It blends with other liquor fairly seamlessly. It goes really well with sparkling water or Prosecco and also flavored sodas and tonic water. It also goes well with fruit juices.
Save and pin these recipes for later!
Save these recipes for later by pinning this post or clicking the teal heart at the bottom right of the page. For more recipes make sure you're following me on Pinterest, Instagram and like my page on Facebook. If you make this recipe, be sure to leave a star rating and tag me in your pictures!
More easy cocktail recipes