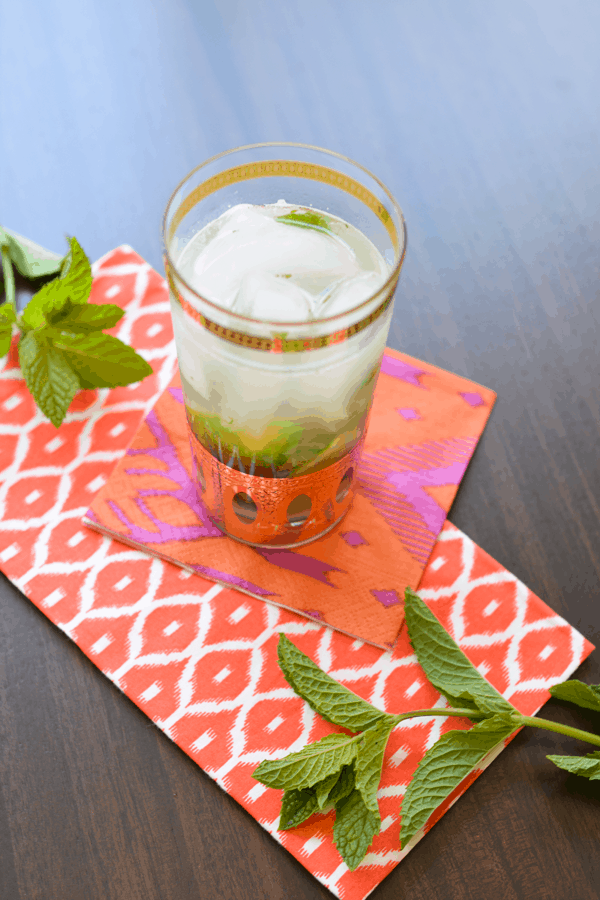 *I was sent a bottle of Patron Silver Tequila to use for this post. No other compensation was provided and all opinions are my own.  My opinion is that I really enjoy tequila.  Not in an over-indulgey kind of way. More of a connoiseur-y way.
If you are a regular reader you are probably like, what the heck is up with all these cocktail posts lately, Sharon?  Well, I just got finished with my creative retreat blogger weekend that I plan with Lauren every year.  The theme this year was cocktails (how to make them, recipes, etc. not just straight up drinking them spring break style) so I've been in full on cocktail mode.  I was looking for recipes that could be signature drinks for the weekend as well as easy to make recipes so the girls could make their own.  Of course a mojito had to be on the list.  And we did it with a little twist – a Patron mojito recipe, with Patron Silver instead of rum.  And it was yummy!
I felt really bad using Patron in a mixed drink.  It is so good on its own.  This is not a tequila that needs other things to mask how it really tastes.  This should have been used for straight up shots but well, we're ladies (most of the time) and shots, during the day, would have been uncivilized (No one has seen any photos right?  If there are no photos it didn't happen…).
A mojito is super simple to make and uses fresh mint and lime which are two of my favorite flavors ever.  And club soda.  I LOVE club soda.  You will often find me drinking a virgin mojito during the summer months. I find it so refreshing. But you have to use club soda in a mojito.  Never lemon lime soda.  Don't be a hillbilly. 
MMMmmmm, I can almost smell the fresh lime and mint through the screen.  Muddling really helps to release the juice and oils so the drink is flavorful.  If you don't have a muddle you could try using the back of the spoon.  But you really should get yourself a muddler. 
There it is in all its glory.  The Patron mojito.  It is a classic flavor combination but with the tequila undertones.  Yum.  Refreshing.  Perfect for summer nights. Of course if you have people over and they prefer rum in theirs, its cool.  You can just "unfriend" them after they go home. 
And there is something about the fresh mint that is at once relaxing and puts you in a vacation-y mood. 
Ingredients
1 1/2 oz Patron Silver
1 cut lime
1 oz simple syrup (if you like that sort of thing)
Club Soda
6-8 fresh mint leaves
Lime wedge for garnish
Instructions
In a tall glass, muddle mint leaves, lime and simple syrup (if using).
Add a cup of ice, Patron Silver and top with club soda.
Stir gently.
Garnish with lime wedge.
Recipe via Patron: http://patrontequila.com/drinks/search?q=mojito
https://www.cupcakesandcutlery.com/patron-mojito-recipe/
Copyright © Cupcakes and Cutlery All Rights Reserved www.cupcakesandcutlery.com
Thank you for supporting the brands, like Patron, that let me bring you cocktail recipes without going in to debt.  Because debt sucks.
Need another twist on a mojito, try a Coke-jito.