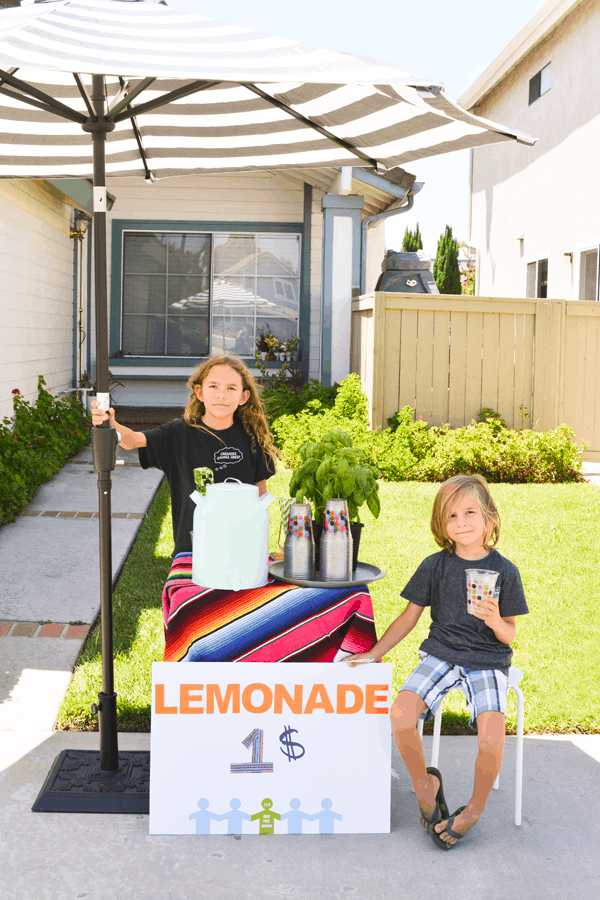 Do your kids love to have a lemonade stand? Mine do. And while we usually have them to teach the kids about earning money and get a very elementary look at running a business, this time we did it a little bit differently. We partnered with French Bull for Cheeky Home to share ideas on how you can hold your own lemonade stand and make a difference in someone's life.
First things first. Gather your supplies. I'm sure you've seen Cheeky Home products in your local Target. They are brightly colored and awesome (I'm especially in love with the new collab between French Bull and Cheeky Home). Whenever you buy their product, they donate a meal to someone who needs it, someone right here in the United States. How cool is that?! And because of that awesome philanthropy, we decided that instead of selling lemonade just for the sake of it, we would donate all the money we made to a local food bank. At first the kids were like, "Whaaaaaaaaaaat?" But as we planned our lemonade stand, we continued to talk about what it might be like to not have food when you wanted or needed it. And quite quickly, they came around.
They even got excited and wanted to be involved in every part of planning. Cheeky designed free printable signs and decorations for you to use if you want to host your own lemonade stand aimed at ending hunger and raising awareness. You can download the Cheeky Lemonade Activity Kit here. The decorations match the French Bull for Cheeky Products which means your stand will be color coordinated and simply adorable!
Signs were a big deal for the kids. During the planning, all they could talk about was making the lemonade and serving it to the customers. But the minute we got started they focused mostly on promotions. My youngest even discussed a method of attracting customers using a bow and arrow type Nerf toy that whistles, that he would launch across the street in front of cars to get their attention. Um, no. There was also talk of a sky writer. The next best thing was trying their hand at being a sign spinner.
Once the signs were made, we set about to make our lemonade. The kids wanted to help so I premeasured a Cheeky cup and marked it with the right measurements. This way they could easily measure and pour the ingredients in to our drink dispenser with very little help from me.

They carefully measured and worked together to make the lemonade. I really loved how seriously they took it.
Once the lemonade was ready, we headed back outside to get everything set up. We decided to put out a basil plant for an extra fun touch. I love fresh herbs in beverages so we put this out in case anybody wanted to make their drink a little more interesting. The best part was that pretty much all the kids that came by the stand gave it a try. My kids have never been fans of basil before, but having it in their lemonade, and getting to try it on their terms really opened them up to something new. I also think the basil cuts a little of the sweetness. It's a perfect pairing for the lemonade.
The kids loved getting the neighbors to stop for a cool drink on a hot day. They even remembered to explain where the money was going. This one has some serious sign spinning skills. And a very direct advertising approach.
The kids really took responsibility for the lemonade stand. My oldest surprised me with how business-like he was and how he managed the other kids.

A lot of our customers became employees which was really fun. The kids all knew why we were having the lemonade stand and where we were donating the money.
Although we talk about money from time to time, the lemonade stand was a really great way to talk take it to the next level and talk about keeping money out of sight, ethics and money handling. Lemonade stands are truly such a great activity for kids! And pretty delicious too. And the kids happily handed over their bank when we were done so I could make a donation.

Consider having a lemonade stand in your neighborhood before school starts. Send an email out your school friends and neighbors and let them know when you will be set up and that you are donating money to charity. It's a great way to get kids excited for school by seeing some of their friends, but also to remind them to be thankful for all that they have.

I want to give a huge thank you to Cheeky for working with me on this! It was such a great activity for me to share with my kids and I'm truly happy to share the message, of doing for others, to my readers. You can see more lemonade stand ideas and posts by searching #CheekyLemonade on Instagram. You need to be following their Instagram feed, it's so bright and amazing!
And as you head back to school, don't forget to look for Yoobi school supplies, also available at Target. When you buy a school supply, the donate a school supply to an American child in need.
*This post was sponsored by Cheeky Home. Thank you for supporting the awesome brands that let me share important messages with you and involve my kids in philanthropy.
Just like picking a pair of sunglasses or a purse, lemonade recipes are a very personal thing. I don't love sweet drinks so it is rare that I like lemonade. Adjust sweetness to your liking! The recipe below is basically one large pitcher of lemonade multiplied by 4. It will get you started at your stand but if you are in a high traffic area, have extra ingredients on hand to make more if needed.
How to Have a Lemonade Stand for Charity
This large-batch lemonade recipe is perfect for your neighborhood lemonade stand.
Print
Pin
Rate
Instructions
Mix it all together in a large beverage dispenser.

Adjust the sugar to your own liking.

Set our basil to enhance the flavor of the lemonade (it helps cut some of the sweetness a bit)
Nutrition
Serving:
1
g
|
Calories:
104
kcal
|
Carbohydrates:
27
g
|
Sodium:
15
mg
|
Sugar:
26
g