This creamy Chicken Eden Isle recipe is your new favorite chicken dish that you've never heard of! It's a simple recipe that is total comfort food, the type you dream about. Serve this the next time you need to make a delicious dinner for company.
Jump to:
Chicken Eden Isle is what we call this recipe. I'm pretty sure we got this recipe from my grandma. And it is baked chicken with cream of chicken soup goodness!
It's what I would always have my mom make for my special occasion meals growing up.
I used to think this dinner was tons of work and that's why we only had it once in a while. Then when I moved out and made it for myself I was totally surprised at how easy it was! Now I know that it's a great easy dinner recipe to make for the family!
I remember calling my mom after making this on my own the first time and asking her why we didn't have this more often. I mean, this was my birthday meal! The meal I thought was so elaborate and time-consuming that we could only have it on the very best of days. But it was all a lie!
Why This Recipe Works
This yummy baked chicken recipe is a few more steps than I would usually take on a weeknight dinner (because you have to bake something first and then make a sauce) but is so worth it once in a while.
The cream of chicken soup, cream cheese and sour cream make this recipe not something you would want to eat all the time (but great for Keto diets!). But you'll want to because the flavor is delicious! It's creamy and amazing.
It takes just a few minutes of prep time but then bakes in the oven. A quick sauce (you pretty much just need to stir) is the perfect finishing touch.
Served over rice, this meal is decadent and delicious. It's a great dish for company because it's not likely something they have had before. And it's fricking GOOD!
I truly can't believe how simple this recipe is. It's white, creamy chicken magic. And a lot of that has to do with the dried beef.
Ingredients
4 Boneless Skinless Chicken Breasts
Cream of Chicken Soup
Dried Beef
Sour Cream
Cream Cheese
pepper
Scroll down to the printable recipe card for the full measurements.
What is Dried Beef
Don't be afraid of dried beef. If you've never seen my Dried Beef Roll-Ups appetizer recipe, you really should take a look. I bet you didn't even know that you were missing out.
Chicken with dried beef is delicious! You can find dried beef in the canned meat aisle, usually near the chili. It's super salty.
It's getting a little bit harder to find in grocery stores but I can usually find it at Walmart.
Some people recommend rinsing each slice with water to take away some of the saltiness. But I am far too lazy for that. Just don't add more salt before you taste the finished dish. And maybe pour yourself an extra glass of water to be safe.
How to Make Creamy Chicken Eden Isle
1. Bake the Chicken
In a baking dish, top the chicken breasts with dried beef slices. There is no wrong amount of beef to use. It's always one of my family's favorite parts so I like to load it up with beef.
Top the chicken with dried beef with cream of chicken soup. Yes, this is super gloppy. Just use a spoon and try to spread it around as much as possible. It won't be even but it doesn't matter.
Top with black pepper.
Bake, covered, in a 325-degree oven for an hour.
Uncover and bake for 20 minutes longer until the chicken is tender.
When fully cooked through, remove chicken to a plate and cover with foil to keep warm.
2. Make the Cream Sauce
Add all the juices and drippings from the roasting pan to a saucepan.
Add the sour cream, and cubed, softened cream cheese.
Heat until melted, stirrying constantly. It will be a bit chunky. You can use a whisk to try to make it as smooth as possible, but with the chunks from the cream of chicken soup, and the roasted chicken from the pan, it won't ever be all the way smooth.
3. How to Serve
I've always eaten Chicken Eden Isle (also sometimes known as Chicken Breast Eden Isle) over rice. FROZEN RICE IS MY FAVORITE THING EVER!
Since I've already used 2 pans to make this meal, ain't no way I'm using a third to make rice. These are so easy to pop in the microwave. It's one of my top dinner hacks for busy moms!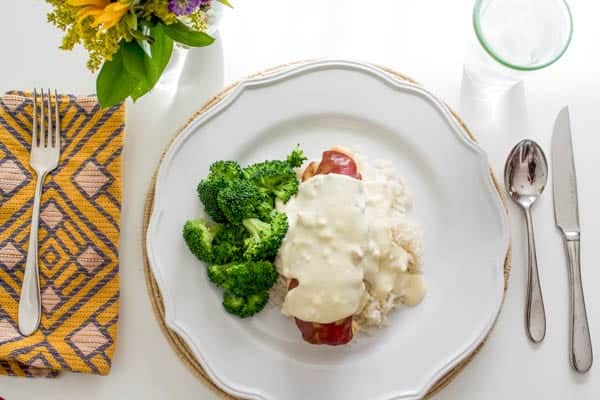 I always serve this with a side of steamed broccoli (the preferred method being microwavable). It pairs so well with the creamy chicken sauce!
Or browse more healthy side dish ideas for chicken.
Why is it Called Chicken Eden Isle?
I don't really know. From the little bit of research, I did on this subject, I see that it comes from a resort called the Red Apple Inn in Arkansas. It doesn't seem to be documented that well.
I also came across articles that called this "Church Chicken." This is one of those super easy dishes you can make that is pretty darn inexpensive. It's great for dropping off a meal for someone who could use one.
UPDATE: I received an email from someone with the real origin story of this recipe! Chicken Eden Isle was actually made by Neva Walters who created the recipe when she was the main cook for the Red Apple Inn (noted above!) and her family owned the farmland on Eden Isle before the lake was built.
Neva created the recipe for her son and it turned out to be his favorite too! I love that I know where this dish came from. I just wish I knew how my grandmother came across it!
If you are sick of your same old baked chicken, you really need to try this recipe! It's a great dish to make for company (and serve this easy Strawberry, Jello and Angel Food Cake dessert!).
And it might not look that great, but I don't know many people who would turn their noses up at a gorgeous, cream cheese sauce for chicken.
Over the years I've come across a few different recipes for Chicken Eden Isle and they are all a little bit different than this one. Some used bacon, some used prosciutto, and some used a combination of dried beef and something else.
But this is the simple way we've been making this recipe for as long as I can remember. Do you make a creamy chicken dish like this one?? Do you have any dried beef recipes? Share them in the comments!
Trust me, you're going to make this any time you have people over for dinner! And I know it should be eaten in moderation, but the heart wants what it wants. And my heart wants all the Creamy Chicken Eden Isle!
If you haven't tried Chicken Eden Isle, put it on your meal plan for this week!
Related recipes
You will LOVE this Chicken Enchilada Casserole with heavy cream. SO good!
And Truffle Honey Chicken Tenders are outrageous! YUM.
Creamy Chicken Eden Isle
Looking for baked chicken dinner ideas? You need to try Chicken Eden Isle. This family favorite is creamy with a quick sauce made from cream cheese and sour cream (and can be made Keto friendly!). Served over rice, this oven baked chicken with dried beef takes just minutes to prep. If you love comfort food, try this!
Print
Pin
Rate
Save
Saved!
Ingredients
4

Boneless, Skinless Chicken Breasts

2.5

oz

Dried Beef

10.5

oz

Cream of Chicken Soup

4

oz

Cream Cheese, cubed and softened

8

oz

Sour Cream

½

teaspoon

black pepper

Cooked Rice

for serving

Steamed Broccoli

as a side dish
Instructions
Put chicken in a baking dish.

Separate dried beef and put on top of chicken so the breasts are covered (approximately 3 pieces for breast + more because your family will love it).

Spoon soup over the chicken and dried beef.

Sprinkle with black pepper.

Bake, covered, in a 325 degree oven for 60 minutes.

Uncover, and bake another 20 minutes until chicken is tender.

Remove chicken from pan and cover with foil to keep warm.

Skim any fat from liquid in a saucepan (if using boneless, skinless breasts, there shouldn't be too much, if any, fat).

Add sour cream and cream cheese to the saucepan.

Heat until melted through.

Serve over cooked rice with a side of steamed broccoli.
Notes
Dried beef can be hard to find at the grocery store. I have had the best luck at Walmart. The jars come in a 2.25 ounce or 2.5 ounce size. Grab whatever size you can find.
Cubing the cream cheese helps it to melt faster when making the sauce.
You can use a hand mixer to get a smoother sauce, but I'm far too lazy for that.
Nutrition
Serving:
4
Servings
|
Calories:
384
kcal
|
Carbohydrates:
10
g
|
Protein:
28
g
|
Fat:
25
g
|
Saturated Fat:
13
g
|
Polyunsaturated Fat:
2
g
|
Monounsaturated Fat:
6
g
|
Trans Fat:
1
g
|
Cholesterol:
136
mg
|
Sodium:
514
mg
|
Potassium:
991
mg
|
Fiber:
1
g
|
Sugar:
7
g
|
Vitamin A:
1069
IU
|
Vitamin C:
2
mg
|
Calcium:
97
mg
|
Iron:
1
mg