We always just call this "strawberry cake" but it's SO much more than that. This perfect pink dessert uses cubed angel food cake and Jello to make a quick dessert that you'll crave all year long!
Strawberry Jello Angel Food Cake Dessert is a nostalgic no-bake dessert that uses frozen strawberries for tons of flavor. And it totally reminds you of being a kid!
I love this quick and easy dessert recipe for spring and summer celebrations but no matter what occasion you make it for, it's always a crowd-pleaser.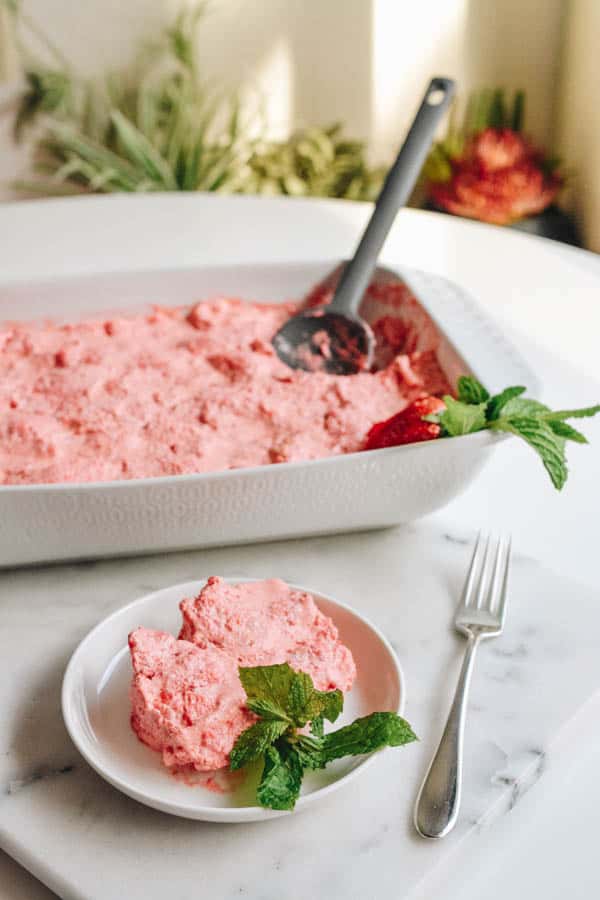 This recipe was originally published in October of 2015. It has since been updated to include more detailed directions and suggestions on other variations.
I've uploaded most of the images in this post but you still may recognize some of the process shots if you came over from Pinterest!
This Strawberry Jello Angel Food Cake is a family favorite!
This Strawberry Angel Food Cake with Cool Whip is so easy to make and is always very well received! From the comments left on this post and my pins, it's totally sentimental and reminds people of beloved family members.
It only uses a few simple ingredients like store-bought angel food cake pieces, frozen strawberries, Cool Whip whipped topping and strawberry Jello. (Also check out my Strawberry Jello Cupcakes! SO YUMMY!)
This light and fluffy cake is super flavorful and totally reminds me of summer! My mom used to make it for us on summer break and it makes my heart smile just thinking about it.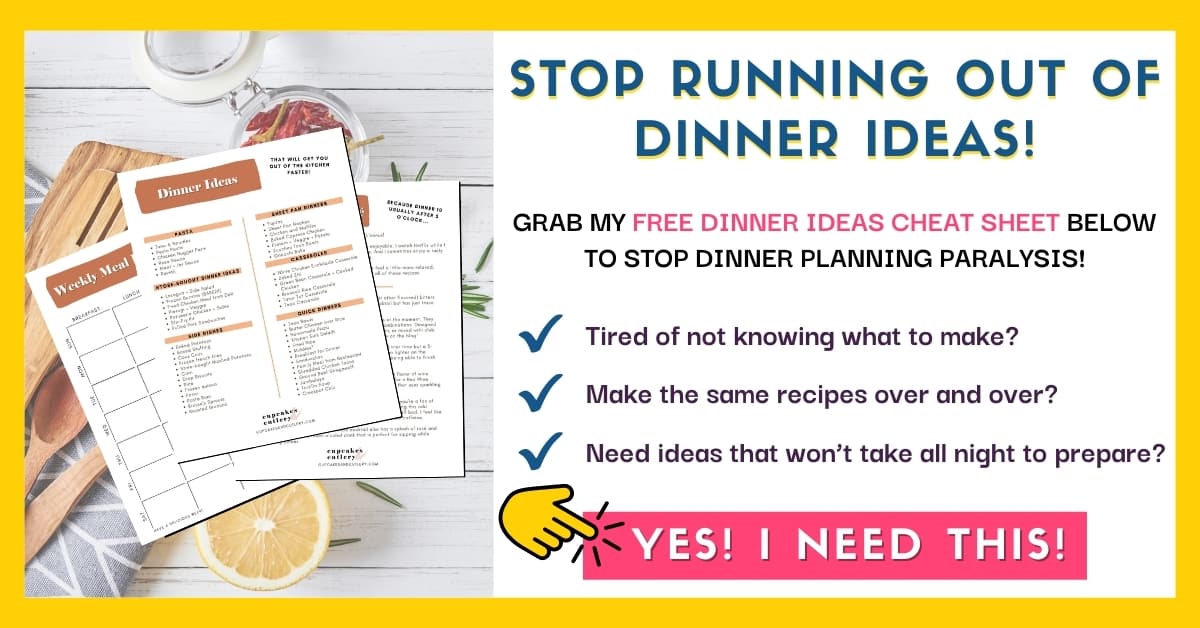 I love that I now get to make it for my own kids! Same thing with Ice Cream Floats and Homemade Strawberry Ice Cream! Such fun family traditions!
This strawberry angel food cake dessert with Jello is really more like a dump cake. And it's no-bake which is why it's perfect for warmer weather.
This poor, sad, ugly little cake.
This is not the dessert you will make if you are trying to impress guests who are superficial and into outward appearances.
For that, I would make this faux croquembouche or even this Angel Food Cake with Peaches and Cream instead.
But this angel food cake with strawberry JELLO is super easy and it's what you make for your friends when you want to give them a mouth hug.
This is my go-to dish for a family party or neighborhood potluck and it's always gone immediately.
It's so unfortunate that this lush-type dessert is just not that pretty. But it sure is pretty on the inside.
At the very least use fresh mint and strawberries to draw the eye away from that heap of pink.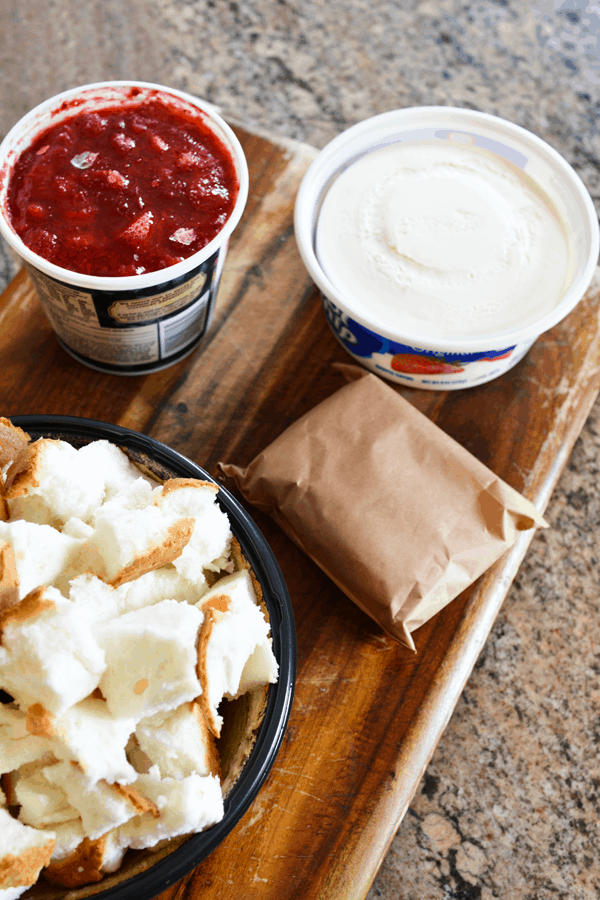 How to Make this Angel Food Strawberry Jello Cake
It's just an angel food Jello cake dessert. Pretty straightforward stuff. But absolutely delicious.
Scroll to the end of the post for a printable recipe card with full measurements and instructions!
Ingredients
boiling water
frozen whipped topping (like Cool Whip, thawed in fridge)
frozen strawberries in sugar (not whole frozen berries - see image below), not thawed but not straight from the freezer
The grocery store sells a ready-made angel food cake option that just needs to be torn (which is a great task to have the kids do!).
The store-bought cake keeps this dessert super quick to prepare.
Take the time you would have used to make the cake and go take 15 minutes for yourself.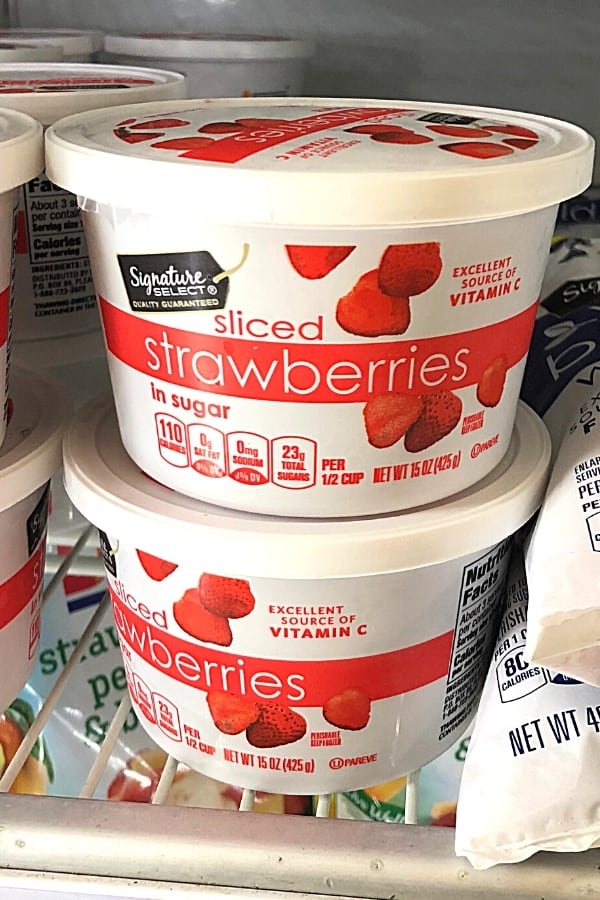 What type of strawberries do I use
Over the years I've had people ask me about the right type of strawberries to use for this yummy strawberry dessert recipe.
They are in plastic containers like that shown above, in the freezer section. They sometimes come in a container that looks like a frozen juice concentrate but in a rectangular shape.
Some people have a hard finding the right type of frozen strawberries in sugar. I haven't figured out a good swap yet, but will work on that at some point.
If I had to guess, the best thing to do would be to cut up fresh strawberries and add sugar so they create their own juices, let sit for an hour at room temperature, then freeze!
Can you use fresh strawberries
Fresh strawberries aren't the best because they won't have the extra sweet juice that comes in the frozen strawberries. It helps to flavor the dessert and give it that fun pink color.
You can potentially get a similar look by macerating the berries with sugar to bring out their own juices but it may not give you the same amount of flavor. Worth a try! Fresh strawberries are never a bad idea! :)
To macerate I would do 1 pint of strawberries with 2 tablespoon sugar and let them sit at room temperature for at least 30 minutes to release their juices.
Directions
This pink strawberry angel food cake dessert couldn't be easier to make!
Remove the strawberries from the freezer and let them sit on the counter while working through the next steps.
Crumble up the ring of cake and add half of the angel food pieces to the bottom of a dish. If a few pieces fall up into your mouth, that's ok.
Mix Jell-O in a bowl with 2 cups boiling water. Stir well to dissolve the Jell-O powder.
Add strawberries immediately and stir. The cold strawberries will help the Jello start to set.
Stirring will help to melt the strawberry juice the rest of the way, but you may need to use your hands to break them up if they remain in a chunk.
Fold in spoonfuls of Cool Whip until well mixed.
If you forget to take the Cool Whip out of the freezer to thaw, it will still work.
Spoon ½ mixture over the first half of angel food cake in dish.
Repeat with a second layer of angel food cake chunks and the rest of that gorgeous, creamy strawberry mixture.
You may want to take the back of a wooden spoon and push down any cake pieces that are sticking out the top so they are submerged and can soak up all the flavor.
Don't leave them exposed like this photo shows. I mean, it really doesn't ruin anything because Angel Food cake is delish no matter what.
But still, you'll get the best flavor if you drown those bad boys.
Cover, then set in the refrigerator for several hours.
How to serve Strawberry Jello Angel Food Cake
When ready to serve, cut into squares and serve immediately.
I would leave it to set for at least 2 hours but 4 or more will make sure it is totally set and will keep its form when cut into squares.
Or you can scoop it into bowls. This is an anything goes types of dessert recipe.
Feel free to top it with a little bit of whipped cream and some fresh mint if you want to.
To make it look a little nicer, you could also "frost" it with additional Cool Whip then lay out sliced strawberries in a pretty way.
It doesn't require any baking skills or much kitchen know-how.
Putting this strawberry Angel Food jello cake together (I realize this isn't really a cake, but it has cake in it so...and it's so much easier than saying Strawberry Angel Food Cake Dessert with Jello, right?) is SO easy.
Plus, pink desserts are always the best! Just look at all that pink goodness!
How to store this pink dessert
The best way to store this delicious dessert is to cover it with foil and put in the fridge. I would think this will keep in the fridge for about 3 days.
But you probably won't have too much leftover.
Who knew that Angel Food cake, frozen strawberries and Cool Whip could taste SO simple and so tasty!
Can this recipe be made ahead of time
Yes! Since this is kept in the fridge, you can make it ahead of time then keep in their, covered, until ready to serve.
Or Make it A Strawberry Jello Angel Food Cake Trifle!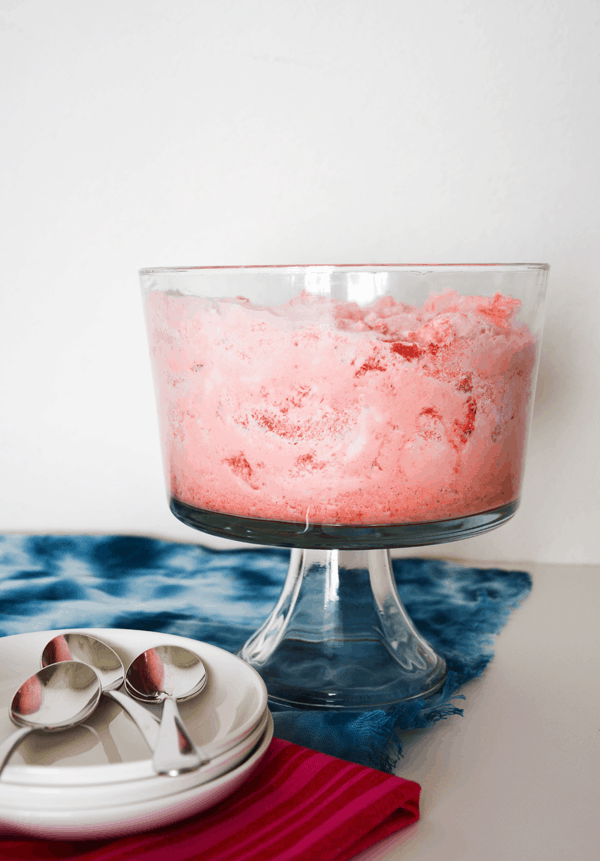 A reader suggested I try using a trifle bowl so I did.
It's a lot cuter in terms of dish choice but the dessert itself...still not so much.
A trifle is a great dessert to serve when you have company.
It's also a great idea for people, like me, who aren't great at decorating cakes!
Someone else suggested making this in a bundt pan. That's the route I'm going to try next time. It will look nice when turned out onto a plate and the slices would probably even look nice on a dessert plate.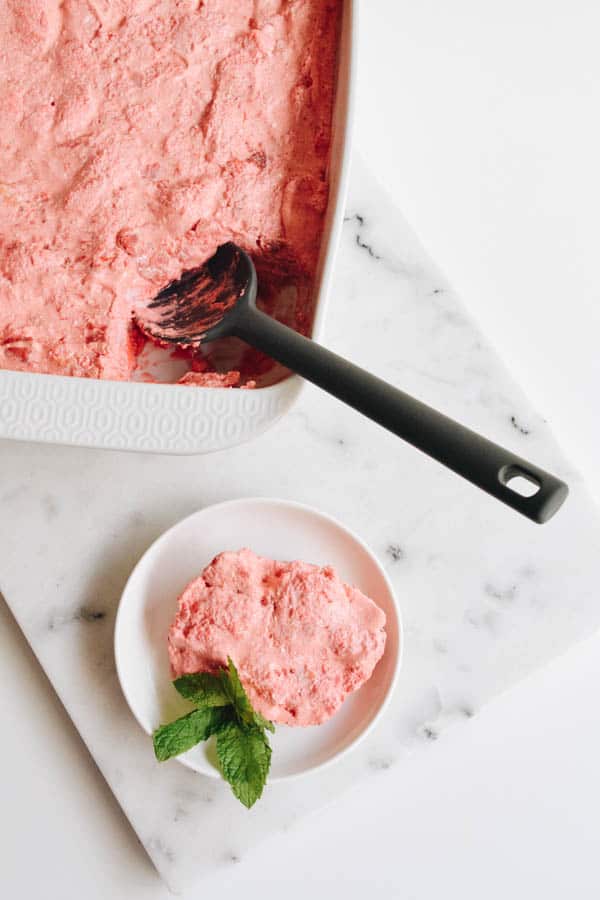 I must have taken 300 pictures of it trying to get it to look appetizing. Nope.
You're going to have to trust me on this one. And I know my sweets.
Try to serve it on a cute plate at least, and definitely use a trifle bowl instead of the 9 x 13 pan. Everything looks better in a trifle bowl! Growing up, this strawberry cake was always our favorite.
It reminds me of big get-togethers with neighbors and hanging out with my sister. I hope you'll make this for the ones you love too.
It's a great recipe to get the kids to help out with.
Aside from the boiling water (parents, YOU do that part please!), it's a lot of stirring and tearing. Kids excel at tearing.
And more than anything, this pink dessert makes people smile.
This recipe totally reminds people of recipes their grandmas made for them!
Wath the Strawberry Jello Angel Food Cake Recipe Video again on Youtube.
Tips and suggestions
Over the years I've received tons of comments on this post. Every family had a little different way of doing things. Here are some of the suggestions that may help you.
Substitution ideas
-Don't want to use Cool Whip, here is how one user made this instead: "Dissolve large box of strawberry jello in ¾ cup hot water.
Once dissolved stir in ¾ cup cold water and refrigerate. After it sets up whip in a pint of whipping cream to the jello on a low setting."
-Make it sugar-free: You can make this more diet-friendly or ok for diabetics by using sugar-free ingredients. Several commenters mentioned this.
-A fruitier version: This version uses 1 small strawberry Jello, 1 small lemon Jello, 2c boiling water, ¼ c sugar, juice of 1 lemon, 2 oranges and juice from a 10oz pineapple can.
Mix together. Cool until it starts to set. Fold in 8oz cool whip, add pineapple tidbits and fresh sliced strawberries.
Other serving suggestions
-Make it more cake-like: Line a large bowl with waxed paper. let sit a few hours and when set turn upside down on a plate or cake dish.
Top with Cool Whip or whipped cream, as if you were icing a cake, then add fresh some strawberries.
- Make it a little more structured: Bake your own angel food cake in a 13×9 pan. Cut the cake into 2 layers instead of ripping it into chunks.
Place one layer down, spread half of jello mixture on top, placed the next layer down and spread the remaining jello mixture on top.
Chill for about 8 hours. It cut just like a cake and it looked pretty!
-A pool of Cool Whip!: In this suggestion, the Cool Whip is served separately. Tear the cake into pieces and put in a greased bundt pan.
Mix the strawberries and Jello and pour over the cake. Let set and flip onto a cake plate. Fill the hole in the middle with the Cool Whip!
To serve, slice the cake and put a dollop of Cool Whip on top.
-To ensure the cake is soaked with flavor: After mixing the Jello, strawberries and Cool Whip, combine it with the angel food cake pieces then pour into the pan and chill.
It's much easier and mixes together better for a smoother look.
-Fill the angel food cake: Mix the strawberries, Cool Whip, and Jello and put them in the refrigerator until it is thick but not solid.
Slice a thin piece off the top of the angel food cake and tear out a trench all the way around the cake.
Pour the very thick Jello strawberry mixture inside, put the top back on and frost with the remaining whipped cream.
Return the cake to the refrigerator. It was so pretty when cut because of the Jello strawberry surprise at the center.
Related recipes
Printable Strawberry Jello Angel Food Cake Recipe
Strawberry Jello Angel Food Cake Dessert
This light and fluffy no-bake strawberry cake recipe is a nostalgic dessert that my mom used to make when I was a kid! With store-bought angel food cake, Jello, Cool Whip and frozen strawberries, this easy dessert recipe is great for sharing with family or taking to a party.
Print
Pin
Rate
Save
Saved!
Instructions
Set out frozen strawberries to thaw while working on the rest of the recipe.

Boil water.

Break ½ of the angel food cake in to chunks and put in the bottom of a 9x13 pan.

Mix powdered Jello in a bowl with 2 cups boiling water.

Add strawberries immediately and stir.

You may need to use your hands to break up chunks of frozen strawberries.

Stir in spoonfuls of Cool Whip until well mixed.

Spoon ½ mixture over angel food cake in dish.

Repeat layers and set in refrigerator for several hours.

Cut in to squares and serve immediately. (Your squares won't be perfect. The gelatin is not firm.)
Nutrition
Serving:
8
Servings
|
Calories:
77
kcal
|
Carbohydrates:
18
g
|
Protein:
1
g
|
Fat:
1
g
|
Sodium:
67
mg
|
Fiber:
2
g
|
Sugar:
12
g
Pin this Dessert for Later
This Angel Food Strawberry Jello Dessert is a mouth full. But it will become a family favorite and one that you make for parties all the time!