Are the benefits from microneedling worth the cost and the pain? I'm sharing my microneedling results after 3 treatments. Before you decide whether or not this treatment is right for you, read all about my experience below.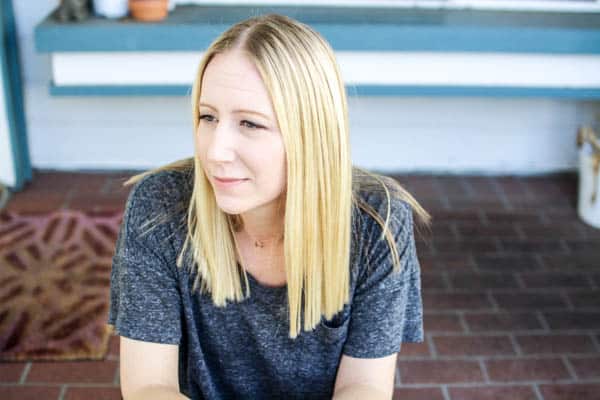 As a CosmetiCare ambassador, I received treatments so I could share the experience with you. I did not pay for these.
For years I'd been wanting to get rid of acne scars. And becoming a CosmetiCare ambassador meant that I finally got the chance to do something about it.
Jump to:
Why I tried Microneedling
If you're looking for a way to reduce acne scars stretch marks or even lightly improve the look of fine lines and wrinkles, microneedling is a great option.
I'm pretty happy with the results of my microneedling facial after 3 treatments!
It was really hard to find good before photos, though. I have always been hyper-aware of how the texture of my skin was and learned how to be strategic in photos. I often posed so I could hide my face.
I never thought I'd be able to get rid of acne scars so I tried to avoid photos, which as a blogger, can be really hard to do at events or when you are talking about certain brands or topics in a post.
Acne Scars Before Treatment
In certain light, my skin actually didn't look that bad. I found this photo above, from right before my first treatment, that I think best shows how uneven my skin was.
And even still, it's hard to see since I always make sure my hair is down, around my face.
My skin texture was very uneven and I really wanted to smooth it out. While I am no spring chicken, I'm not that worried about lines and wrinkles yet. But smoother skin was my ultimate goal.
The left side of my face is the "good side." Not only does my nose photograph better on that side, but my skin was slightly better on that side too.
You should absolutely read all about my first microneedling facial treatment with PRP. At my initial consultation, it was decided that I would do 3 treatments to reduce my acne scars.
There is a video in the post, from my treatments at CosmetiCare, that shows exactly what the procedure looks like.
If you are interested in using microneedling to get rid of acne scars, you should definitely check out the video to see what goes down from start to finish!
During Treatment
What I learned over the course of my treatments is that each one can be totally different. This means, your results can vary wildly.
I had 3 different people administer the treatments and some hurt way more than others.
If you find that you are drawn to a particular nurse or doctor, and you liked how they performed your treatment, I would suggest requesting them for the rest of your treatments.
And remember, I had my treatments with a nurse so we could go deeper with the microneedling pen. When done by an aesthetician, they don't go as deep and healing is way faster.
Having the procedure with a nurse also means that results might be better since they get further into the skin with the tool.
Also, while I had the numbing cream on my face for about an hour for my second microneedling session, the pain level on that session was INSANE!
I think there were a lot of factors involved, including a more heavy hand by one of the doctors. I was also on my period which I learned can make you more sensitive to pain.
I would HIGHLY suggest booking your sessions as far from your time of the month as possible. Just to be safe. It was excruciating.
This was my face before my third treatment after they had wiped off the numbing cream which is why my face is a little red. I was really nervous about the pain level after what happened during my second treatment.
For the third and final microneedling, my nurse, Sarah, brought in CosmetiCare's master aesthetician, Angel, for a consultation.
They decided to use an additional product during the treatment (but still with the PRP) that would help to build elastin in my skin. And they decided to do a little bit of a chemical peel when my microneedling session was done.
The great thing about doing a treatment at an office with a variety of skilled providers is that they play off each other's strengths to get the best outcome for the patient.
This also means that my microneedling results after 3 treatments might be a little bit different than what yours would look like.
The third session didn't hurt nearly as bad as the second time, but worse than the first time I had it done.
Sarah focused on my trouble areas, which are my cheeks and sides of my chin. Because I had the numbing cream for the microneedling, the chemical peel was totally tolerable.
The chemical peel would help to bolster the results from the microneedling and I was so excited.
Because of the chemical peel, the healing time was a little bit different from the standard microneedling facial treatments.
It was red for a longer period of time and peeled way more. I would say it took 5 whole days for me to feel comfortable with makeup on and in public.
And while the final microneedling results won't reach their full potential for about 4-6 weeks, I am already seeing an improvement!
Be sure to watch the video of my first microneedling treatment so you can see from start to finish and before and after photos!
After Microneedling with PRP
I'm not sure if I'm finally seeing results from the second session or if these results are from my third. All I know is that I am REALLY happy with how everything turned out.
I'm almost two weeks past my 3rd and final treatment and I feel so much more confident! I feel like my skin looks amazing and have had several compliments.
*UPDATE* My treatments are almost 3 years old at this point. And while my skin still looks great, there are things I have to do to keep it looking its best.
Staying hydrated, from the inside out, is super important. When my skin gets dry, the texture is much more noticeable.
At first, I was worried that microneedling wouldn't be a good treatment to get rid of my acne scars and that a laser treatment might be better. But every person I talked to assured me that a microneedling treatment is a great way to start making my acne scars less noticeable.
While it does improve texture, it also encourages the growth of collagen which is essential for good-looking skin in general.
With makeup, which I definitely have on in the after photos above, my skin looks fantastic! BUT I'm so impressed with how my skin looks without makeup on too.
This morning, my husband and I went on an early breakfast date and I didn't "get ready" which is my code for putting on a full face of makeup. This is huge for me.
Of course, my dark under-eye circles were still there, but my skin looked SO smooth! I didn't feel like I had to hide behind my makeup. (You guys, my dark circles looked WAY better after I tried Restylane filler).
Before these treatments, I would always redo my makeup if I had to go somewhere at night. I felt like my skin looked better with fresh makeup.
But since these treatments, I don't feel like I have to do that. I may touch up my concealer because those dark circles just won't quit, but my skin still looks great!
Microneedling vs. Laser Treatment
A year after these treatments, I tried a CO2 Laser Treatment. I much preferred that treatment over microneedling. I feel like the results were better after one treatment than with 3 times microneedling.
I will say, however, I was seeing much better skin from the microneedling, but it had about the same downtime and recovery after just one session. And the pain was much more intense with the microneedling which you endure over multiple treatments.
I would love to do another laser session! You can see my final results from that also.
Microneedling changed my life
I am so grateful that CosmetiCare provided these microneedling for acne scars treatments for me as a #CosmetiCareambassador!
I'm not sure they even realize how life-changing this is for me. To be able to find procedures to help with the acne scars that have bothered me since I was a teen has improved my self-esteem more than you can know!
And I highly suggest that you go in for a consultation if you have problem areas that you are ready to do something about.
Not only do they do full surgeries (liposuction, breast augmentation, mommy makeovers), but they also have a great team to provide skin treatments that are less intrusive (chemical peels, facials).
Related posts
This post was originally published on February 5, 2018. and has now been updated with more microneedling result information so you can decide if this treatment would be a good one for you.