I finally tried a microneedling facial treatment with PRP at CosmetiCare! I've never been happy with the texture of my skin. As an ambassador for CosmetiCare, I am super lucky that I get to try out some of their treatments for free and then share the process with you. After my initial consultation, we decided that a series of microneedling appointments would really help my acne scarring. And I want to share the whole procedure with you in case you have been thinking about trying it out yourself. 
I thought I'd ease you in with a non gross photo. I want to warn you, the photos in this post are not super pleasant – so just be warned! That being said, this is not torture, it's tolerable and worth it (in my opinion).
Skip down to check out my video or read on for more details!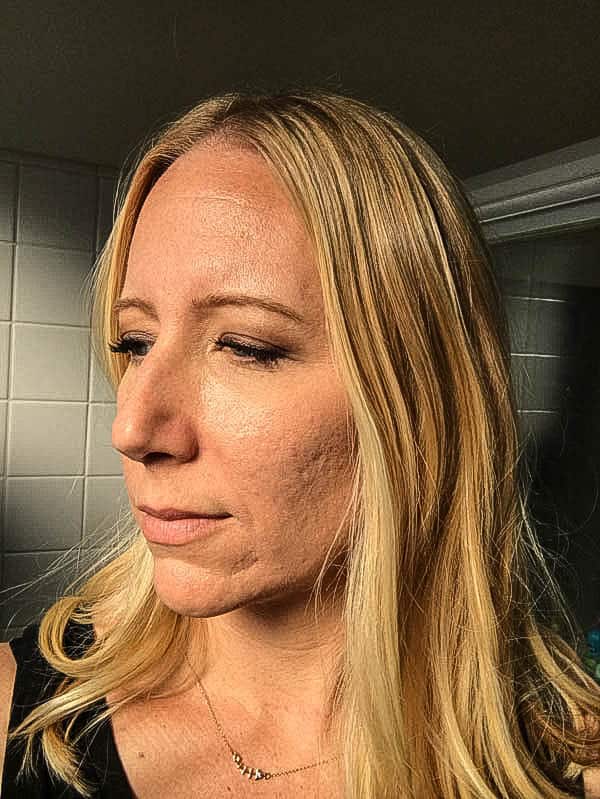 I want to start off by sharing what my skin is like. I'm 40 years old. I had acne mostly in my college years and it has left me with acne scarred skin. As I started aging, I felt like the uneven texture was even more pronounced and decided it was time to do something about it. I found some pretty harsh light to take a before photo in, that helped to really see the texture. Sometimes, in photos, my skin doesn't look that bad. But I have always been self-conscious about it.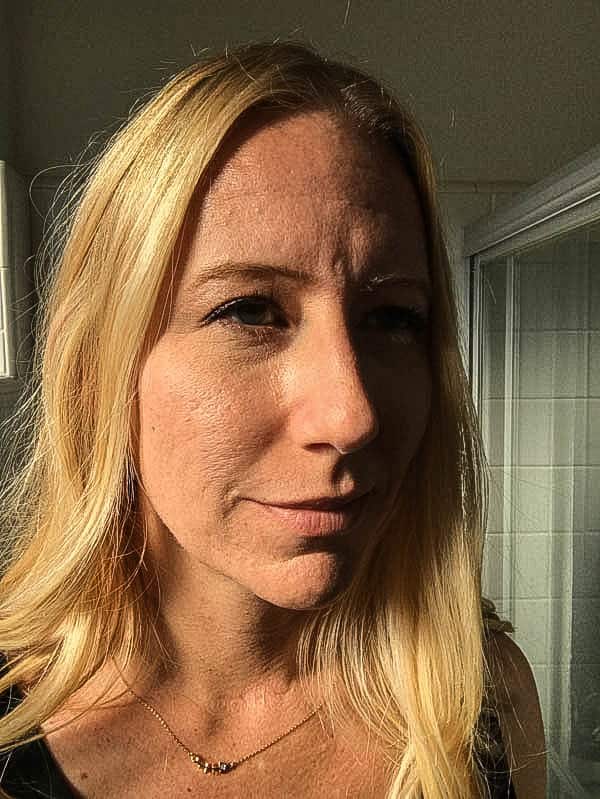 No only do I have acne scarring, but I have large pores and, ugh, fine lines and wrinkles. Microneedling helps with all of these things which is why I thought it was a good first skin treatment to do with CosmetiCare. I loved getting Botox, but know that to really make a difference, I'd need to do something a little stronger to help me look a little younger overall.

I was pretty nervous when I arrived for my appointment at CosmetiCare. I think they've done a great job with creating a serene environment in the lobby waiting area. Plus, being located right on the harbor, the views are incredible! 
And who doesn't love an office that plays Real Housewives of OC?! CosmetiCare is the go-to office for plastic surgeries and skin treatments for some of your favorite local housewives. But that's just a fun side note. I also fully trust the staff, nurses and doctors.
There really isn't too much prep for the microneedling facial treatment with PRP. I stopped using any products with retinols about a week prior to my appointment. This is the before photo taken right before my treatment started.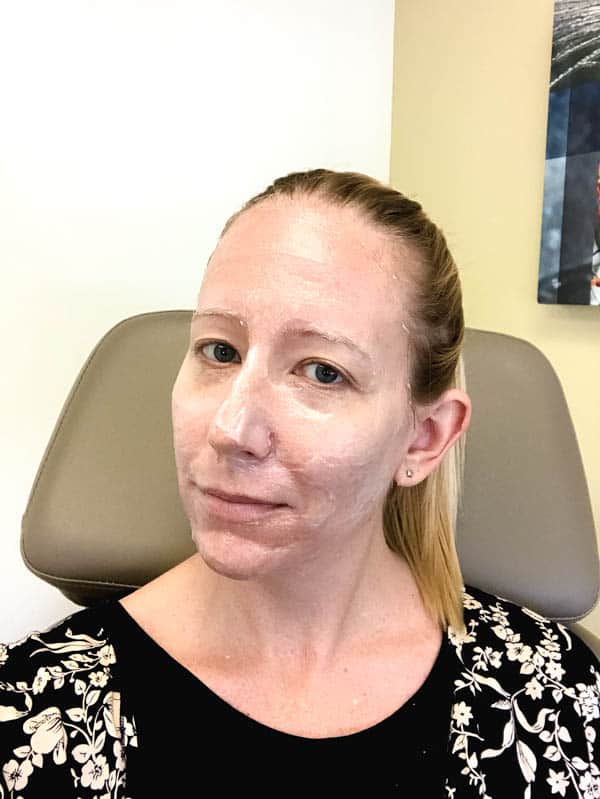 They start off by applying a numbing cream that sits for about 45 minutes. You want this cream to work so don't run late on the way to your appointment! 
Microneedling Facial Treatment with PRP
If you are doing the microneedling with PRP, they will draw your blood while the numbing cream does its thing. They spin your blood to separate out the plasma so that it is ready for when your procedure starts.
What is PRP you ask? PRP stands for platelet rich plasma. It is also known as collagen induction therapy. I'm not going to get all science-y but basically, by using your own plasma, it helps generate new collagen to grow which helps to improve scars, etc. I'll explain how that fits in to this microneedling facial treatment in a minute. 
I did my microneedling with a nurse, which means she is able to go a little bit deeper with her needling pen than an aesthetician can. This is better for those with deep scars. Oh did I mention CosmetiCare shot an Instagram live of my treatment?! YIKES! It was actually a great way to have the treatment done since as the people watching would ask questions, I got to hear all the answers at the same time.
After wiping off all the numbing cream, she applied a serum to my face. The tip of the device holds micro needles and she runs it over your skin. The needles help to get the serum to sink in. The device does cause bleeding as you can see in the picture above. For the areas with deeper scarring, she pulses the device up and down, kind of like a tapping motion. But notice I'm smiling. It looks worse than it is! 
I felt the treatment a lot more than I thought I would. But it was tolerable. It hurt most when it was over an area with bone, but since she is moving the device, and not holding it one space specifically, the pain is very short. After the first pass, she wiped down my skin. The bleeding stopped immediately and there is no scabbing at all.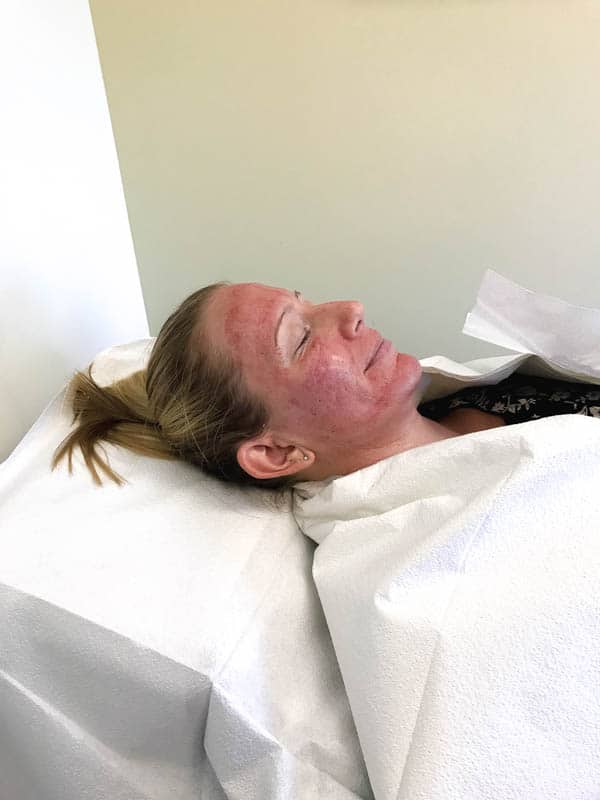 Then it was time to use the PRP. The plasma is put in a syringe, and its squeezed over the skin before the nurse does another pass with the needling device (what the video to see all of that!). The plasma is not "blood"-colored like people might think. It's basically clear. When she was done going over my skin with the needling pen, she used a small needle to inject the leftover plasma back in to my cheeks where the scarring is the worst. 
The whole procedure took about 45 minutes. She finished off by holding a cold compress on my face for about a minute. It was a nice way to end. I wasn't in any pain but my skin felt hot so this was really soothing.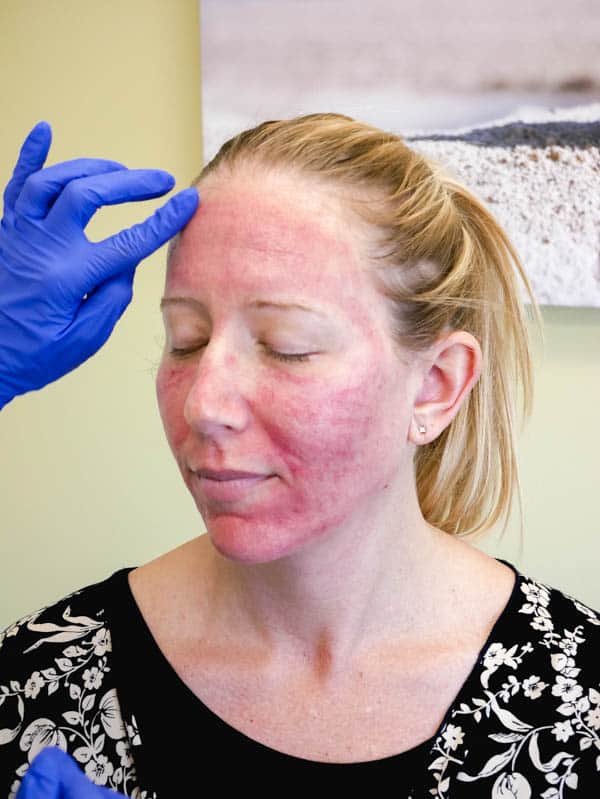 This is how my skin looked right after the treatment. My skin continued to feel hot for the rest of the day. For the microneedling done with a nurse, the recovery is about 5 days (unlike 3 when done by an aesthetician). I was given a balm to put on twice a day for the five days, to help with healing. I had made sure that my schedule for the week was open so I let it heal and didn't wear makeup that whole week (although they told me I could wear makeup on day 2 and beyond if I wanted). And the recovery is not painful at all. That's the best type of recovery! 
This is a picture from Day 3. Here's how my 5 days went. Day 1 my face felt hot. Day 2 my face was itchy and drying out. Day 3 I started peeling in certain areas (big peels on my chin). Day 4 the rest of my face was peeling, but small and kind of all over the place. Watch my video to get even more details on each day.
Day 5 most of the redness was gone and I finally put makeup on. Having completed my first microneedling treatment, I'm totally ready to do the next 2! They recommend several treatments, about 6 weeks apart to see the best results. While I feel like my skin is a little bit smoother, the full results won't be seen for about 6 months since you are waiting for your collagen to grow and repair your scars.
*This is my first real attempt at doing video and, yes, I held the camera the wrong direction (and even worse, I took all the video in Instagram stories which makes it even more narrow). I'll get better! I promise! 
I can't wait to schedule my next procedure! I would definitely plan on taking at least Day 1 – 4 off so that you don't have to worry about makeup, but you totally could make it work if you had to. I'm lucky to work from home and have that flexibility.
Use the code above to get 10% off any of the treatments I've done at CosmetiCare! Includes Botox, Restylane, Coolsculpting, Microneedling and CO2 Laser Treatments.
Thank you for supporting companies, like CosmetiCare, who enable me to create fun content, for you and your family, through partnerships, products, services and/or compensation!
You may also like these posts:
Taking Care of Me as a CosmetiCare Ambassador
Pin it!