Interested in a CO2 Laser Resurfacing Treatment in Orange County? This facial treatment helps to smooth out the skin's texture and to improve the look of acne scars, fine lines and wrinkles.
My CO2 Laser Skin Resurfacing was life-changing! It helped to improve the overall texture of my face and minimize my acne scars. If you've been wondering about the process of the treatment and the recovery, I'm sharing my before and after photos below!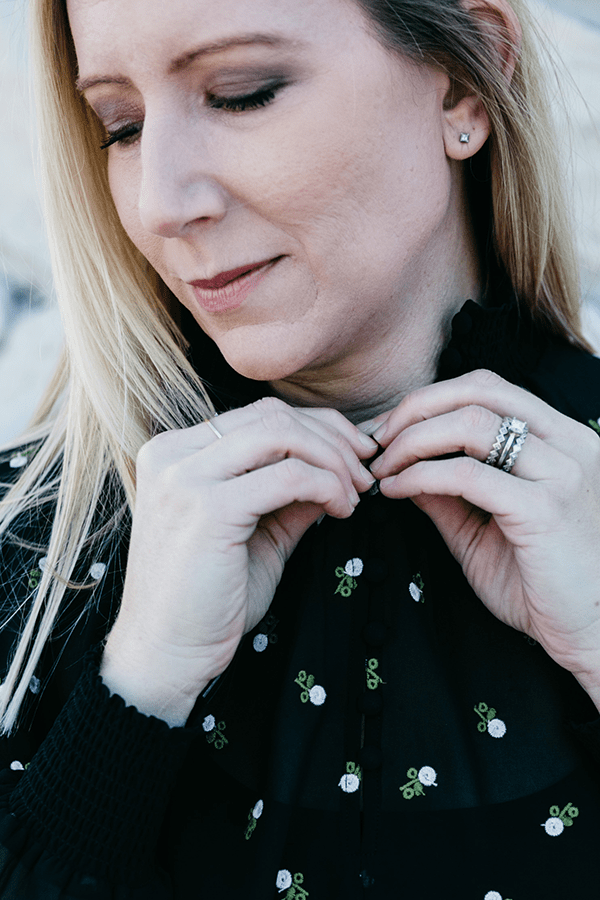 *As an ambassador for CosmetiCare, based in Orange County, CA, I am given complementary treatments to share the experience with my readers. All opinions, pain and amazing results are my own!
This post was originally posted on October 15, 2018 and has been updated with more information on the recovery process, as well as my thoughts on this treatment versus microneedling.
The CO2 Laser Skin Resurfacing Process
I've been lucky enough to try several treatments to help improve the texture of my skin. I've had 3 microneedling treatments (see them all below) and they helped a bunch.
But I just got to do CO2 Laser Resurfacing for my face and I can already tell the results are going to be AMAZING!
We all have those things about our appearance that stand out to us more than anything else. Things that most people don't see. But to us, they are huge flaws that hurt our confidence.
For me, that's always been my acne scars and the overall texture of my skin.
The photo above is after several of my microneedling treatments. While my skin looks great here (go see the before pictures if you haven't seen them already), it's still not as smooth as I want it to be.
CosmetiCare suggested a laser skin resurfacing treatment and I was totally on board. Check out this post on exactly what a CO2 Laser Resurfacing treatment is.
Book a consultation
To prepare for my laser peel, I had a consultation with Tannaz at CosmetiCare.
She went over what to expect and how I should prepare for the procedure (stay out of the sun for 2 weeks, no wine or blood-thinning medicines for a few days beforehand) and what I should get to have ready during the healing process (gentle soaps and lotions as well as vitamin C).
What to expect the day of your laser facial
To start my appointment, Tannaz took some before photos to show the texture of my skin. She pointed out the sun damage, which the laser will help to improve, as well as the areas she would focus on that had the most scarring.
Does a CO2 Laser Treatment Hurt?
I have to admit, I was super nervous. 2 of my microneedling treatments hurt like crazy! The laser is a little more aggressive so Tannaz made sure that I would be comfortable.
During our initial consultation, she prescribed something to relax me and a pain medication that would help during the procedure.
On the day of the treatment, I had my mom drive me to CosmetiCare. I arrived an hour before the lasering would begin so I could take the two prescriptions. Because the prescriptions are strong, I needed to make sure I had a driver to take me home after.
This might be skipping ahead a little bit, but thanks to the medicine, the procedure didn't hurt at all. There were only a couple of times where I felt something that felt like a tiny pinprick. The hairline, upper lips, and eyes can be a little more sensitive. But it was totally tolerable. Dang, I'm grateful for that medicine!
After I took the medicine, Tannaz put numbing cream on my face. A half hour later she came back in to massage it in again. And finally, an hour later, we were ready to start!
What the Laser Skin Resurfacing Treatment Looks Like
Tannaz removed the numbing cream and cleansed my face to make sure all the grease and oils were off my skin.
I was given breast implants to act as a kind of stress ball in case I needed it which I thought was super funny. But I really didn't need them.
I can't believe how fast the treatment was. I was also given a small handheld fan to keep pointed at my face to help cool myself down. The laser makes your face feel really hot. It's only slightly uncomfortable.
The laser has a small head that creates a honeycomb shape made of smaller dots. The laser is basically stamped on the face. This is what it looks like! Isn't that crazy!
The whole process was so much easier and shorter than I thought it would be. The actual procedure took about half an hour.
The only part I didn't like was the smell (burning flesh…) when she lasered right below my nose. But it lasted only a few seconds and the fan totally helped with that too.
When my face was done, Tannaz wiped my face off with cool towels.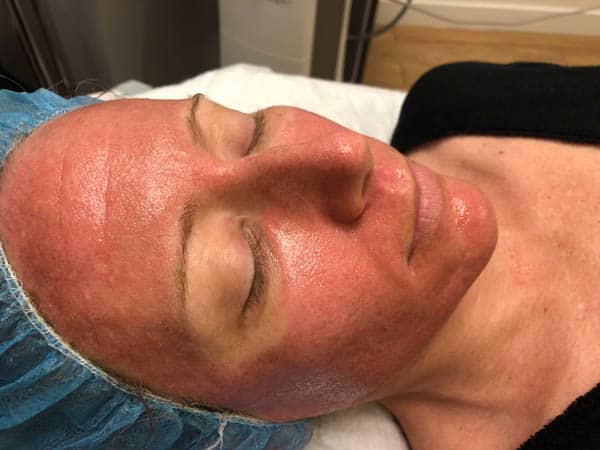 Then she put on a recovery balm. While my face looks really red, there was no pain. It just felt hot.
Tannaz made sure I knew how to care for my face and gave me directions for the next 2 weeks.
Laser Facial Recovery Process
Before I left CosmetiCare, I took this quick photo. I was expecting my face to look way worse than it did. I was pleasantly surprised.
My mom drove me home and by the time we got there, my stomach was really upset. I think the medicine was really harsh on my stomach. But I am so glad that I had it. It made the whole process so easy! I just took a nap and felt better after that.
My face was really oozy the rest of the day. Gross. It was hard to sleep the first night because of all the Aquaphor on my face and I didn't want it to stick to the towel I had on my pillow.
I made sure to schedule this CO2 laser treatment at a time when I had 2 weeks where I wouldn't need to leave the house.
Because there is a chance for infection with this type of laser treatment, I was also put on an antibiotic to help with any breakouts.
How to Wash Face After co2 Laser
After having the laser resurfacing treatment, plan to wash your face (or whatever area you had lasered) 3 times a day. Use a mild cleanser (like Cetaphil).
Keep the clean skin covered in a thin layer of Aquaphor. This helps to keep the skin moist. Because of my sensitive skin, I used the Aquaphor for 2 days then moved to a Cetaphil lotion so my skin didn't break out.
co2 Laser Resurfacing Recovery Photos Day By Day
I'm a bit vain (and hated taking photos of myself looking like this but these co2 laser resurfacing recovery photos should help you understand the healing process and what to expect day by day.
Day 2
Waking up, my face was crusty. Ew. I took a shower and used a mild cleanser to clean my face. It stung a little bit but wasn't too bad.
When I got out, I added a thin layer of Aquaphor. My face felt hot all day but it wasn't too bad. I never needed any pain medicine.
I didn't want to edit these photos even though some of the lighting isn't great. I wanted to make sure you could see what my skin looked like in terms of color.
Day 3
My face started to dry out on Day 3 and was itching like crazy! I had to take a Benadryl to make it stop.
I also put on a little bit more Aquaphor to try to keep it hydrated. My skin started to peel which is a natural part of the process. That is the old skin sloughing off and allowing the new, smoother skin to come to the surface.
Day 4
My skin was still itching like crazy so I took another Benadryl. Each time I had to take it I only took one pill and it never made me feel like I had to take a nap.
I switched to using only Cetaphil instead of Aquaphor. That made everything a little bit easier. I could sleep better since I didn't stick to my pillow.
My face peeled a little more today but it mostly flaked off instead of big peels like you see with a bad sunburn.
Day 5
The redness wasn't that bad today and the peeling was mostly done. My skin was still rough but not itchy. Thank goodness!
I stopped washing my face 3 times a day and went back to 2, before bed and in the morning.
The recovery process of the laser treatment was SO much easier than I thought it would be!
Day 6
My skin was still red, but that was it! I only had a few rough patches near my ears, but I just took a washcloth and gently rubbed my face.
I continued to use the Cetaphil lotion twice a day to keep my skin moisturized. Tannaz said that would help with the healing.
Day 7
Tannaz said I could start wearing makeup on Day 8 as long as it was mineral powder makeup. Since I had already made sure I wouldn't have to leave the house, I didn't rush to wear makeup and just let my skin heal as much as possible.
Day 10
I bought mineral makeup so I could start leaving the house again (it's hard to be home for 2 weeks. One week was no problem, 2 weeks was stretching it) and started wearing that at Day 10.
My skin looked way smoother so I didn't feel like I even needed to wear that much makeup (aside from concealer for my dark circles).
The redness was all but gone, and while I used the mineral makeup when I needed to, I still tried to leave makeup off as much as possible for the next few days.
I finished the antibiotic after the first few days and made sure to keep my hands off my face as much as possible. It was also suggested that I take 1000 mg of Vitamin C a day to help with healing.
Day 14
You can go back to regular liquid foundation after 14 days, as long as you don't keep it on for very long, and wash your face at night.
Per Tannaz, I continued to use the gentle cleanser and Cetaphil lotion (I feel like if you were using Aquaphor originally you could stop that after a week and switch to lotion), every day, to help with the healing.
Four weeks later
You can start using your normal anti-aging skin care products again.
I wrote a post with my final results of the CO2 Laser Treatment which you should go read also.
Where to Get a Laser Treatment in Orange County
If you are interested in having a CO2 skin resurfacing in Orange County, you should definitely check out CosmetiCare. I loved my experience with Tannaz!
She's an RN and has years of experience with the laser. I loved how she made sure I knew exactly what I needed or what to expect every step of the way. Plus she's the sweetest girl ever!
Is Laser Skin Resurfacing Worth It?
It's been 15 days since I had my treatment and I would say YES!
I can see improvements already and the final results will continue to happen over the next 4 weeks and up to 6 months to see best results as the skin heals.
I'm beyond grateful to have been given the gift of this treatment by CosmetiCare. To have smoother skin has always been a dream and to see it happening is truly mind-blowing!
What I love about CosmetiCare is that not only do they make the Real Housewives of Orange County looks amazing (I'm a RH super fan) but they really listen to what you want. I never wanted to do any treatments that would be too much or make me look like I've had anything done.
The treatments I've gotten have been very conservative and made me look like myself, only better.
CO 2 Laser vs. Microneedling
I'm updating this post to share my thoughts on which procedure I liked better. I did 3 separate Microneedling treatments (months apart) first. Each time I had about 5 days of down time as the redness subsided. I saw improvements, but the treatments hurt like HELL! (You can be more sensitive to pain around that time of the month.
The CO2 laser treatment didn't hurt at all. It had a longer recovery time but I had the same amount of discomfort during recovery as I did with the microneedling. I also feel like the results were more visible than the 3 microneedling sessions.
If you're trying to decide which procedure you should do, I would go with the laser. It's never a bad idea to do microneedling, as it helps to stimulate your collagen and does improve the look of your skin.
But a laser treatment is more bang for your buck in my opinion. It's been several years since I did my first treatment and I would love to do it again as I still have acne scarring. But from where my skin started to what it looks like now, I couldn't be happier!
Related Posts
• If you're interested in trying out some treatments but aren't sure where to start, I suggest Botox. I feel like it takes 10 years off my face and it's a super simple procedure.
• As you age, your face loses some fullness. I tried Restylane under my eyes and it totally made a difference and gave me a more youthful look. It also helped with my dark circles.
• Everyone loves the idea of losing fat without the hard work so I was intrigued by Coolsculpting. Essentially, you freeze the fat cells. I'm pleasantly surprised by the results.