Shower Diffusers are an excellent way to sneak in some aromatherapy to kick start the day.
A small gadget and the steam from your shower can help diffuse your essential oils making your bathroom a little more spa-like.
Whether you want a relaxing experience or something more invigorating, there is a diffuser option that is right for you.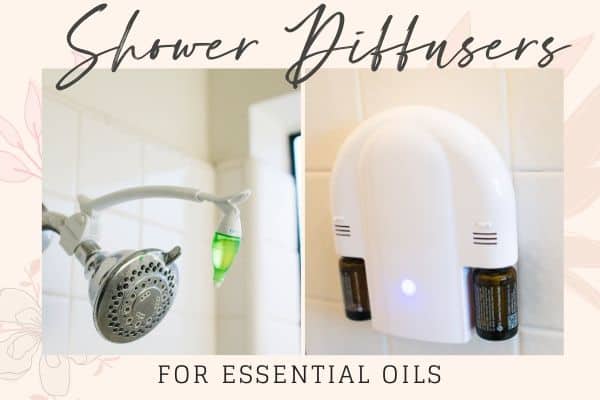 Some links in this post may be affiliate links. As an Amazon Associate in the Amazon Services LLC Associates Program, I earn from qualifying purchases by linking to Amazon.com and affiliated sites. I also participate in affiliate programs for other retailers.
Aromatherapy helps melt away the stress and tension we all hold in our bodies. Each day we face new challenges and trials that test our strength.
Whether you believe in the benefits of oils or not, they always smell amazing! And I know, for me, scents are a great way to change my mood!
Using them in my morning shower gets my day started right.
What are Oil Diffusers?
Oil diffusers are a way to disperse the scent of essential oils. You can use all kinds of materials and machines.
Typical diffusers use water to release essential oils into a fine vapor mist that is propelled into the air.
So shower diffusers are designed to work in that specific environment and are most often water-proof and made from more durable materials.
Do Oil Diffusers Leave a Residue?
Most shower diffusers don't leave a residue. As long as your oil is connected or filled properly everything should be fine. If you had the diffuser nozzle pressed right up against the shower wall, it may leave a residue.
The only residue you should find is from any essential oils you spilled while filling it. Which is why you should always fill them out of the shower if at all possible.
Remember, oil and water don't mix. So trying to wash oils away is not an easy task. And they may be slippery.
The mist is so usually so fine, that it shouldn't build up anywhere.
You also want to make sure you are using quality oils that don't have any weird additives.
Types of Shower Diffusers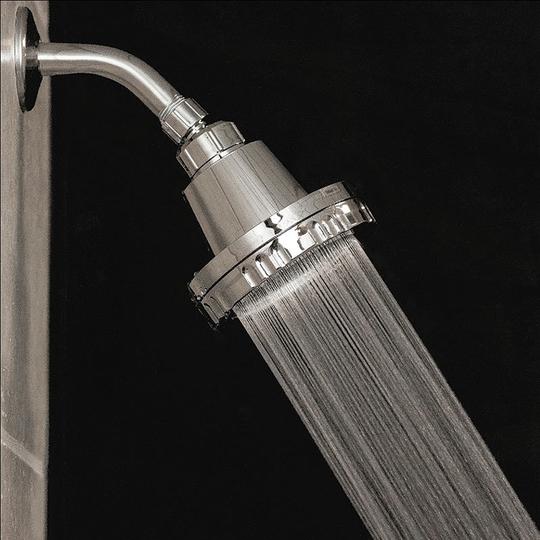 Shower Head Diffuser
Many unfiltered water systems have chlorine in them which isn't great for your skin. That's why I love the shower head diffusers that provide aromatherapy that can help neutralize chlorine found in unfiltered water at the same time.
The Aroma Sense shower diffusers aren't a typical diffuser but do give your shower a light lemon scent. The scent is found in the vitamin C cartridge that helps remove the bad stuff out of the water.
The cartridge lasts for about 45 days but with this option, you also get the great properties from vitamin C on your skin and hair. So it's more than just a great smelling shower!
At this time, you can't change the scent so this is best if you are lemon lover…
---
Water Filter Diffuser
This Shower Essential Oil Diffuser Ring and Filter is an even easier way to add a scent and water filter to your shower.
This diffuser filter ring fits easily on standard showers and requires no special plumbing or skill to install. The filter lasts for about a year but you can add oils to the ring whenever you want or need.
The heat and steam from the shower help release the aromas and make your shower feel spa-like which will help you start your day off clear-minded, relaxed, and happy.
---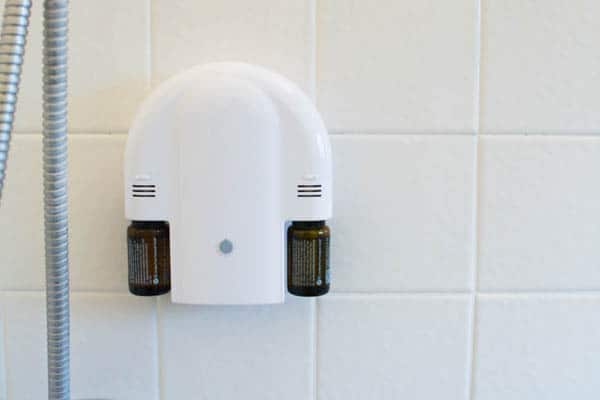 Oasis Shower Diffuser
The Oasis Shower Diffuser is my favorite! I think this is one of the best diffusers to use in the shower with your oils.
You can read my full Oasis Shower Diffuser Review here.
This shower oil diffuser uses batteries to create a scented mist. You can attach two oils at a time and use them individually or together.
This small unit attaches to the tile wall with a bit of included adhesive. Just follow the directions for installation to ensure it sticks well.
I love the price on this unit and it works with most standard sized oil bottles.
---
Essio Clip-on Shower Diffuser
I have this Essio Clip-On Shower Diffuser. And it's just ok. Yes, it's SUPER easy to put on. It literally just clips on.
But the oil pods are hard to turn on and slide in. The oil blends come pre-made and smell just ok. You can technically clean out and reuse the empty pods with your own blends, but cleaning them out is really difficult.
I had a really hard time with the pods and they would often leak. To turn them on and off (by twisting and matching up a little arrow on the sides) was more difficult than it needed to be.
But this kit is easy, inexpensive and a great way to see if you like having aromatherapy in your shower.
---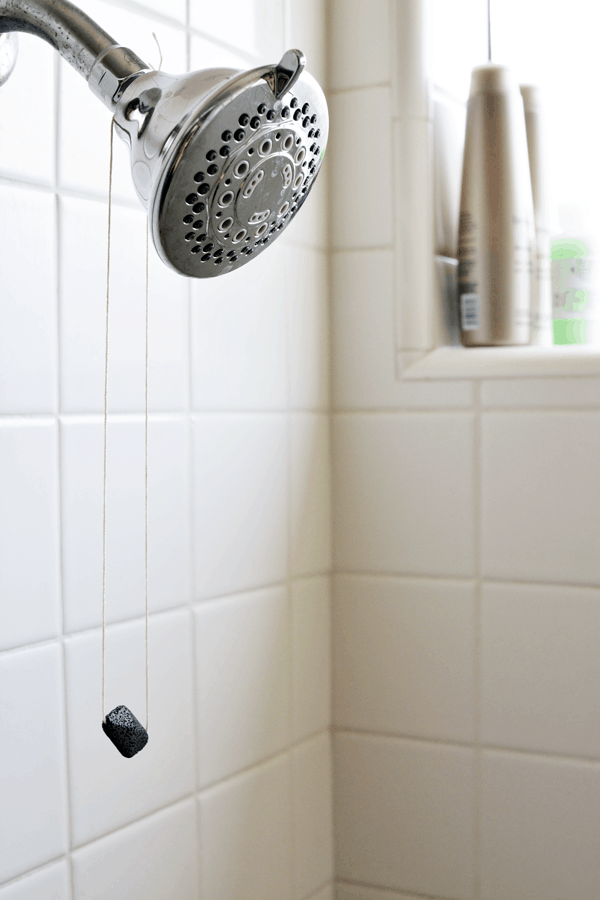 DIY Shower Diffuser
If you don't want to invest in any of the shower diffusers I've featured today, you could always make your own! I've been using this DIY Shower Aroma Diffuser for years!
Lava stones are a great way to disperse oils and this one hangs from your shower head letting you easily add whatever oils you want.
This option is super inexpensive, totally reusable and an easy way add scents to your shower. Or buy one that is ready-made!
---
Essential Oil Melts
Diffusing oils in the shower can even be done without any kind of attachments! Shower melts or steamers are a great way to get great scents.
I love using a Shower Steamer for easily and quickly changing the smells I'm using to suit my needs.
To use, you simply dissolve them in the shower. I especially love the peppermint or eucalyptus varieties when I'm feeling especially stuffy.
This Essential Oils Melt tutorial breaks down how to make your own.
Or you can find several varieties on Amazon!
---
Shower Diffusers from Amazon
Wrap Up: The Best Shower Diffuser
There are many waterproof shower diffusers as you can see from above, but there is one that I REALLY love.
The Oasis Diffuser is the best shower diffuser. It's a great price point, easy to install and you can use your own essential oils. You'll love starting your day with it!
Use Code CupcakesSharon
to get 10% off your Oasis Diffuser Purchase!
Add the code to the upper-right corner of the page your input your address and click "apply".
Special Notes About Diffusing Oils in the Shower
Take care when using essential oils in the bath or shower. There are sensitive parts of the bodies that would find certain oils, like peppermint, painful.
If these oils get on your hands, and then you proceed to wash, you may be in for a surprise!
If using the DIY diffuser, or the Essio, the oils can potentially drip which would also not feel great in your eyes!
Pin These Shower Diffuser for Later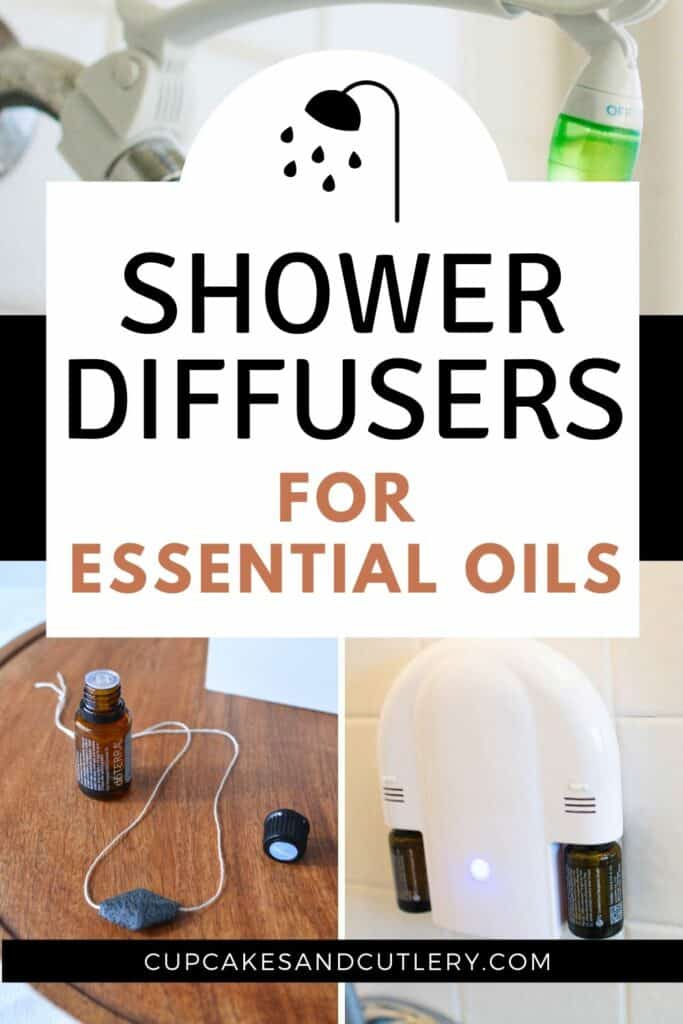 Shower diffusers are an awesome way to bring your favorite scents into your shower routine. If you love aromatherapy, your shower needs one of these options!