YUM! You're going to love this dessert recipe!
With canned peaches and a buttery cake mix crust, this easy Peach Dump Cake will quickly become a favorite treat.
With just 3 ingredients, plus whatever spices you want to add, you can create a bubbly, golden brown dump cake your whole family will love.
Quick and easy dump cake recipes are my favorite. And this one is at the top of the list!
Peach Dump Cake is delightful
My all time favorite dessert is the Cherry Pineapple Dump Cake. But that doesn't mean I have to make it every time I want something sweet.
Peach season is my favorite. And I love to use fresh peaches whenever I can (you HAVE to try this layered Peaches and Cream Angel Food Cake).
But this easy Peach Dump Cake can be made all year long thanks to canned peaches.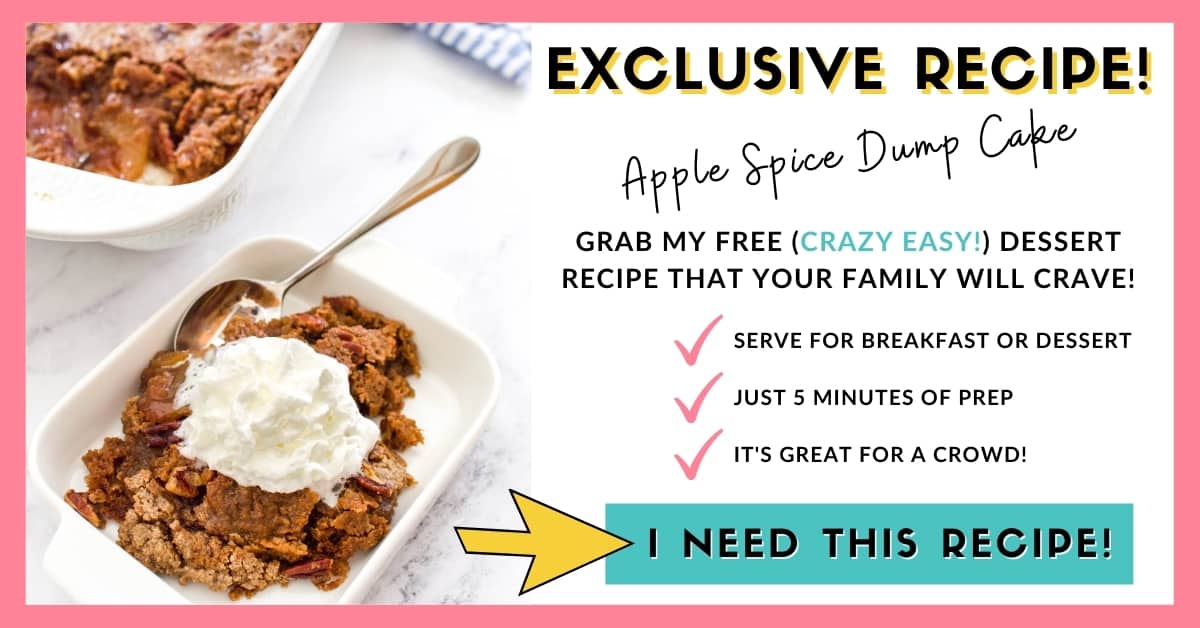 What does dump cake taste like
Dump cakes are an interesting dessert.
Even though there are tons of different flavor varieties, when you heat the fruit, they don't usually have a super strong flavor.
You get a general fruitiness topped with a buttery crust that tastes like vanilla cake.
Ways to jazz up a dump cake with peach
Because canned fruit or even pie filling can have a hint of fruit flavor that is also really sweet, I love to add some extra things to give it more flavors.
I typically try to think of what naturally pairs well with whatever fruit I'm using in the dump cake.
For example, in my Blueberry Dump Cake, I added a touch of lemon zest and juice to help brighten the flavor.
And in this peach dump cake, I decided to add in some powdered ginger.
You can add in any flavors that you love like cinnamon and other spices as well as vanilla or other extracts.
Just make sure you give everything a quick stir to distribute the flavor evenly.
How to make Peach Dump Cake
Dump cakes are just so simple. You just open, pour and bake.
If you have more time and energy you can add in other flavors and textures.
But no matter what you do to it, you end up with a yummy dessert to share with friends and family.
Ingredients
canned peaches
white cake mix
butter
spices, optional
It's so easy to keep ingredients on hand for dump cake making! While it takes about an hour to cook, it takes just a few minutes to put it together.
Instructions
In a baking dish, add your peaches (use the juice from one can but drain the second can).
While you want moisture to help create that delicious cake mix crust, too much juice will make everything a little bit runny.
If you want to add any extra flavors, now is the time! Add ½ - 1 teaspoon ground ginger and mix with a spatula.
While you typically don't stir a dump cake (which is one of the reasons I love making them - I'm lazy), when using spices or other flavorings, you should.
Sprinkle on the dry cake mix then lay out the butter pats evenly across the top.
Melting the butter then pouring it on used to be my method of choice.
But as I make more and more dump cakes (because they are delicious and I love them), butter pats are where it's at.
Should I get a shirt made with that statement?
Also if we ever meet in person remind me to tell you about the time my dad thought the butter pats where cheese and just kept eating it...
The reason I like adding the butter in this way is because I think it helps to ensure that all the dried cake mix is covered evenly.
You still may end up with small patches of dry cake mix (which still taste fine btw), it is less likely.
I always bake my dump cakes for an hour. It gets a dark golden brown crust from the butter and cake mix and I love that extra bit of crunch.
This is personal preference. Since nothing is really cooking you can take out your dump cake when the topping looks "set" and has a little bit of color to it.
The peach flavor of this dump cake is pretty subtle. As I said before, when you heat fruit, it really mellows out the flavor.
Which makes peach a great flavor to pair with other fruits. You should definitely try my Peach Blueberry Dump Cake also!
How to serve peach dump cake
Peach Dump Cake can be served warm out of the oven, room temperature or cold.
A really lovely vanilla ice cream is a great topping when eating this warm.
And you can never go wrong with whipped cream. No matter what the dessert's temperature is.
Fresh herbs are also a great way to add another flavor to dump cakes. While I used mint to garnish you could easily tear it up and sprinkle on top.
I'm also a big fan of thyme with fruit desserts.
Cold dump cake is delicious on its own so I typically don't add anything to it. Also, the fruit flavors come out more when it's cold.
Still have more questions about how to make dump cakes? Click here to read everything you need to know about dump cake.
This easy Peach Dump Cake is a great dessert to make for friends and family or anytime you want a treat that doesn't make you feel stuck in the kitchen.
Related Recipes
Peach Dump Cake
This easy Peach Dump Cake needs just 3 ingredients and a few minutes to create a tasty treat your whole family will love. The canned peaches and boxed vanilla cake mix make this dessert one that is simple and fruity and very little work.
Print
Pin
Rate
Save
Saved!
Ingredients
2

15 oz cans sliced peaches, in syrup (one drained)

spices like cinnamon or ginger

optional
Instructions
Preheat oven to 350°.

To a 9" x 13" baking dish add 1 can of peaches with syrup, and one can peaches with the juice drained.

Add spices, if desired, and stir to distribute spices evenly.

Sprinkle dry cake mix over the peaches evenly.

Place butter pats evenly on top of the cake mix.

Bake until bubbly and golden brown approximately 60 minutes.
Notes
If using spices, use ½ teaspoon - 1 teaspoon depending on the spice. Since ginger is bold, I used ½ tsp. But for cinnamon, I would probably use 1 tsp.
Nutrition
Serving:
1
g
|
Calories:
324
kcal
|
Carbohydrates:
42
g
|
Protein:
2
g
|
Fat:
17
g
|
Saturated Fat:
10
g
|
Polyunsaturated Fat:
5
g
|
Trans Fat:
1
g
|
Cholesterol:
40
mg
|
Sodium:
443
mg
|
Fiber:
1
g
|
Sugar:
23
g