Doffo Winery, Yuan Restaurant and Old Town Temecula
In case you missed yesterday, today's post is Part 2 of my wine tasting trip to Temecula. Take a minute and go back to read Part 1. Go ahead. I'll wait…
VisitTemeculaValley.com helped me put my trip together and I couldn't be more grateful. I want to remind you that all opinions are my own!
So let me catch you up (this is the "Previously on the Real Housewives…" part of the post). At this point in my Temecula trip, we are two wineries in, we've had a fantastic lunch and we are being driven around Temecula in an Antique Pink Cadillac. I highly recommend hiring a car when you do your wine tasting. That will ensure that everyone has an amazing time and be the safest for everyone, everywhere. It was so nice to have a car waiting for you to take you on to the next location and of course with Sergio, you get so much more. Sergio knows a ton about Temecula and the wineries themselves and is super nice.
Our last winery of the day was Doffo Winery. This is one of the smaller wineries but has a big reputation. Whenever we mentioned that we were heading to Doffo as part of our day, everyone nodded their approval. This family owned and operated winery is awesome. And it all started in this garage. What started as a retirement project for Marcelo Doffo turned in to a business that the entire family is a part of.
Oh yeah. And there are LOTS of motorcycles around. What does this family love as much as wine? Racing motorcycles. And they manage to blend the two in a really great way. And the staff at the tasting room was awesome. Again, I fell for and bought a bottle of red wine which really surprised me. But t was delicious and I knew I wanted to bring it home with me to share with my husband.
After our tasting, we headed over to where the work happens. This was also our first glimpse of the absolutely stunning grounds that make up and surround Doffo Winery. We were greeted by Damian Doffo who told us a little bit more about his family's business and the wines that he is in charge of producing.
We also got to finally see the speakers which we had heard about all day. Marcelo plays classical music to his grapes! To soothe them. I freaking love that! And that view would not suck to look at every day.
There are vintage motorcycles mounted everywhere. And the while some of the winemaking equipment looked similar to stuff we had seen at previous wineries, some of it was totally unexpected. That terra-cotta colored, egg-shaped tank was certainly something we didn't see anywhere else. The family's Italian/ Argentinian heritage is part of their overall wine making process and influences not only the wines that they make but also how they are made.
And then we got to get our feet in to a vat of grapes. Damian told us that this is only something that tourist's do and I was totally fine with that. How many people get to say they've gotten to do that?! And don't worry, these grapes were not going to be made in to Doffo Wines. My feet will not be part of your wine drinking experience. This was us trying to instagram the perfect photo. I was being super careful because I had this horrible feeling that I was going to drop my phone in the grapes and juice. And yes, the bottom half of our legs were pink for several hours…And it was totally worth it. So thank you, Damian, for making that happen!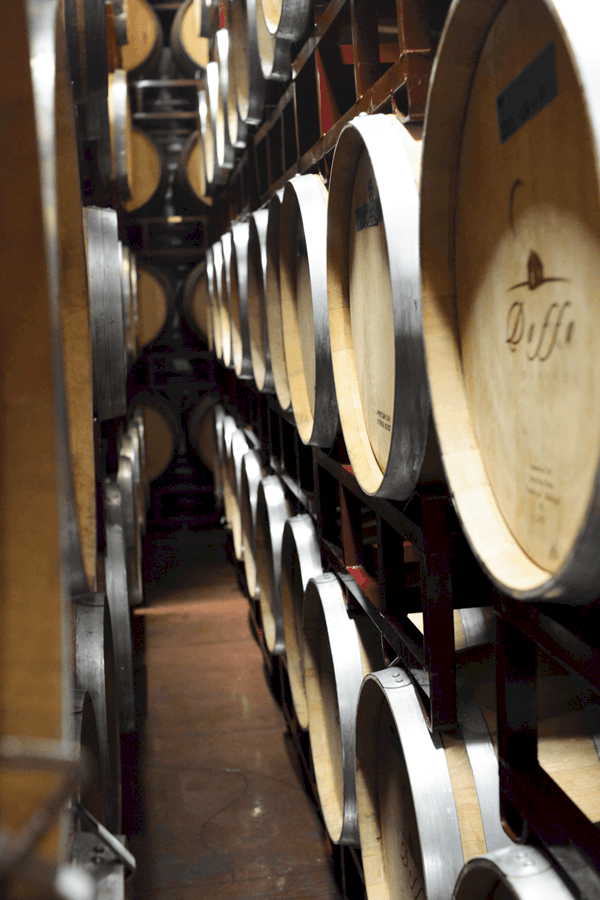 Then we walked through the Barrel room. Stacks on stacks of barrels of sweet, delicious wine.
While one side is filled with wall-to-wall barrels, the other side is a mix of barrels and vintage motorcycles. I love that they are able to mix their two biggest passions. That is what life should be about.
They have this huge, gorgeous Italian made cask aging a Cabernet Sauvignon. It was super interesting to hear about how differently the wine making process with this oversized beauty compared to normal barrels.
And then we got to taste some. I loved getting to taste the wines at different points in their well thought out lives. It's a combination of science, taste, heart and magic that the wine makers need in order to know when a wine is ready to release to the public. It truly is an art. And I wish you could see the front of Damian's shirt because it was stained with grape juice and sort of looked like tie dye. It is really making want to craft with wine…
Damian took us on a tour of the vineyards and talked all about how the family is involved. It was never the intention for wine making to be a family business. But everyone stepped in as they realized they were making something really special. And I love that Marcello makes a special wine for each grandchild. While each winery we visited was family owned, Doffo really makes you feel like you are part of their family. And while we didn't meet Marcelo we heard all about how this winery came to be and about the historic school house, that used to be on the property, that reminded him of his own school back in Argentina (and seen in their logo).
I'm sure it was partially the time of day, but these vineyards were the prettiest yet. I could have plopped a chair right here, with a glass of wine, and stayed for hours.
Truly magnificent.
We were really lucky to see places, at each winery, that are usually reserved for Wine Club members or invited guests. The view from a hill-top patio was just incredible.
And LOVED hearing about the Love Locks that you can purchase in the Doffo Tasting Room. Since this gorgeous spot has been the location of many proposals and anniversary celebrations, the family decided to sell these love locks that you can engrave your name on and then lock in one of several beautiful spots on this hill. And then throw away the key.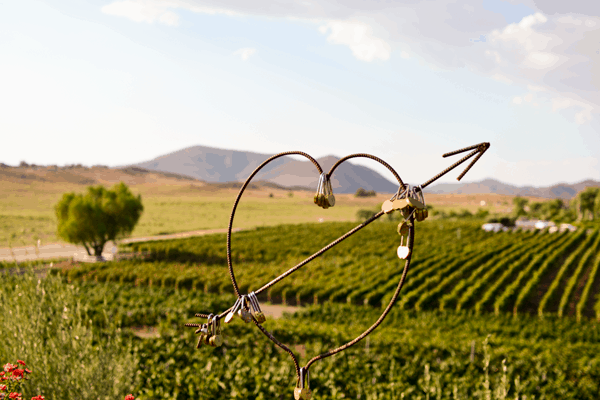 They say that many of their guests return year after year so they thought it was a good way to provide a physical reminder of their special life event. So sweet! We absolutely adored our time at Doffo Winery.While I really want to try out other Temecula wineries, I really want to go back to these 3. The way they welcomed us and opened their doors to us was totally unforgettable. It was the perfect first wine tasting experience.
And over our day we got to know Sergio a little bit better. His hand painted tuxedo shirt had delighted me all day long so we had to get a picture.
Then we noticed his belt! That was Sergio as a bull fighter in Mexico in his younger days.
We got back in the pink cadillac for one last ride and headed to the Embassy Suites.
The lobby of the Embassy Suites is so pretty with design touches reminding you of your proximity to wine country. While there are several large resorts in the thick of the wineries, they can be really expensive and booked (especially on weekends) well in advance. I loved how close this hotel was to the wineries as well as Old Town Temecula. There is a sports bar, on site, that offers dining and happy hour specials. And the hotel offers complimentary breakfast in the morning. If you want to get out and stretch your legs, there are TONS of dining options within walking distance from the hotel.
We checked in to our room to freshen up very quickly before heading off to dinner. I couldn't wait to lay my head down on that pillow!
Since I knew my friend Tori lived in the area, I invited her to join us for dinner at this hidden gem of a restaurant the gals at VisitTemeculaValley.com set up for us. Yuan Boutique Bistro and Dim Sum is located in a strip mall. But that shouldn't deter you from trying it out when you visit Temecula.
The interior of the restaurant was so pretty! It had great stone walls and sparkly light fixtures. It felt upscale without being stuffy and was really comfortable. And since it IS wine country, our courses were loosely paired with wines from Frangipani Winery.
I have to say that I am not a fan of sushi but will always give it a try. These tuna rolls were phenomenal. What was especially cool about this dinner is that my trip planners told the owner to have the chef do whatever he wanted and we were wowed with things that were not on the menu. We did ask if people can request this type of meal when they visit and he said yes. It was a really great way for the owner and chef to show us what the restaurant is all about. While the dishes are Asian influenced, for sure, they are a fusion or all kinds of different flavors and were very inventive.
This Thai Basil Chicken was a highlight for me.
As was this sea bass in a Szechuan sauce. This is the second restaurant for owner Howe Bao whose first location is in Aspen. It was a phenomenal dining experience and I am so glad that I got to try this amazing food. And then it was time to turn in for the night. One thing I realized was that for a wine tasting trip, we didn't really drink a lot of wine. We tasted bunches but didn't get a chance to go back and enjoy a glass of the ones we really enjoyed. But trust me, I wouldn't trade the tours and behind the scenes look at each winery for anything. I just know that I want to come back and revisit some of the wines in more detail. :)
After an awesome night of sleep at the Embassy Suites, I decided that I couldn't leave without checking out the Old Town Temecula area. I didn't spend much time there as I needed to get back to reality but I saw enough to know that I would like to see more.
There are fun, murals painted on walls. There are old-timey decor that made it feel world's away from the city I live in. The atmosphere was awesome and I can only imagine what kind of night life can be found in this great little area.
I had an amazing time in Temecula and can't wait to go back! If you haven't been wine tasting and you have wanted to, you absolutely should do it!
I can't thank Wilson Creek, Lorimar and Doffo Wineries enough for the amazing hospitality they showed us and it was truly an experience I will never forget.
HUGE thank you to Embassy Suites and Antique Pink Cadillac for keeping me comfortable and in style while in Temecula.
And this experience wouldn't have been possible without Marlene and Annette from VisitTemeculaValley.com. I can't say enough great things about how valuable a resource their website is. It is the first place you should go when planning your trip to Temecula. And if you happen to live in Temecula, it is a great resource for finding excellent local businesses.
Now, who wants to go back with me? And if you haven't read Part 1 of my trip yet, you can read it here.