Wondering how to make a reusable cold compress for headaches? This tutorial will walk you through making a homemade freezer bag that is a great headache remedy to relieve pain. It's great for kids and adults and you can make it in about half an hour.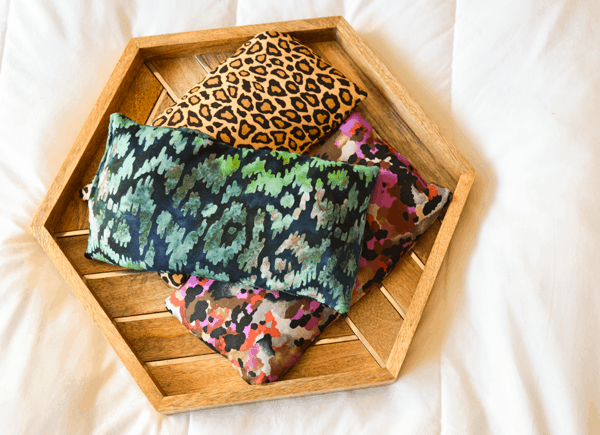 Jump to:
You'll love this DIY Migraine Ice Pack
Headaches are the WORST! Ever since I was little I have suffered from migraines, tension, and sinus headaches. There is one thing I always turn to for headache relief. And it's these DIY Freezer Bags.
This DIY headache bag is essential for your family if you or your child get headaches and want a non-medicine way to relieve the pain.
Like a boo-boo bag for your head, these reusable fabric cold packs are easy to keep on hand when you need to soothe your head and find headache relief.
My whole family loves these homemade cold compress pillows. It's one of my favorite natural headache remedies.
Although my headaches aren't classified as migraines anymore, I still get severe headaches about once a month. They are caused by allergies, stress, caffeine, and pretty much if people look at me the wrong way.
Someone made me a DIY freezer bag when I was in college to help me with my headaches. And I have used it ever since. It's one of my favorite home remedies for headaches.
They are really easy to make and require really basic sewing skills. I had my mother-in-law come over to help me and we made 3 at once.
You will probably also want to make more than one. My kids use them all the time.
Of course, they grab one when they need natural headache relief but they also use it if they bump their heads, etc. I love that it is non-medicinal and helps them to find comfort.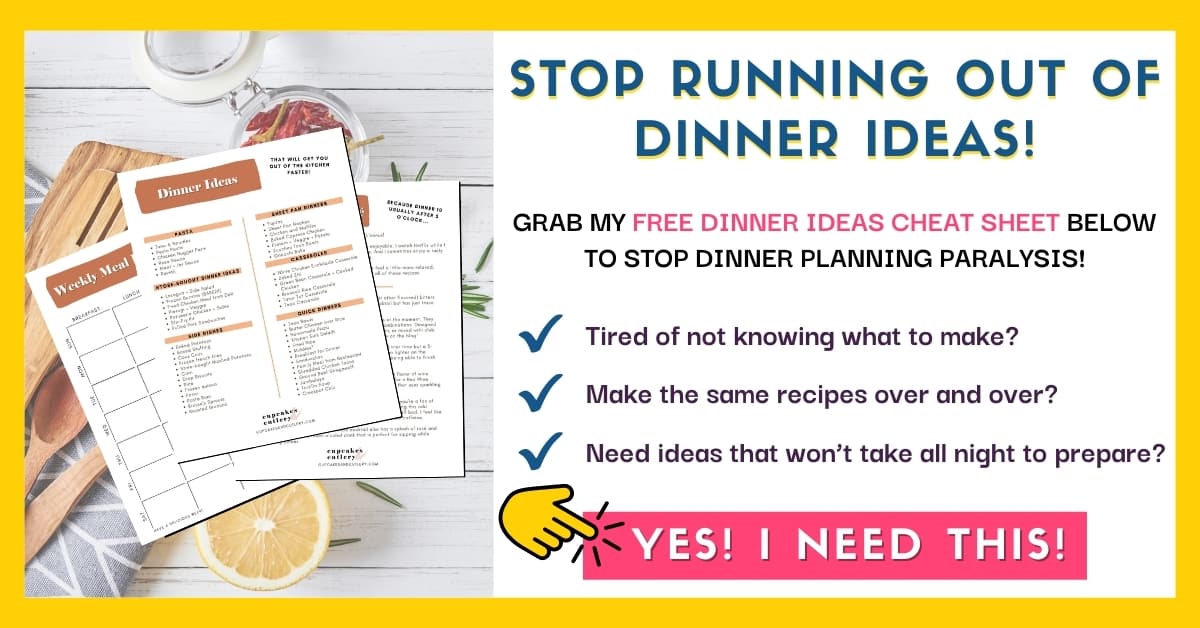 Supplies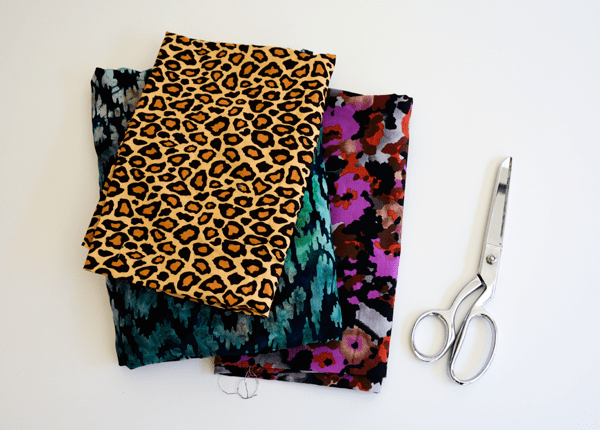 Scroll down for a printable instruction list with full measurements and instructions.
Unpopped popcorn, you say. And I say to you, YES!
You may find info online for how to make DIY corn bags, which can be heated up in the microwave. Those call for dried corn from a feed store. When I opened up my original cold bag for headaches to see what was inside, it looked like popcorn.
There's a very real chance it was dried corn and I just couldn't tell the difference.
Regardless, all of my DIY migraine ice packs use popcorn. This means that they work great as a cold compress, but shouldn't be heated in the microwave.
This mini sewing machine is all you need. It doesn't need to be all fancy. A handheld machine would probably even do the trick.
A non gel filling for homemade ice packs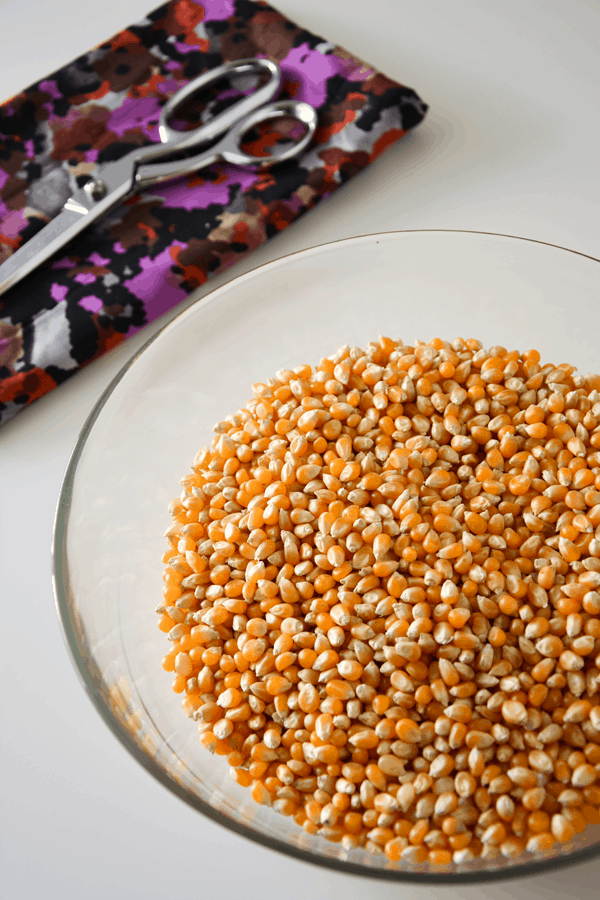 Most headache sufferers know that using something cold on their forehead can be really soothing. But what I love most about these DIY freezer bags is the weight.
The bags are fairly heavy and the pressure helps to relieve a little bit of the pain from the headache. It's pretty amazing.
When we only had one of these bags, I would suffer through a minor headache at night because I wasn't sure if the headache would worsen and I'd need a freezer bag more in the morning.
I don't know what took me so long to make more bags. Because now I use them all the time!
How to make a reusable cold pack for headaches
Essentially, you are creating a small rectangular-shaped pillow. Except instead of stuffing it with batting, you'll add your popcorn.
My mother-in-law was able to whip these out super fast on the sewing machine. If you have some sewing experience, you should be able to finish the ice bag for headache in under 30 minutes.
1. Cut the fabric
Cut two pieces of fabric to be 10 ¾" x 6" (which includes ½" for seams).
2. Place Fabric Together
Lay the two front sides of the fabric against each other so that the inside of the fabrics are facing outward.
3. Add Pins
Add straight pins to keep the fabric in place. You can skip this step if you are a more free flowing type of gal.
4. Sew Them Together
Sew three sides (both long sides and one short side) and then leave a small opening on the fourth side where you'll add your popcorn.
5. Trim the Corners
Cut off the extra fabric from the corners (taking care to not cut through what you've just stitched closed) to get rid of excess fabric for when you turn the fabric right side out again.
7. Add the Filling
Grab a funnel and add the unpopped popcorn to through the hole you've left in one of the short ends.
8. Close Up The Hole
Sew the hole closed to keep the popcorn in.
Now we fight over who gets to use what pattern, but there is one for each of us.
These DIY headache relief bags are one of my favorite things in life. I used them twice this week due to headaches and even though they are heavy, I sometimes take them with me when I travel.
If you suffer from migraines or terrible headaches, you need to make these! They feel so great on your head, but I often scoot it down to cover my eyes as well.
These are the perfect size and weight for kids and adults. Definitely make more than one. They are so great to have on hand!
P.S. I'm really sorry you if you get headaches too. They are the pits!
Frequently Asked Questions
Why does cold help a headache
I am no scientist. I just know about my personal experience with headaches. Ever since I was little, my mom would give me a cold washcloth when my migraines came on. It was soothing and helped relieve the pain a little bit. I read that cold can help blood vessels constrict, making the pain less noticeable. While it doesn't take the pain away, it does help to numb the area and distract your brain from the pain. That's especially true for migraines. Other types of headaches might feel more relief from warmth. But I use these cold packs for all my headaches and it always feels better. You can read a more sciency answer here.
What can be used in a cold pack?
Store-bought cold packs are usually filled with chemicals. There are a variety of ways to make your own at home. I prefer to use unpopped popcorn kernels. But you can also use rice, and different combinations of water with dish soap, rubbing alcohol or even freezing a damp sponge.
How to Use Ice Pack for Headache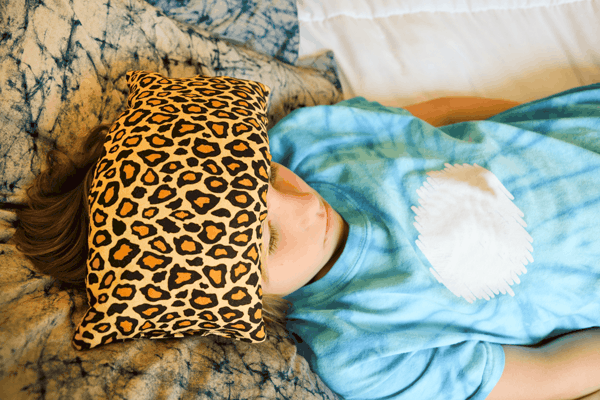 I store these in a plastic bag in the freezer so they are ready when we need them.
To use, lay down on a bed or couch, then lay the homemade freezer pack on your forehead.
When I have an allergy headache, I will sometimes scoot it down over my eyes as well.
Move it around to try to find the spot where it gives you the most relief.
Variations
If you have the skill, adding a zipper would ensure you could wash the fabric when you need to.
If you are an expert sewer, consider adding a zipper AND an inner muslin bag for the popcorn so you can wash the cover and keep the inner bag more protected.
If you don't have a sewing machine or don't want it to slip off your head, also try this headache hat! I got one for Christmas and it is really nice! Just make sure you put on socks and a sweatshirt before putting it on as it cools you down a LOT!
Etsy also sells homemade Headache Bags but most of those are filled with rice and can also be microwaved.
Looking for another type of cold bag? Check out this post with 5 ways to one that is perfect for a single use.
And if you love sewing, this Apron with Attached Towel tutorial is something you should check out. I could totally use this in the kitchen!
Related Posts
DIY Headache Bag
Like a boo boo bag for your head, these reusable fabric cold packs for headache relief, are easy to keep on hand when you need to soothe your headache pain. My whole family loves these homemade cold compress pillows. It's one of my favorite natural headache remedies. You'll love these DIY freezer bags.
Print
Pin
Rate
Save
Saved!
Equipment
Sewing machine and someone to work it...

Scissors
Ingredients
2 pieces of fabric that are 10 ¾" x 6" (which includes ½" for seams)

28

ounces

of unpopped popcorn
Instructions
Face fabric pieces together so that the right side of the fabric is facing the other right side of the fabric.

You can pin the pieces together before sewing if that is your preference.

Sew all sides making sure to leave a 1 inch opening (approximately) on one of the short sides where you'll add the popcorn.

Turn the fabric right side out.

With a funnel, add unpopped popcorn.

Carefully, sew the remaining 1-inch opening, closed.

Notes
See images in the blog post to see a tip for making sure the corners aren't too bulky.
28 ounces of popcorn make the perfect weight for these headache bags.
Save and pin this recipe for later!
Save this recipe for later by pinning it or clicking the teal heart at the bottom right of the page. For more recipes make sure you're following me on Pinterest, Instagram and like my page on Facebook. If you make this recipe, be sure to leave a star rating and tag me in your pictures!