This Carrot Cake Mix Cookies recipe needs just a few simple ingredients and a few minutes to make dessert magic. With a heavenly aroma and irresistible flavor, you'll have a batch of chewy, soft, and utterly delightful cookies that will put a smile on everyone's face in no time.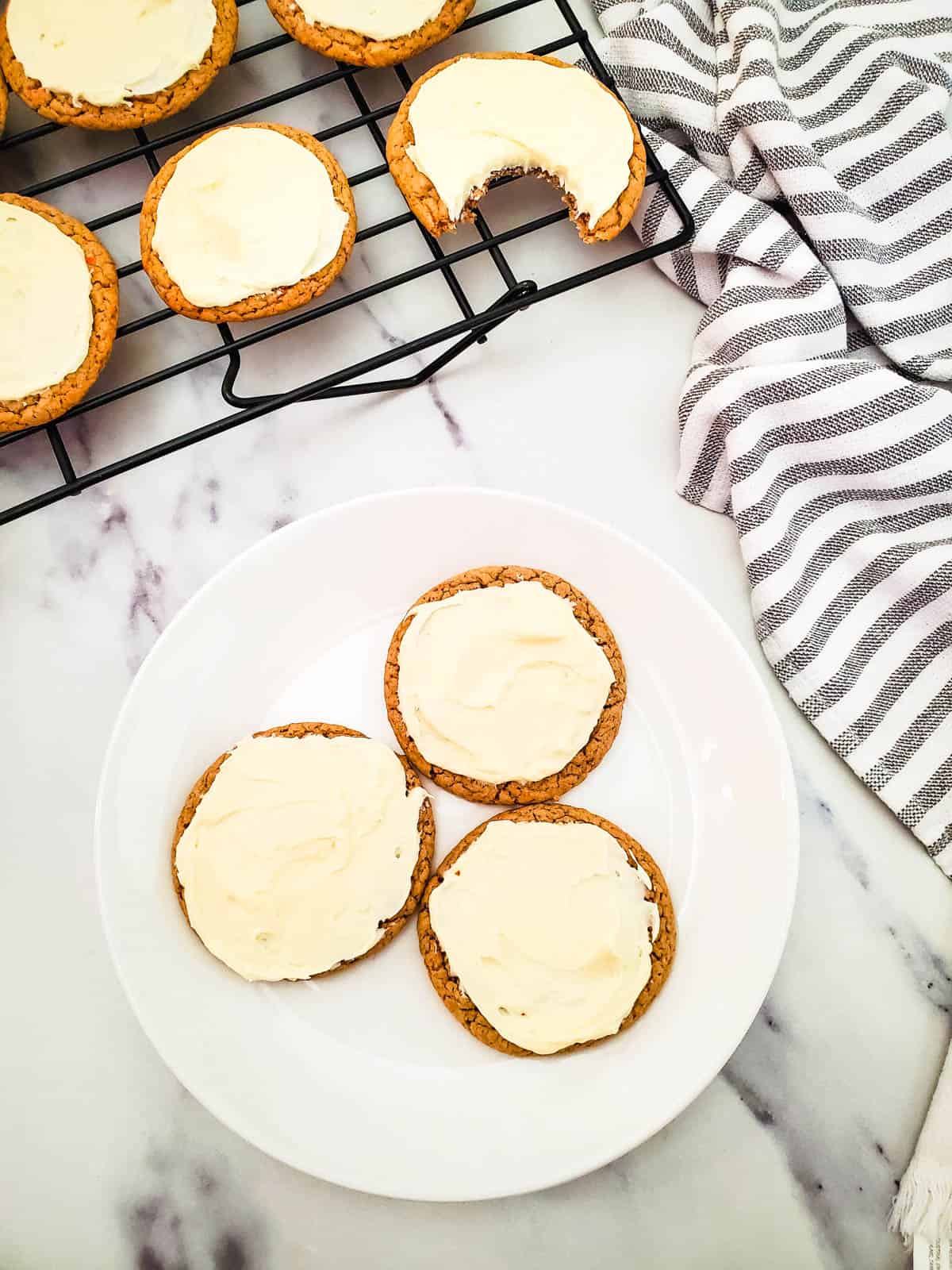 Jump to:
The easiest carrot cake cookies ever
Carrot Cake Cookies from cake mix are the ultimate dessert whether you're in the mood for a nostalgic treat or need something quick and delicious to share with friends.
Cake mix is the ultimate time-saver that makes delicious, semi-homemade cookies without the hassle of getting out individual ingredients. They are the epitome of convenience (cake mix desserts are everything!). It's like having a personal baking assistant that takes care of all the hard work for you.
Related: Chocolate Cake Mix Cookies with M&Ms
There's something undeniably nostalgic about the flavors of brown sugar and cinnamon in carrot cake. And when those flavors are transformed into chewy, delectable cookies, you've got a winning combination.
They're the perfect solution for those moments when time is short, and cravings are high. Whether you're planning a potluck, hosting a cozy gathering at home, or simply indulging your own sweet tooth, these carrot cake mix cookies will save the day with their deliciousness and convenience.
Ingredients
The key to infusing the cookies with carrot cake flavor is the cake mix! It's the shortcut to capturing that classic taste of carrot cake without the hassle of starting from scratch.
These 3-ingredient cookies are easy to make any time you need a sweet treat especially when the only other ingredients needed are things you probably already have.
Cream cheese frosting takes these cookies to the next level. It adds a delightful sweetness and enhances the carrot cake experience. Plus, using canned frosting keeps things simple and hassle-free.
Directions
Preheat the oven to 350 degrees.
Line a baking sheet with parchment paper. This will prevent the cookies from sticking and make clean-up a breeze.
Step 1:
In a large mixing bowl, combine the dry carrot cake mix, vegetable oil, and eggs.
Step 2:
Stir everything together until a dough forms.
Step 3:
Using a cookie scoop or a tablespoon, drop scoops of dough onto the prepared baking sheet.
Make sure to space them about 3 inches apart to allow room for spreading as they bake.
Step 4:
Pop the baking sheet into the preheated oven and let the cookies bake for approximately 10 minutes.
Keep a close eye on them, as baking times may vary slightly. You'll know they're ready when the edges turn golden brown, and the centers are set.
Step 5:
Once the cookies are out of the oven, set the baking sheet on a cooling rack for 5 minutes. Then, carefully transfer the cookies from the baking sheet to the cooling rack to cool completely.
Once they've cooled, it's time for the crowning glory – frost each cookie with a generous dollop of cream cheese frosting.
Tips
Get creative with mix-ins: While the base cake mix cookie recipe is divine on its own, feel free to add your favorite mix-ins for extra flavor and texture. Chopped nuts, raisins, or even shredded coconut can take these cookies to the next level. Just fold them into the dough before scooping them onto the baking sheet.
Keep it cool: If your kitchen is warm, consider chilling the dough for 30 minutes before baking. This helps prevent the cookies from spreading too much during baking and ensures a thicker, chewier result.
Experiment with frosting: While cream cheese frosting is a classic choice, don't be afraid to try different frostings for a fun twist. Vanilla buttercream, lemon, or even maple-flavored frosting can bring a unique flavor profile to these cookies.
Frequently Asked Questions
How do you store these cookies?
To keep your carrot cake mix cookies fresh and delicious, store them in an airtight container at room temperature. They will stay soft and chewy for several days if they last that long! If you can, store them unfrosted.
What is the point of using cake mix for cookies?
Cake mix serves as a convenient shortcut, providing pre-measured dry ingredients and a delightful flavor profile. It simplifies the baking process and adds a unique twist to traditional cookie recipes, creating a fusion of cake and cookie goodness.
Why is cake mix a good idea to make cookies with?
Cake mix offers a consistent blend of ingredients, including leavening agents, flavors, and sweeteners. This ensures a foolproof result every time and saves you the hassle of measuring out individual ingredients. Plus, the flavors infused in cake mix add a delightful twist to your cookies.
Can I use any flavor of cake mix to make cake mix cookies?
Absolutely! While this recipe highlights carrot cake mix, you can experiment with other flavors as well. From chocolate and vanilla to red velvet and lemon, feel free to unleash your creativity and explore a variety of cake mix flavors for different cookie adventures.
Can I make cake mix cookies without eggs?
Yes, you can! If you prefer an eggless option, you can try using applesauce or mashed bananas as an egg substitute. Use ¼ cup of applesauce or mashed bananas per egg required in the recipe. Keep in mind that the texture and taste of the cookies may vary slightly.
These semi-homemade carrot cake cookies, with their time-saving cake mix hack, is a quick and easy way to satisfy your sweet tooth. From potlucks to parties, they're the perfect dessert for any occasion, effortlessly bringing smiles to the faces.
Save and pin this recipe for later!
Save this recipe for later by pinning it or clicking the teal heart at the bottom right of the page. For more recipes make sure you're following me on Pinterest, Instagram and like my page on Facebook. If you make this recipe, be sure to leave a star rating and tag me in your pictures!
More easy cookie recipes
Carrot Cake Mix Cookies
These Carrot Cake Cookies are made super simple thanks to cake mix! With just a few ingredients, you can make a delicious dessert that your whole family will love.
Print
Pin
Rate
Save
Saved!
Ingredients
15.25

oz

Carrot Cake Cake Mix

½

cup

vegetable oil

2

eggs, large

1

cup

Cream Cheese Frosting
Instructions
Preheat the oven to 350 degrees.

Line a baking sheet with parchment paper.

Add the cake mix, oil, and eggs to a large mixing bowl, and stir until a dough forms.

Drop scoops full of dough onto the baking sheet, 3 inches apart.

Bake for 10 minutes, remove from ove, and set the baking sheet onto a cooling rack for 5 minutes, then transfer the cookies to the cooling rack.

Once cookies are completely cooled, frost them.
Notes
You can add in nuts, coconut, chocolate chips or anything else that sounds delicious to the better before baking.
Nutrition
Serving:
1
cookie
|
Calories:
130
kcal
|
Carbohydrates:
24
g
|
Protein:
1
g
|
Fat:
3
g
|
Saturated Fat:
1
g
|
Polyunsaturated Fat:
1
g
|
Monounsaturated Fat:
1
g
|
Trans Fat:
0.04
g
|
Cholesterol:
14
mg
|
Sodium:
163
mg
|
Potassium:
18
mg
|
Fiber:
0.2
g
|
Sugar:
17
g
|
Vitamin A:
20
IU
|
Calcium:
40
mg
|
Iron:
0.5
mg