I wasn't going to have a birthday party for my 3 year old this year.  You know, just save the parties for the milestone birthdays.  That lasted a few months but as my son's birthday started getting closer ideas just kept popping in to my head.  I knew it wasn't going to have a theme.  It was just going to be an old school birthday party.  I just wanted it to be a birthday party, with balloons, cake and confetti.  I loved the printables Jenny created for The Sweetest Occasion so I had Lauren help me whip up an invitation inspired by them.  At the beginning planning stages, I only wanted the party to be black and white.  That didn't last long.  Apparently I love color.  P.S. These amazing photos, unless otherwise noted, were taken by Dez and Tam.  They are super awesome and I love them.  P.S.S. this post is crazy long.  You better get started.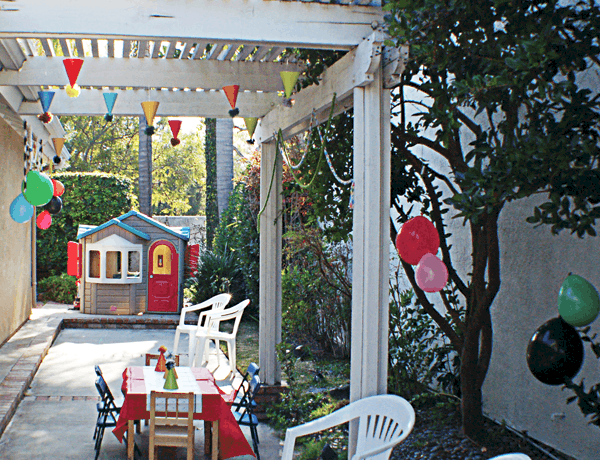 I kept the decor pretty simple.  I hung balloons and party blowers from black and white twine.  And hung party hats and garlands around the backyard to keep it festive.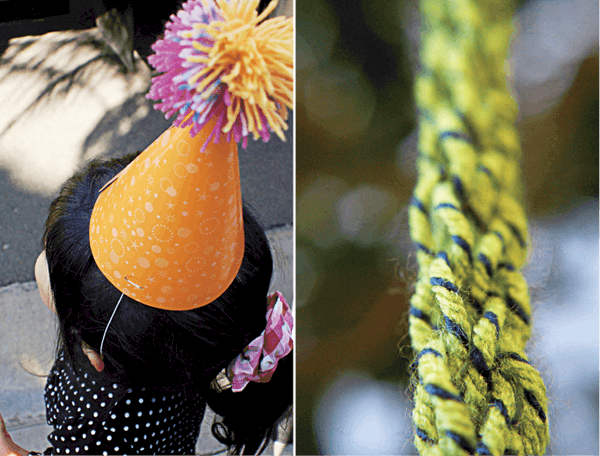 I kind of have a thing for yarn.  There are so many kinds and colors to choose from and you get a lot of it for (sometimes) very cheap.  For this party I had seen a post about finger knitting and became obsessed with it over the holidays.  I finger knitted all the garlands for the party while watching TV (I watch a lot of TV).  I loved that they seemed sweater-like which made them the perfect winter garland.  And I wanted to add lots of colors so I made all kinds of poms for the hats.
I really love how this banner worked out.  Totally simple and not perfect.  I like my parties to be a bit unfinished, not too perfect.  I mentioned to my sister-in-law that maybe she could try to write my son's name in yarn and she totally did it!  She is a crafty crafterson (she started this blog with me WAY back).  And it looks awesome.  I'm a big snacks person at parties.  Yes, most of the time they are of the sweet variety.  But if you look carefully to the far left of the photo there are grapes and carrots.  So there.  Vegetables, represent!
Every good party has confetti, right?  Well, I hate messes.  So the best way to get around confetti all over my house for weeks is to jar it up.  It is pretty and shiny and contained.  Lauren noticed, a few weeks ago, that I had succulents growing willy nilly in my back yard (duh! but in my defense I don't go outside if at all possible so how would I have seen them?).  I used some small clippings to add some life to the table and added color by putting sequins under the dirt.  I love how they turned out!
With the snacks, I kept them easy and either black and white or somehow birthday cake related except for the fruits and vegetables.  I probably should have chocolate dipped those too.  I named the chocolate, graham cracker and sprinkled dipped marshmallows "mobile" s'mores but really aren't all s'mores mobile?  We'll chalk that up to trying to force creative naming at a very late hour the night before the party.  And the cake batter bark is really something you all should try.  The recipe is from How Sweet It Is and was super easy and freaking delicious.  I rounded those out with store-bought Oreos (I ain't ever going to make a home-made version of something that can be easily purchased.  That is not how I roll.  And besides, how would I be able to get in all those modified chemicals if I make them at home???)  And have you tried the vanilla cupcake flavored Gold Fish crackers?  You.  Should.  Yum.
It isn't a party without Push Cakes by Meringue Bake Shop.  She kept the flavors classic but made them vegan so my food allergic son could partake.  What I love about her vegan options is that no one can ever tell!!!  They taste just as delicious as a "normal" one.
And cupcakes by Meringue Bake Shop.  What?  I like my sweets.
This cool cake above does not have a name yet.  Kristin (Meringue Bake Shop) has been fiddling around with these for a while.  Consider it the next version of a smash cake.  Logically, I would have shared the rest of the pictures right after this one but sometimes my brain revolts against being smart.  You'll see more of this cake in a few minutes.  Just know that it is awesome and you want one.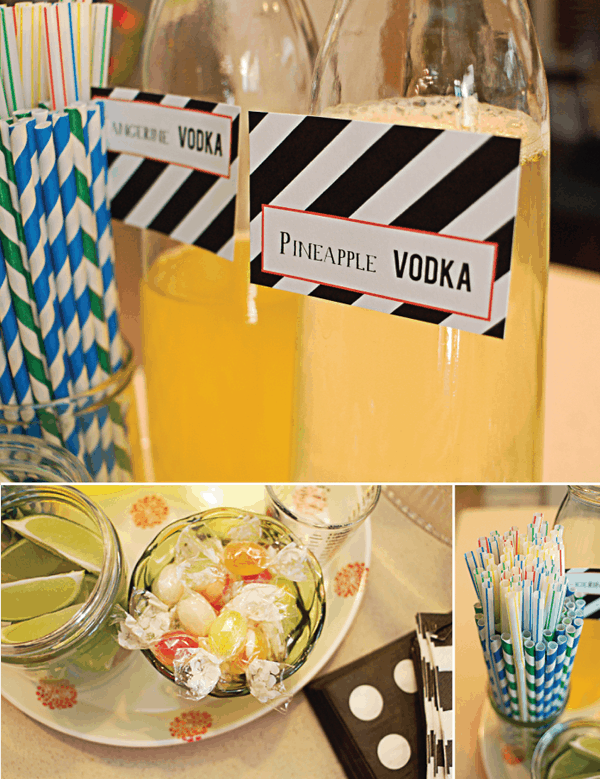 In keeping with the "old school" party theme, I wanted to serve punch.  From a punch bowl.  And I did.  But I didn't get a picture of it.  I like to provide a drink for the kids that can be jazzed up for the grown ups.  In this case, I decided to infuse vodka with fruit to provide a "special" option for the adults.  I followed this tutorial here.  I recommend this as a party trick.  It is not necessary to use the finest vodka as you are adding flavors and it is a mix-in for the punch.  And if you choose a fruit that is in season, your costs can be cut even more.  You do need to plan ahead for this so you should give yourself about 5 days if possible.
This is the party I decided to test out my confetti shooters at.  Have you seen the tutorial yet?  Go check it out on You Are My Fave.
I don't generally have a lot of party games or activities for the kids at my parties.  I like them to be able to play and I hate feeling like I have to follow a schedule for fun.  BUT what is a traditional birthday party without Pin the Tail on the Donkey?  I asked Lauren to help me come up with a cool donkey and she did just that!!!  And I am beyond lucky to have a friend, Ryan, who owns the best print shop in Orange County, Direct Edge Media.  Holla!  He never makes me feel like my crazy party printing needs are over the top.  This was printed out at 4′ x 4′.  It worked as double duty.  It was a game but also added interest to an other wise boring area of the backyard.
For the tails, I was able to cut out the tail in Illustrator and shrink them down so they matched the game board.  I used the Glue Dots craft dots from the classroom packs to add the sticky factor.  These worked perfect because the classroom pack comes in perforated sheets.  I was able to put the Glue Dot on the tail and leave the clear paper on and I just pulled each one off when the kid was ready to take their turn.  I love Glue Dots!
I should have just used a ready-made pinata.  Well, I mean I did, but of course had to jazz it up too.  My son kept asking for an Elmo pinata (on the day of the party.  Please don't think he was asking me for weeks and I still went ahead with my crazy customizing.  No, only after did I spend the time and get frustrated with how it was turning out did he tell me he'd prefer Elmo.  Thanks, kid).  I don't usually do a pinata but it totally fit my non-theme.  I only put a bit of candy in, since one of my son's has multiple food allergies, and then added some fun toys to fill it up.
I stamped plain white paper bags for the loot bags.  I felt weird promoting violence amongst children for a moment but they got that it was just humor and I did not see any elbows get thrown.
I put together a really simple photo backdrop.  I used white curtains that I have from Ikea and hung them on a tension rod that fit perfectly between posts in my backyard.  Then I used different colors of party streamers to add some color.  I had a leftover gold wreath that I found on sale at Christmas and thought it would be a nice little touch.
How ridiculously adorable is my niece?!  She is wearing the latest in photo booth props.  I had leftover garlands from Christmas (yeah for January birthdays!)  And to keep with the confetti thread running through the party, I took extra party hats, sprayed them with adhesive and stuck confetti on them.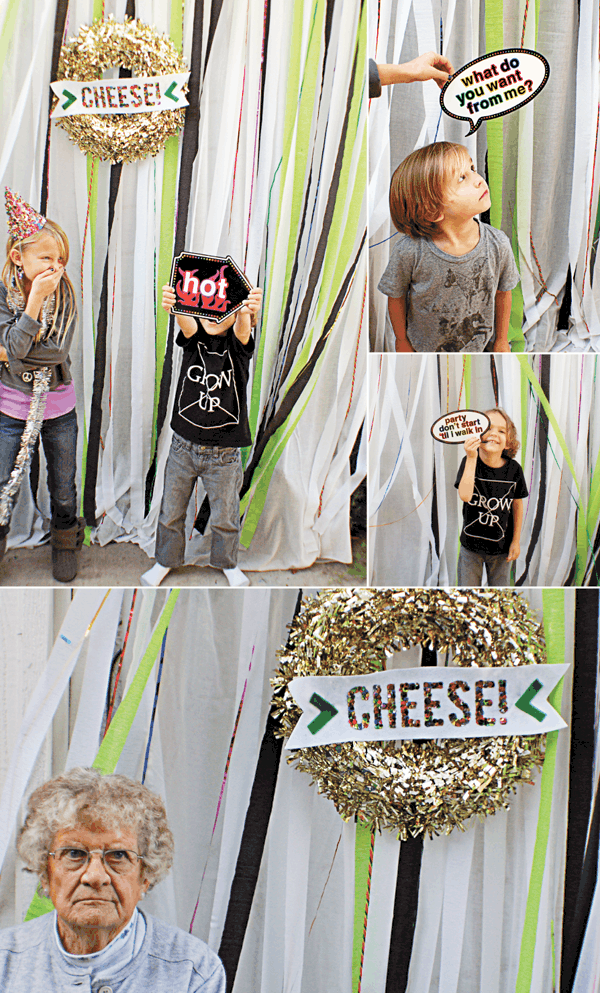 I found some ready-made photo booth signs at Party City and since the colors matched I decided to use them.  I took out the ones that were really inappropriate and left the ones that would be funniest.  How cute is my husband's grandmother?  To be fair, I did not tell her to say "cheese."
Finally!  On to the cake!  So as you can see, the cake is covered in a hard shell of chocolate.  We all sing and then let the kid go nuts with a hammer!  See more examples here (about midway through the post) and here.
I prefer to serve these instead of a big cake.  I always provide cake for any adults that want it in the form of a Push Cake or cupcake but for the kids, I do this.  They get SO excited about it and I love to let them just go to town!  There are always so many rules and this is one time that they get to be all grabby and shove cake in their mouths by the fistful.  We do this outside so clean up is a breeze.
In the past I have cut the cake in to chunks for them to grab with their hands after it has been smashed open, but this year I went with these amazing heart forks.  They worked perfectly!!
Near the end of the party, my husband couldn't contain himself any more.  He had to bring out the Angry Birds game he built our sons for Christmas to share it with the other kids.  They LOVED it.  Almost  as much as my husband.
It was a really fun to see all the kids and dads cheering when the characters fell.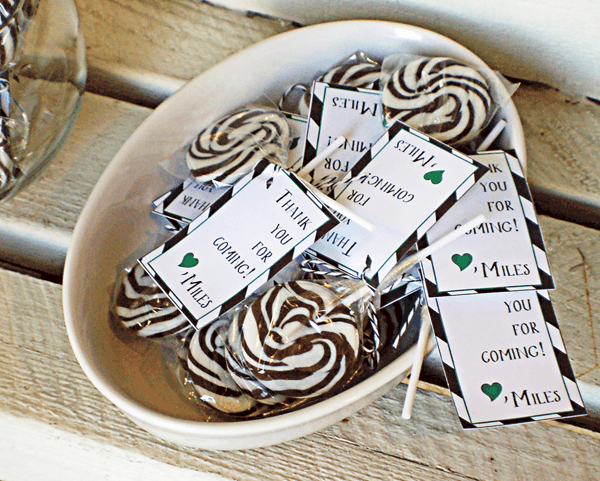 And for a favor I sent the kids off with a simple black and white sucker.  And possibly diabetes.
I want to thank a few people for helping me make this party possible.  I seriously wouldn't be able to get all party crazy without support and I really appreciate it!!
Marie (my mom in law) – Thank you for always being willing to help out with party crafts or even watching the boys so I can get party stuff done.  You are the best favor putter together there is.
Alyson (my sis in law) – Thank you for sharing a craziness for parties with me and sharing your awesome crafting skills.  I know whatever task I give you, you will make it amazing.
Lauren – Thank you for always being there to help me with graphic design and drawing needs.  Especially when it is odd things like donkeys.  And at short notice.  You are awesome!
Ryan – Thank you SO much for always printing my party stuff.  Not only is the printing work amazing, but you are always so generous with me and never look at me sideways when I ask you to print a huge zedonkey on short notice.
Dad – Thank you for always letting us borrow your ice chests and for being willing to pick things up, drop things off, cut things, grab ice, whatever I need.
Mom – Thank you for making sure I always have an extra set of hands to get the party set up the way that I want it.  You always offer to make more punch or keep an eye on refilling things so I can focus on my guests.  You even clean my bathrooms for me.  You are amazing.
Taryn- Thank you so much for leaving your family and helping me set up the party on the day of.  I really appreciate it.  I know it is just a party but you are there to help me and make sure that I get to do things the way I want.  And to make sure I don't fall off of ladders.
Dez and Tam – I can't say thank you enough to you guys.  I SO appreciate that you are willing to take pictures of my parties.  The memories that I get to keep from each of them mean more to me than you will ever know.  It is a luxury that I know not everyone has and I am a very lucky girl to have two such talented photographers, and now friends, at my parties.
Kristin – You are ridiculously busy but you never say no to me. :)  You are willing to bake your heart out for my parties and provide my guests with delicious memories.  You are a great friend to me and I appreciate your support in everything!
And to my husband – Thank you for just going with it.  You know that I am going to probably spend too much time preparing a detail that only a handful of people will notice but you know it is important to me so you just go with it.  I love you.