I love to make simple decorations for my parties. And there are no better parties than Mexican themed fiestas! These cute
DIY Papel Picado Paper Straw Flags
are easy to make and are a great way to add flair to your
Strawberry Basil Margaritas
. You just need a few supplies to make these so go ahead and invite your friends over.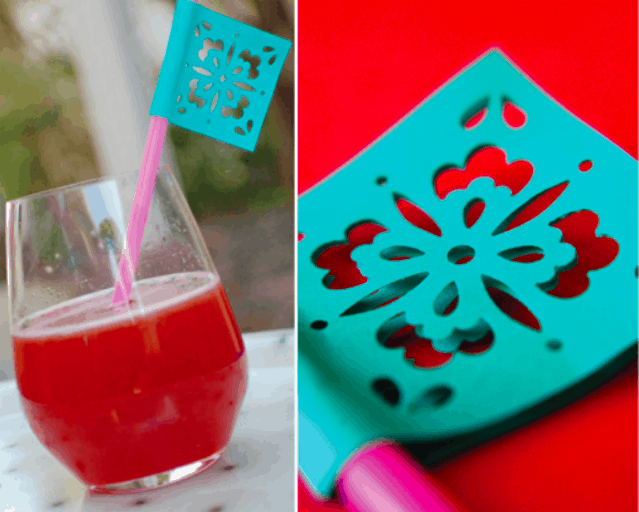 I only share things I love and think you'll like too. This post includes affiliate links which means if you purchase something from one of these links, I am compensated.
How to Make DIY Papel Picado Paper Straw Flags
So I had this idea that I had to try out. I love the colorful papel picado flags that you sometimes see at fiestas. They look super intricate and I wouldn't have the first clue, or patience, how to make the banners. But I wondered about a mini version of it done as paper straw flags. They turned out pretty cute so I thought I would share.
Much like my cooking, my crafts tend to be a little less than precise. And since my 2 year old decided he didn't need to nap today, there was extra activity around the craft table.
I'm sure you've heard, plastic straws are bad. Some people are forgoing straws altogether. But they really do add a lot of color to parties. Paper straws can be recycled so that's good for the environment don't you think.
Supplies:
I love a good simple craft and this doesn't get any easier than cutting some paper and using a hole punch. Of course, this
DIY papel picado
version is great for Cinco de Mayo or other fiestas, but they really work for all kinds of parties.
The older my kids get, the less time I actually want to spend on elaborate decorations for a party. Paper straw flags are perfect for kid's parties because they LOVE to drink party punch and these fun and colorful drink decorations are right in their face. I'm sure you've seen a kid's face light up when they get a straw in their drink. Now imagine that when there is a mini papel picado attached to it.
Needless to say, they love them.
How to Make Mini Papel Picado Straw Flags
Here are the super easy steps to make this fun party accessory.
1. Cut a Strip of Paper
Cut a strip of paper to be 1 3/4″ x 4 3/4″ (this will depend on the decoration of the punch really). Fold the paper in half.
2. Punch Out the Design
Use the decorative punch making sure to allow for plenty of room for the straw near the fold.
3. Add Glue
Place a Glue Dot Craft Dot in the center of the fold. Secure the straw to the dot. Add a Glue Dots Glue Line to one side of the straw. You are going to need to match up the punch on both sides before you get the back side of the paper to adhere to the Glue Line.
4. Add glue near the edge
Use a Glue Dots Mini Dot near the edge to help line up the decoration.
5. Trim the Edges
Trim the edge with scissors. Insert into a beverage and enjoy. While not a traditional Mexican folk pattern, the decorative cutouts still look pretty cool.
More Posts Fit for a Fiesta
More Easy Party Decorations
Pin this Party Tutorial for Later
If you're looking for something easy to make that would make a big impact for your party, these DIY Papel Picado Paper Straw Flags are the perfect thing!