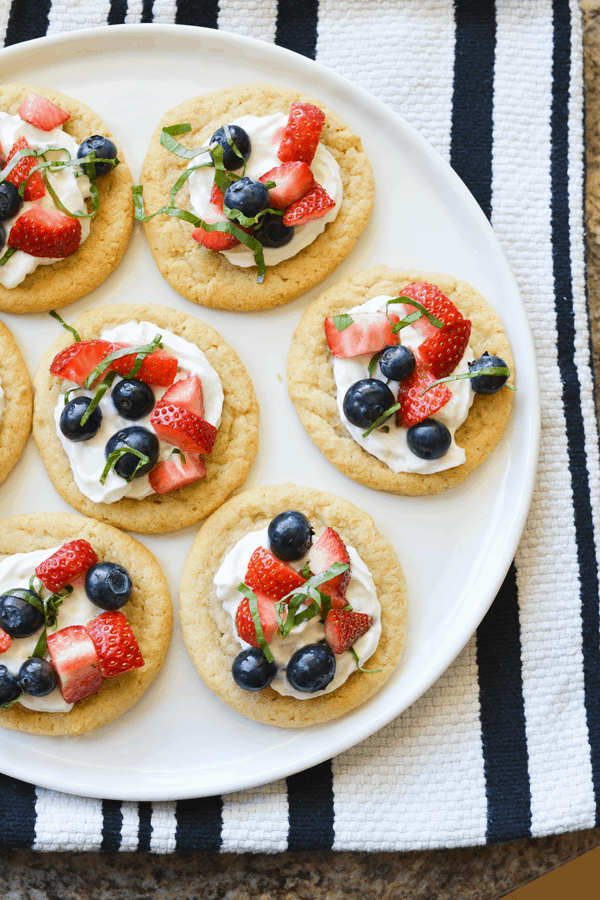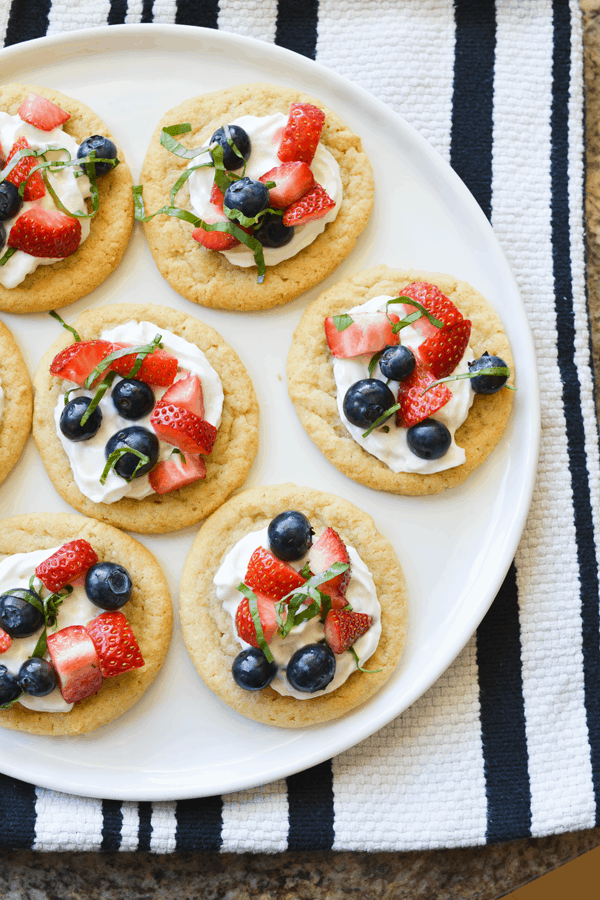 Fruit desserts are my favorite! I mean, don't get me wrong, chocolate is super awesome too. But fruit desserts are my jam. This Berry Basil Sugar Cookie Dessert Bruschetta recipe is super tasty and EASY to make! It starts off with a  store-bought sugar cookie base and then gets even more radical with fresh berries and touch of whipped cream. The prep is quick, the finished dessert is super pretty and this is the perfect thing to take to a potluck or block party! People will think you slaved away on these when really you were kind of lazy. And I embrace lazy. And desserts with fruit are always a crowd pleaser.
I also love that you don't really need any serving utensils for this and they are super easy to grab.  Start by cleaning your fresh berries (for this I used strawberries and blueberries but of course you can add others – raspberry seeds freak me out) and rinse your basil. Mint would be another good option but use your favorite fresh herb.  I find that the fresh herb helps to cut the sweetness of the berries and cookies a smidge and sort of make people think you are gourmet. 
I chopped my strawberries and put them in a bowl.  I decided to keep the blueberries whole for their color and have you seen the insides of a blueberry?  Off putting.  It makes me think of zombies.  Which is not super appetizing in terms of dessert presentation.
Once your fruit is prepared, and you have added your chopped herbs (mine are chiffonaded because I'm fancy like that.  I also make up tenses of words) toss it altogether and grab your store-bought cookies.  In this case, I added some store-bought whipped cream to the cookie first and then piled on the berries.  If these are going to sit out at all, though, you might want to let guests add the whipped cream themselves as it can melt.  These could easily be set out as a "station" so people could make them themselves.  For a do-it-yourself bar, I would put the bowl of berries on top of a bowl of ice and keep the whipped cream in a wine chiller.  Then set the cookies and a spoon and your job is done.

God Bless America, am I right?!  I love the colors in this easy dessert (these are perfect for Fourth of July because of the color scheme!) And the best part is that they didn't take me hardly any time at all!  Thank you, store-bought cookies and Mother Nature!
Store-bought treats are my fave.  There are so many things you can do to jazz them up and they are inexpensive and delicious.  Check out how I used sugar cookies to create a DIY cookie decorating kit and turned some sweet rolls in to a thank you gift.
You totally want to eat one of these cookie bruschettas right now, don't you?  With an easy treat like these I can look forward to someone asking me to bring a dish to a party. Knowing I don't have to do a ton of work before hand takes the stress off!  Need more fruit desserts ideas?  Check out one of my favorite food blogger's fruit desserts Pinterest page.
Berry Basil Dessert Bruschetta
This yummy dessert uses a store-bought cookie base with fresh berries to create a delicious sweet bruschetta.
Ingredients
One container of store-bought sugar cookies

One pint of fresh strawberries

chopped

One container fresh blueberries

A few leaves of basil

chopped or chiffonade(ed) :)

Whipped cream

optional (just do it)
Instructions
Rinse berries.

Chop strawberries to roughly the same size as the whole blueberries.

Chiffonade or chop your basil.

Add chopped strawberries, blueberries and basil to a bowl and toss together gently.

Lay out the sugar cookies flat on a plate.

Top each sugar cookie with 1-2 tablespoons of berry mixture.

Top with whipped cream.

Eat and enjoy.
How good does this Berry Basil Sugar Cookie Dessert Bruschetta look?! And it tastes amazing too!
Here are some other great AND EASY recipes that you can take to your next potluck!
Cherry Pineapple Dump Cake Recipe
Roasted Tomato and Burrata Appetizer
Do you have favorite fruit desserts? Please share!
*This post is sponsored by Rich Products as part of their Give Bakery Because program.  A grocer's bakery is the convenient and ideal location to purchase delicious baked goods that can be customized for any gift giving occasion.  Rich's and I encourage you to head to your local in-store bakery the next time you need delicious, sweet treats – or just because.  But all these opinions are mine.