Are you looking for a Palm Springs romantic getaway? Here's why I love to stay at The Sands Hotel! It's one of my favorite desert getaways for relaxing and it's kid free. Located in Indian Wells, it's my favorite spot to check in and spend the whole weekend.
I love a weekend getaway, don't you? Living in Southern California means that Palm Springs is a great, easy destination. My husband and I planned a Palm Springs romantic getaway to celebrate our 16 year anniversary. And I had such a relaxing weekend that I wanted to share the details with you.
I can't wait to do this exact same weekend again. It was that good.
My grandparents retired out to the desert when I was young so I grew up visiting them. As I got older, I realized what a great destination it was for a weekend trip. It's an easy car ride from just about anywhere in Southern California and you can do as much or as little as you want to.
We love to take trips to Palm Springs and while we usually stay in a hotel, sometimes we rent a house and hire a private chef to cook us dinner. That is a really fun way to do a weekend trip with friends.
But with just the two of us, a hotel was the better option.
I LOVED our Palm Springs Romantic Getaway
There are so many amazing places to stay in Palm Springs. I love that you can find a hotel rate to suit just about any price point. You can find ultra-luxury and you can find amazing design.
Stay at The Sands Hotel
For this trip, I wanted to stay somewhere new. I had heard some amazing things about The Sands Hotel and Spa so it was on my short-list. The rate was about $300 a night so it was more than I would usually spend on a but we splurged a little since we were celebrating.
And it was totally worth it.
Where is Indian Wells?
The Sands Hotel is in Indian Wells and while I consider this Palm Springs (because I think most people tend to think of the overall Coachella Valley as one place), it is not downtown.
The greater Palm Springs area is long and skinny and runs next to the 10 freeway. If you are heading in from LA/OC area, the first town you get to is Palm Springs (where the downtown area is). And on the other end of the valley is Indian Wells and a few other cities.
Here is a great map that will show how the cities layout.
Indian Wells is about a 25-minute drive from Palm Springs if you take Hwy 111. You can still easily uber to the downtown area for restaurants, etc. but Indian Wells has amazing restaurants as well.
From the minute you enter the lobby of the Sands Hotel you can tell it is one of the coolest Palm Springs hotels. The design is amazing! This entire property is an Instagrammers dream. And while you did see a ton of people staging little photoshoots, it wasn't over the top.
The vibe of the hotel is relaxed and cool. Although they play music by the pool, the hotel is pretty quiet. And the service was outstanding. The staff was super friendly and helpful.
We decided to be really low-key this weekend and planned on staying in and enjoying the hotel. If that's not your style, you can easily keep yourself busy with things to do in the area like art museums, movies (because it's one million degrees), thrift shopping, Living Desert Zoo and Gardens and more.
The hotel is pretty small with just 46 rooms. The pool is at the center of the hotel with the rooms wrapped around it.
The patterns and fabrics are so great! My husband thought I was crazy because I kept talking about how awesome the design of the pool loungers were.
But it was such a small detail that they took the time to pay attention to and it really set it apart for me.
I think the hotel was pretty full the weekend we were there but we never had any trouble getting lounge chairs.
The black and white striped cabanas were available for anyone who wanted to use them. It was nice to know that I could escape from the heat if I needed to although the pool chairs also had plenty of umbrellas to make it bearable.
We spent a lot of time in the pool to cool off. The pool area had servers to bring drinks and food and it was the perfect way to spend most of the weekend.
And they had the BEST. FRIES. EVER. Seriously.
The amazing design carried over into the rooms. It's hard to tell but this bathroom is blue and white. That bathtub/shower combo was luxurious and awesome.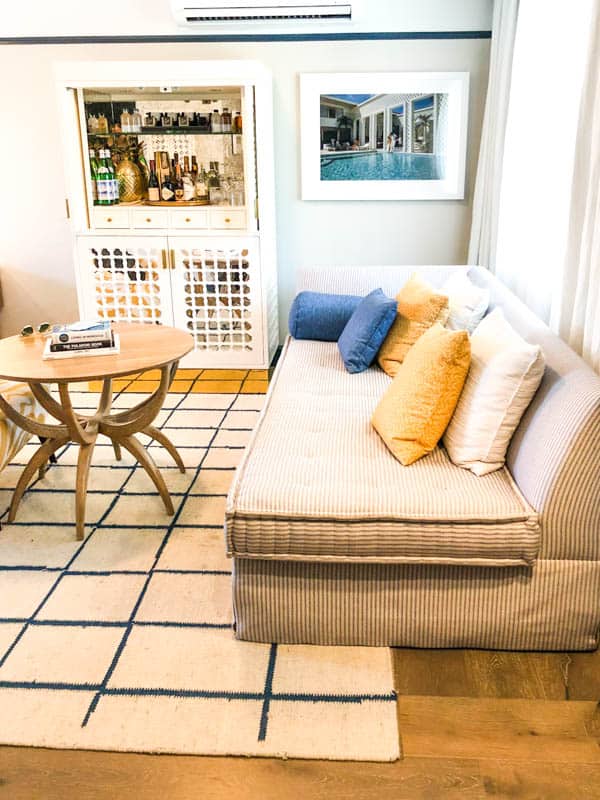 We had a Deluxe King room that was really nice. Along with a king-sized bed, it also had a little sitting area that really opened the room up. It was spacious without being huge and was so comfortable.
The mini-bar was fully stocked with yummy options. It was all so well done. It felt comfortable and really well designed without feeling like it was trying too hard.
We had a little balcony with two chairs and a table. We didn't spend much time out here on account of the heat, but I did enjoy my coffee here.
Even though our room was on the parking lot side, the trees blocked the view of the cars and kept the balcony private enough for me to wear my pajamas on.
I could hear photoshoots happening on both sides of me. It made me laugh because that is usually me. But on this trip, I kept it to a minimum.
This place is perfect for a Palm Springs vacation, even though it's not in the heart of downtown.
Eat at The Pink Cabana, Wilma and Frieda and The Nest
We stayed on property the first night to eat at The Pink Cabana. Because we were celebrating our anniversary, they graciously brought over some pink champagne for us to toast with.
It was a thoughtful touch.
The Pink Cabana is definitely one of the great restaurants in Palm Springs. From the decor to the service, it was a great dining experience. I loved the atmosphere.
They had inventive dishes on the menu and everything we ate was phenomenal!
Our plan to stay at the hotel was quickly thwarted when I realized how close we were to Wilma and Frieda, one of my favorite restaurants. We managed to get there just before they opened (and there were already a handful of people there - you guys! This place gets SO crowded later in the day!).
And I ordered two different meals because that's what I do for breakfast. That churro waffle was SO GOOD! And then we headed right back to the hotel to head to the pool.
For dinner the second night we headed right around the corner to The Nest. It's pretty much attached to the hotel and it's a 2 minute walk. It's perfect. No Uber needed.
The atmosphere is odd. There is a restaurant and a bar area and it seems like it draws in an older crowd. The dining room has white table cloths and is upscale. And then they have big screen TVs on the wall.
But the food is tasty. I had something called Truffle Honey Chicken and it was YUM! They serve things like steak and escargot. It's fine-dining.
They also have a clown that walks through the dining room. So there's that...
From the cute pink walls to the cool patterns in the rooms and main spaces, this hotel was a dream. I had the most relaxing Palm Springs weekend trip with my hubby.
More weekend getaway ideas:
Pin this Palm Springs Weekend Trip Idea for Later
If you're wanting to plan a Palm Springs romantic getaway, consider copying our itinerary. You'll LOVE the hotel, the food and the relaxing afternoons of doing nothing by the pool.