I'm cheap. There I said it. I don't like to spend large sums of money. Traveling is something that I love to do but I hate to feel like I'm spending a ton of money on a trip. It's the fastest way to make, what is supposed to be a relaxing vacation, into a stressful thing.
But what I've learned as my kids are getting older is that creating vacation memories, that you can talk about forever, are totally worth the money.
Using a tour group, like Vallarta Adventures like on my recent vacation to Riviera Nayarit, is a great way to do one-of-a-kind excursions. And while they might seem like an added expense to your overall vacation budget, I truly think they are something you need to consider.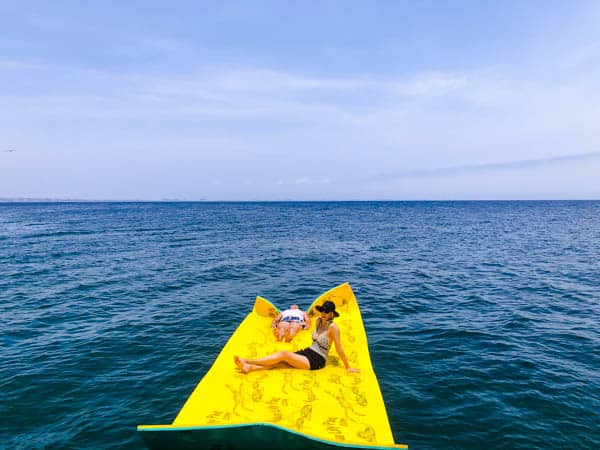 I was recently invited on a press trip to the Riviera Nayarit area of Mexico. The trip was sponsored by RivieraNayarit.com, Marival Distinct Luxury Residences and Vallarta Adventures. All opinions are my own. And I absolutely fell in love with everything about this area…
This. This is a vacation memory that I will cherish forever and ever. It's just little old me (and my friend Sonia) chilling in the middle of the Pacific Ocean tethered to the back of a luxury boat.
Until this day, I had never heard of a "lily pad" or knew that I needed to be on it and that it would make my life.
This is an adventure that I have talked about countless times since I've returned from my trip to Riviera Nayarit. And it's something that I wish I could have shared with my kids.
A boat excursion is an expense I wish I would have splurged on while on spring break vacation with my kids and now I know that on our next trip, I will plan ahead to add in a few extra adventures.
While I didn't pay for this latest trip to Mexico, we did pay for our family spring break trip to Cancun. While I was fortunate to have ConnectHer Media hook me up with admission to Xplor and Xel Ha adventure parks, we paid for everything else.
Which meant that I browsed some fun sounding excursions and then quickly decided not to book them. To save money.
After going on this most recent Mexico getaway, and coming back with some amazing stories to tell of the adventures we had, I know that I blew it. I should have to spent the money and given my kids some experiences they can't get elsewhere. Given them memories we made together.
Having the opportunity to participate in a few of the tours offered by Vallarta Adventures really opened my eyes and showed me that this is the perfect way to make lifetime family vacation memories.
Why Use Vallarta Adventures
What I loved about Vallarta Adventures is that their business is showing you a fun time and helping you to enjoy every single second of your tour. They set up everything from transportation to and from your excursion to making sure you have the food and drinks you want.
Every single second I was with them I felt safe and looked after. They give you valuable information about the area and they create a memorable day for you and your group. Plus they are just plain fun!
The staff is the nicest group of people, quick with a smile and always encouraging when you need them to be. Like that time we went off-roading in ATVs and I was a big old sissy…
Vallarta Adventures has tours set up not only in Riviera Nayarit but also Cabo, Punta Mita, Cancun and the Bahamas! I don't know if you're like me, but I love a tropical vacation so the fact that this company creates experiences in these locations is perfect since I know and trust them.
What Kind of Tours Do They Offer?
If you know me at all, you know that I am not what you would call adventuresome. And what is great about Vallarta Adventures is that they offer a variety of activities to suit all types of people. From exploring one of a kind islands, nature walks followed by relaxing in hammocks or getting physical with parasailing, etc., they have something for everyone!
Sayulita Escape ATV Tour
My fellow bloggers and I got to try a fun off-road ATV experience. I'll be honest. It made me super nervous. And I was instantly out of my comfort zone in the helmet, goggles and dust bandana. I knew that I didn't want to drive so I just got in the back seat and set off to explore with the rest of the group.
Vallarta Adventure managed our group of 16 easily. They gave out really detailed instructions and then guided us every step of the way.
We played follow the leader on skinny, crazy bumpy, dirt roads, up and down hills and around tight corners. We finally came to a stop on this bluff and had our first break.
The view was gorgeous and this was a great way to take in the area.
I was nervous the whole time. But I never felt like anything bad was going to happen, it's just a little more adventure than this indoorsy girl is used to. It was a truly incredible experience and was a great memory. I truly bonded with the other people on the trip over this.
But the ATV adventure wasn't over yet.
Once we finished the off-road course (after another quick break that included water and delicious breakfast burritos!), we continued on to the little surfing town of Sayulita to explore for a bit. We pulled into a gated yard, owned by Vallarta Adventures, to park the ATV's. I know it's odd to show you a photo of bathrooms, but I just want you to know that all your needs are taken care of.
The design and cleanliness of the bathrooms were so much better than you would expect after coming off a super dusty ATV course. I was pleasantly surprised, but it's these types of touches that Vallarta Adventures provides that you didn't even know you needed. They've thought of everything.
The Sayulita portion of our adventure went by too quickly as I instantly fell in love with the colorful city. But we got about an hour to shop, eat, explore before heading back to the ATV's. We drove the ATV's back to home base, this time staying on the highway. It was such a cool way to see the area.
The people were so friendly and would wave as we drove by. And it felt totally safe being on the road in these.
This was such a fun adventure and I know my kids would have loved it! I'm also grateful that someone else set this up as it's not something I might have scheduled for myself. But now I know that is was a great way to make Mexican memories!
The ATV tours have some age restrictions so be sure to check out all the details.
Sayulita Escape ATV Tour

Luxury Yacht and Snorkel
For our second excursion with Vallarta Adventures, we did something more my speed. We were shuttled over to an absolutely gorgeous marina to meet our yacht. Yeah, I said it, yacht. Boom.
I thrive on boats. I live my best life on boats. I love being on the water and truly think this is such a great thing to do while on vacation. I love being able to see the area you are visiting from a different perspective. Seeing the coastline is stunning.
And while they call this a Luxury Snorkeling adventure, no one is forcing you to get your hair wet. I'm not a snorkeling fan, so I would have been content to be the only person left on the boat while the others were off exploring. It's happened before. But Vallarta Adventures offered so many activities that you never were at a loss for things to do.
Like the lily pad shown above. You could do relaxing things, like lounging on the water or try stand up paddleboarding. The staff provided encouragement and direction every step of the way.
Along with keeping our glasses filled, they also served us this delicious lunch. It was put together in the little galley and they made sure that we had everything we needed. Those brownies…yum!
They had plenty of filtered water to make sure that we were hydrated and don't use bottles to be a little more kind to the environment.
Their hospitality was impressive and included swimming fresh cocktails out to the lily pad or tray passed to wherever you were on the boat.

As you can tell, the crew was no fun at all.
I had looked into a boat excursion with the family and ditched the idea. But being on this boat, I know my family would have really enjoyed this experience. Make sure you read all about this tour idea and book it for your family.
Should I Buy the Photos?
I'm pretty sure that Vallarta Adventures has a photographer along on all the tours. And I highly recommend you at least take a look at the photos. One of the best ways to get a great family photo is to let someone else capture it for you. And what is so great about having someone from Vallarta Adventures take the photo is that they know the best spots to do it.
When we were on the ATV's we would see the photographer off in the bushes capturing us as we went by. And on the boat, he knew how to get the best backgrounds. You don't have to buy all the photos, but at least let them take them and look at the photos when you get home.
Memory Making Tours Offered by Vallarta Adventures
Caletas Beach Hideaway – with hammocks, paddleboarding, nature walks, mezcal tasting and more!
San Sebastian del Oeste – a tour of a historical Mexican town. See an 18th-century church, learn about life in the 1700s and eat a delicious lunch.
Islas Marietas Eco Discovery – Take a boat ride out to an amazing natural wonder and snorkel and swim as you learn about the area.
Extreme Zip Line Adventures – While I've done zip lines once and it was enough for me, they offer a fun day if you've never had the pleasure of zipping over the treetops.
Plus so many more! Like swimming with the dolphins and nighttime dinner shows.
Adding on a few excursions to your vacation gives your family a chance to bond in a way that you will never forget. It takes everyone out of their comfort zones and encourages family time that you might not get at home.
I wish that I would have had this experience before our last family vacation because I think we really missed out on creating vacation memories and exploring the area of our trip.
More Info From This Trip
More Family Travel Posts
Pin This Tour Group Info for Later
Creating vacation memories that we'll remember for a lifetime is easy when you book one of the excursions offered by Vallarta Adventures! They handle everything from start to finish and provide the best time for you and your family!