These easy sweet and sour oven baked pork chops are a favorite family dinner recipe from when I was a kid.
The sauce is sweet and tangy with ketchup and vinegar and takes regular old pork chops up a notch. It's a unique flavor and is a simple meal to make on a busy weeknight with a few pantry staples.
If you love oven-baked boneless pork chops, you'll definitely want to try this recipe! They're moist and tender and you're going to love it!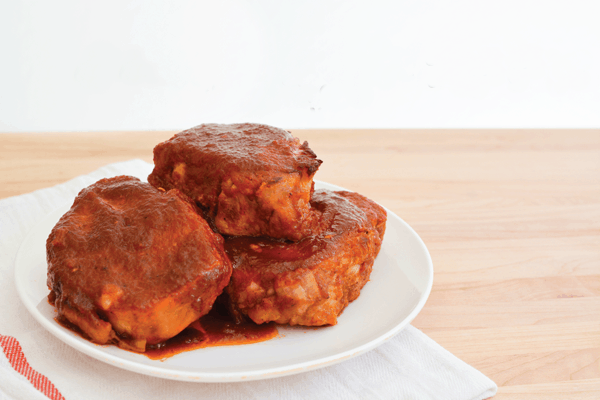 Some links in this post may be affiliate links. As an Amazon Associate in the Amazon Services LLC Associates Program, I earn from qualifying purchases by linking to Amazon.com and affiliated sites. I also participate in affiliate programs for other retailers. Originally published February 21, 2019. It's been updated to give better instructions!
These Sweet and Sour Pork Chops are SO GOOD!
Oven-baked pork chops are one of my favorite things to make for my family on weeknights. Both of my kids love pork and it's a nice change of pace from having chicken.
Whenever I share this Sweet and Sour Pork Chops recipe with friends they always look at me a little funny. I'll admit, the ingredients seem wrong.
This sauce for the pork chops is unique. And I'm not a lover of vinegar but somehow these tangy ingredients work together and make oven-baked pork chop magic.
While these pork chops are sweet and sour, this is not the same flavor of your favorite Chinese take-out meal. This sauce is more savory than sweet and has a different consistency.
The vinegar helps to tenderize the meat and keep the tomato flavor from being too sweet. And if you're like me, and tend to overcook your meats, the sauce also helps to keep things moist.
If you have kids who love to put ketchup on everything, they will probably love this!
How to Make Oven-Baked Sweet and Sour Pork Chops
Oven-baked pork chops are super easy to make, which is great on a weeknight. And this tart and tangy sauce is a great change of pace to your boring old dinners. I'm not calling YOU boring. But you know that your dinners get boring…
Ingredients for Sweet and Sour Pork Chops
Weird!!! Right? I know these ingredients seem crazy together. But they work! One of the things I really love about this recipe is that all of these things (except for the pork chops – Costco pork chops are AWESOME btw) are things you should have in your pantry.
Ketchup is one of those condiments that can have lots of hidden sugars. I always look for one that has no added sugar! I prefer to know what sugar I'm stuffing in my mouth in the form of delicious desserts.
There aren't a lot of substitutions for celery salt but if you had to, you could use dried dill and salt. It's such a unique flavor (it's also nice in some cocktails!) so you should probably buy a small bottle. I've also heard it's an ingredient in KFC's secret recipe so…
Let's talk about the pork chops for a second. I am never impressed by the chops they sell at my local grocery store. I've also switched to shopping for groceries mostly online. I buy almost everything on Amazon Fresh, but I buy my meat on PerdueFarms.com.
These Coleman Natural Pork Chops are my go-to pork chops. Read all about ordering from Perdue online and having it shipped right to your home. They also sell their products in bundles for greater value keeping dinner time stress-free.
Steps to Make My Favorite Oven Baked Pork Chops
Start by browning the chops, in butter, on both sides in an oven-proof dutch oven. (Usually, I don't like recipes that have multiple steps, especially for a weeknight. But browning the pork chops gives them such amazing flavor before you bake them!)
Mix up the sauce for the pork chops, the celery salt, ketchup, vinegar and nutmeg, in a small bowl.
Add the sweet and sour sauce to the pork chops.
Use tongs to make sure the pork chops are fully coated in the yummy, vinegar-based sauce.
Bake in a 350-degree oven for about an hour.
Pork chops are one of our favorite dinners to make. The meat is mild in flavor and I love that you can prepare it all kinds of ways. And since my kids try to tell me they are allergic to chicken (they are not) pork is something I know they will eat without a fight.
Again, not pretty to look at but so delightful to eat. I like to pair these oven-baked pork chops
What I serve with Baked Sweet and Sour Pork Chops
Mashed Potatoes (OMG, have you tried these Bob Evans potatoes? They take just a few minutes in the microwave! Mom hack, yo! And the flavor is ridiculously good.)
Roasted Green Beans (quickly roasted with a little garlic salt and onion powder.)
Don't forget to save the extra tangy sauce for leftovers! Leftover pork chops are always a great lunch the next day.
Sweet and Sour Oven Baked Pork Chops
These Sweet and Sour Oven Baked Pork Chops is a family favorite for dinner. The tangy ketchup based sauce keeps the oven roasted boneless pork chops moist and tender. With just a few pantry staples, this pork chop recipe is quick and easy and perfect for a weeknight.
Print
Pin
Rate
Ingredients
6

boneless Pork Chops

approx. 1 inch thick

2

Tbsp

Butter

1

cup

Ketchup

2

tsp

Celery Salt

1/2

tsp

Ground Nutmeg

2/3

Cup

Vinegar
Instructions
Brown the boneless pork chops on all sides in butter in an ovenproof pan.

Drain off excess fat.

Combine the tangy ketchup, celery salt, nutmeg and vinegar in a small bowl and pour over chops.

Cover and bake in a 350 degree oven for about one hour.

Baste the roasting pork chops with sweet and sour sauce a few times throughout the cooking time.

Check the pork chops to see if meat tender after one hour.

Add more time to get the chops to your desired doneness.

Serve with roasted green beans and mashed potatoes.
Notes
This tangy sauce is not like the Chinese Sweet and Sour recipe you get in your take-out.
This sauce with ketchup and vinegar is tart and thick and the perfect way to cover these oven-baked pork chops in flavor!
Nutrition
Serving:
4
Servings
|
Calories:
614
kcal
|
Carbohydrates:
17
g
|
Protein:
61
g
|
Fat:
32
g
|
Saturated Fat:
12
g
|
Polyunsaturated Fat:
15
g
|
Cholesterol:
213
mg
|
Sodium:
1334
mg
|
Sugar:
13
g
Have you ever had sweet and sour pork chops baked like this before? Whether you are making this dish or another oven baked pork chops recipe, here are
5 mistakes to avoid when cooking pork chops
!
If you're like me, you are always on the lookout for easy dinner recipes to make for your family. Here are a variety of recipes that my kids love to eat and I love to make.
My friend also has a delicious recipe for Pork Chops with Parmesan Sage Sauce that sounds so tasty. I can't wait to make these too.


Pin These Sweet and Sour Pork Chops in the Oven for Later
The oven-baked sweet and sour pork chops are crazy delicious! Leave a comment if you decide to make these! I'd love to know how you like it!
Sweet and Sour Pork Chops are so YUM!