Try this sunbutter cookie recipe – you will love it! They have the same texture as peanut butter cookies but no allergens. 
An Allergy-Friendly Cookie
Today I'm sharing this yummy Sunbutter Cookie Recipe. We've got a nut allergy in my family and one of the things I've missed the most is peanut butter cookies. But when I realized that using Sunbutter tastes so super similar, I figured out how to fill my cookie void.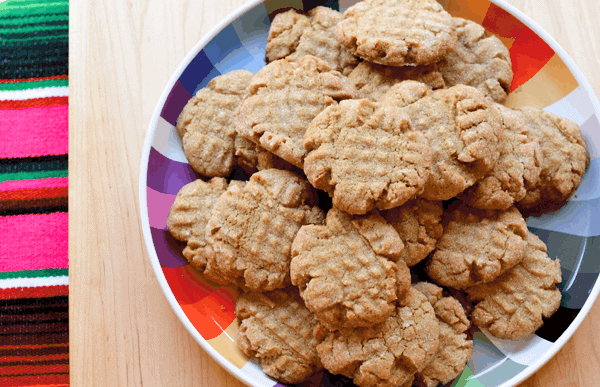 They are just as sweet and rich and nutty tasting (without the death peanuts) as regular peanut butter cookies. Mmmmmmm.
Shopping List
This is what you will need from the store before you make these scrumptious cookies. 
Sunbutter
Butter
Brown sugar
White sugar
Eggs
Baking soda
Vanilla 
Salt 
Flour
Nothing special. Just normal cookie making ingredients. And delicious, delightful Sunbutter. There aren't any special steps. It's basic cookie making. And a little bit of prayer since my oven runs hot and I, more often than not, burn EVERYTHING.
And to me, these cookies are not complete without being rolled in sugar and pressed down with a fork. It really is what sets them apart.
Turns out my nut allergic sun doesn't really care for these cookies all that much. But at least I know that when I'm craving a peanut butter cookie, I can make these and make sure that he is safe. And can you imagine these dipped in a nice dark chocolate? Oh yeah!

Sunbutter Cookie Recipe
These are the perfect replacement for peanut butter cookies when you have a nut allergy.
Ingredients
1 cup Sunbutter
1 cup butter, melted (you can substitute margarine if you have other allergies)
¾ cup packed brown sugar
¾ cup white sugar
2 eggs (you can use egg replacer if needed for your allergies)
½ tsp baking soda
1 tsp vanilla
½ tsp salt
2½ cups flour
extra sugar to roll dough in
Instructions
In a stand mixer, mix Sunbutter and butter until creamy.
Add sugars and eggs and mix well.
Add baking soda, vanilla and salt and mix well.
Add flour slowly while mixing.
Shape dough in to balls.
In a bowl full of sugar, toss balls to coat.
Place on a baking sheet covered in parchment paper.
Flatten balls with a fork.
Bake at 375 degrees for about 10-12 minutes or until golden brown.
Recipe via: 
http://www.sunbutter.com/recipes-SunButter-Cookies-Lorene-Wallner.php
More Cookie Recipes
Here are some more cookie recipes, since you are in the mood to bake!