This easy Sunbutter Cookie Recipe is the one I use when I'm craving a sweet treat that reminds me of a peanut butter cookie!
It's a simple recipe that swaps out the peanut butter and uses Sunbutter instead. It's a nut allergy-friendly recipe which means my oldest son can eat the heck out of them also.
Rolled in sugar, they have that same sweet, nutty taste but don't have any nuts!
I'm all about easy desserts and with this quick cookie recipe, my nut-allergic son can enjoy a treat too.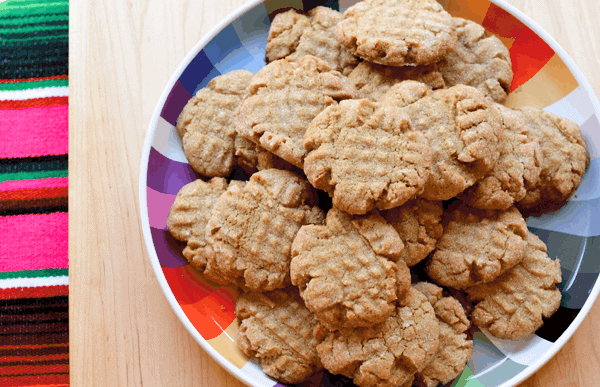 Some links in this post may be affiliate links. As an Amazon Associate in the Amazon Services LLC Associates Program, I earn from qualifying purchases by linking to Amazon.com and affiliated sites. I also participate in affiliate programs for other retailers.
Originally posted December 2, 2014. Updated to include better instructions and information about Sunbutter.
Allergy-Friendly Sunbutter Cookies
These Sunflower Butter Cookies are just as sweet and rich and nutty tasting as regular peanut butter cookies. Without the death peanuts. Mmmmmmm.
When I found out that my oldest son had food allergies, I was so nervous. I had to relearn how to cook for our family to make sure I kept him safe.
Over the years, he's outgrown most of his allergies. Except for certain nuts. Which we navigate pretty well. But I was REALLY missing peanut butter cookies.
He was already eating Sunbutter sandwiches so I decided to try out some cookies. And they turned out great! They are the perfect safe alternative I was looking for! I'm pretty sure I could swap the Sunbutter in this Frozen Peanut Butter Pie recipe also!
Can you bake with Sunbutter
Yes! Baking with Sunbutter is easy. If you want to bake a recipe that usually calls for peanut butter, you can swap an equal amount of Sunbutter. It has a really similar nutty taste and works really great in all cases where you would normally use peanut butter.
Why did my Sunbutter cookies turn green
While my cookies didn't turn green, some Sunbutter cookies do. It can happen as a result of a reaction from the chlorophyll found in the sunflower seeds and the baking soda. The cookies are still edible. There is nothing wrong with the cookies. So eat up all your green cookies!
How to make Sunflower Butter Cookies
There's really nothing too special about this cookie recipe. It's just normal cookie making ingredients. With the addition of the delicious, delightful Sunbutter.
There aren't any special steps. It's basic cookie making. And a little bit of prayer since my oven runs hot and I, more often than not, burn EVERYTHING.
Ingredients:
Butter
Brown sugar
White sugar
Eggs
Baking soda
Vanilla
Salt
Flour
The actual Sunbutter brand of sunflower seed butter was the only option around for a really long time. Over the years, more brands have popped up including store-brand versions.
I try to only buy the Sunbutter brand, since it really helped me out when my son was so small. Sunbutters have oil and sugar in the ingredients as well so I can only attest to the final product using Sunbutter. I can't imagine the end result would be all that different from another brand but you never know!
Directions:
In a stand mixer, mix Sunbutter and melted butter until creamy.

Add sugars and eggs and mix well.

Add baking soda, vanilla and salt and mix again.

Add flour slowly while mixing.

Shape dough into balls.

In a bowl full of sugar, toss cookie balls to coat.

Place on a baking sheet covered in parchment paper.

Flatten sunflower butter cookie balls with a fork in a criss-cross pattern.

Bake at 375 degrees for about 10-12 minutes or until golden brown.
Do not skip the extra sugar coating! While these Sunflower Butter cookies are delicious on their own, the added sugar really makes these next level!
I also haven't added any chocolate chips to this recipe, but I know that would also taste amazing!
Turns out my nut-allergic son doesn't really care for these cookies all that much. But I get it. He's never been able to experience a delicious peanut butter cookie so he doesn't really miss the flavor!
But at least I know that when I'm craving a peanut butter cookie, I can make these and make sure that he is safe.
Check out my Chocolate Soy Nut Butter Shakes too!
I love making cookies when I have some free time. And, of course, my family loves to eat them. Check out these other easy cookie recipes to make next time your sweet tooth needs a treat!
Crazy Good Apple Cookies with Butterscotch – If you've never tried Apple Butterscotch Cookies, you need to! I usually make these during the fall but they are great any time of year. I'm a big fan of butterscotch and these yummy cookies are so flavorful!
Small Batch Cookie Bars – A good Cookie Bar can be life-changing. Making them in smaller batches ensures that each person can make them just the way they like them!
Orange Snickerdoodle Cookies – This is a delicious citrus twist on a classic cookie recipe. Orange Snickerdoodle Cookies are quick and easy and have that same cinnamon flavor you love with the added zest of orange.
Printable Recipe
Yield: 11
Easy Sunbutter Cookies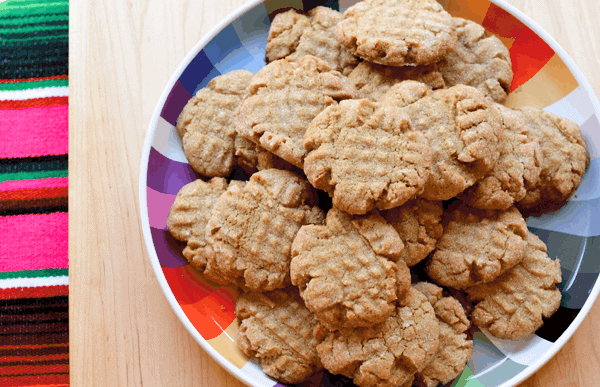 These easy nut allergy-friendly Sunbutter Cookies are the perfect alternative to peanut butter cookies. It's a basic cookie recipe that uses sunflower seed butter to create a cookie that will make your mouth water!
Ingredients
1 cup Sunbutter
1 cup butter, melted (you can substitute margarine if you have other allergies)
3/4 cup packed brown sugar
3/4 cup white sugar
2 eggs, you can use egg replacer if needed for your allergies
1/2 tsp baking soda
1 tsp vanilla
1/2 tsp salt
2 1/2 cups flour
extra sugar to roll dough in
Instructions
In a stand mixer, mix Sunbutter and butter until creamy.
Add sugars and eggs and mix well.
Add baking soda, vanilla and salt and mix well.
Add flour slowly while mixing.
Shape dough in to balls.
In a bowl full of sugar, toss balls to coat.
Place on a baking sheet covered in parchment paper.
Flatten balls with a fork.
Bake at 375 degrees for about 10-12 minutes or until golden brown.
Nutrition Information
Yield
11
Serving Size
11 Servings
Amount Per Serving
Calories

617
Total Fat

37g
Saturated Fat

14g
Trans Fat

1g
Unsaturated Fat

20g
Cholesterol

95mg
Sodium

495mg
Carbohydrates

65g
Fiber

3g
Sugar

29g
Protein

10g
Nutrition information isn't always accurate.
Pin to save these nut-allergy friendly cookies for Later!
If you are a fan of peanut butter cookies but can't eat peanuts, you'll love this easy Sunbutter Cookie Recipe!