The best way to chase away the winter blues is to start planning your spring wardrobe. We've put together a collection of Spring Outfit Inspo that is stylish and versatile, perfect for busy moms on the go. These ideas will help you create cute casual looks that are just right for transitioning to spring!
As the days grow longer and the weather gets warmer, it's time to start transitioning from winter outfits to cute spring ones.
Here in California, our spring starts early. This year, it's the beginning of February, and we have had temps in the high 80's. But early morning and nights are still crisp and cool.
Being able to dress appropriately for the varying temperatures is key. But we also want to look put together and not stress out about it or spend too much time on it.
Jump to:
Spring Outfit Ideas
I gathered some cute casual spring outfits to give you inspiration for planning your own looks.
A versatile, casual wardrobe is one that can that keep you stylish no matter what the occasion or temperature. These looks will not cut it if you need to get red carpet ready but they are great for everyday mom life. Use a few of these styling tips to add a finishing touch and you're ready to go.
Your spring outfits will look a little different depending on the age of your kids. My youngest is 13 so I'm less hands-on than I used to be. It's allowed me to have a little bit more time to choose my outfit in the morning and not worry about running around at a playdate.
But you can certainly be stylish no matter what age your kids are.
Sometimes you can just throw on a cute graphic sweatshirt, but other times you want to create an outfit.
If you're looking for some spring outfit inspiration, here are some cute looks to check out: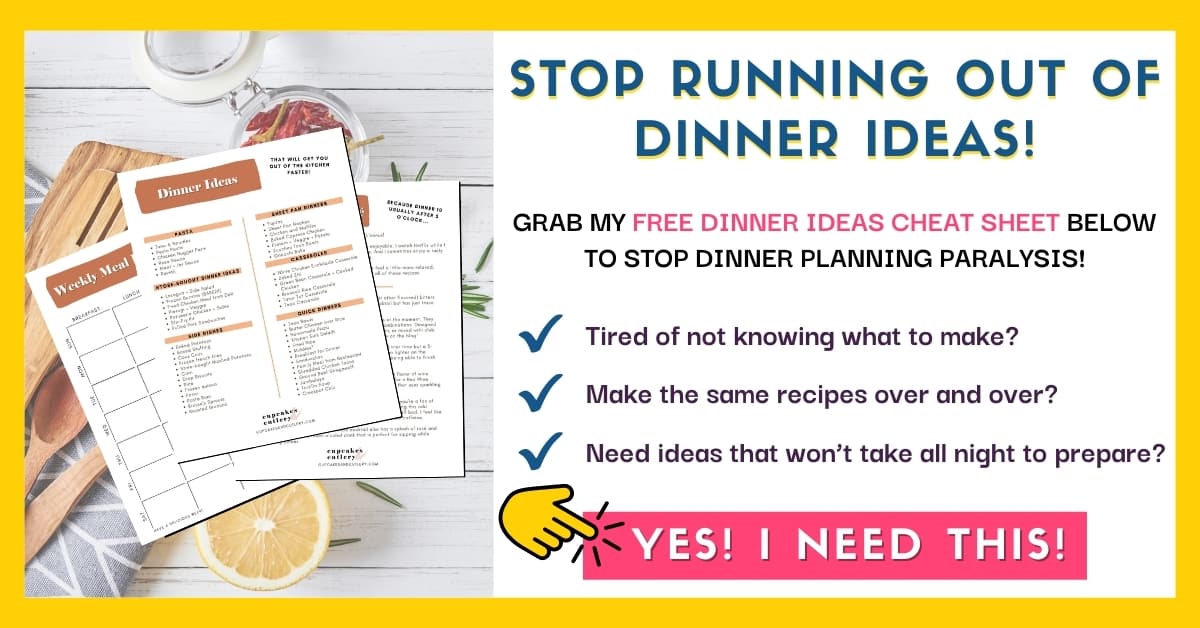 Spring Outfit Inspiration
Playdate
This easy look would be great for a lunch date out with friends or volunteering at school (if your kids are older).
It's still casual but looks super put together. Those pants are in a fun color and cut and they pair really well with a classic black and white top.
The long sleeve of the blouse can be worn down or rolled up depending on the temperature. And a simple black flat with stud detail are comfortable and chic.
It's a cute look that can be thrown on easily and quickly.
Errands
If you need to be on the go running errands or going to appointments, this look with jeans and a t-shirt would be just right.
These stretchy Wit and Wisdom jeans are super comfy and the raw hemline is a great modern touch.
Pairing a pink t-shirt with a red cardigan (the one shown is sold out but here is a similar version) is a fun color moment that adds tons of personality.
These black and white checkerboard Vans are a California classic and are comfortable for running all over town.
Date Night
For a date night or a meeting, this look is super cool and, in my opinion, is still perfect for spring.
Simple black pants are always a great wardrobe staple. Paired with this moody leopard blouse, it's a sophisticated look made more playful with the shoulder ruffles and the metallic gold thread in the fabric.
A faux leather shacket is a great layering piece that you can throw over your shoulders for vibes or put on as needed.
I'm totally into Chelsea boots right now and think they are a great stylish shoe option for moms!
As I was putting together these outfit ideas I was drawn to a few more pieces that I think you should know about. They would work into your spring wardrobe nicely and give you options to mix and match if you like to create capsule wardrobes.
How to Plan Your Spring Outfits
I like to do a quick wardrobe planning session between each season to ensure that I can put together outfits quickly that are fuss-free and just right for the time of year.
Here are some things to think about at the start of spring to ensure that you're always dressed just right.
1. Consider your Daily Activities
First of all, consider your daily activities. What do you need an outfit for? Are you going to be running errands, playing with your kids, or going out for dinner?
Some days will be more casual than others. And your wardrobe choices will also shift depending on the age of your kids. I remember not wearing dresses or skirts often for the first few years after my kids were born. Too much bending over to pick up the kids.
2. Clothes to Suits Your Needs
If you stock your closet with versatile pieces, you can easily put together outfits that are perfect for whatever activity you have planned for that day.
Busy moms need clothes that are comfortable that also look nice. A great outfit for running errands might be a pair of jeans, a T-shirt, and a cardigan. A great pair of jeans is comfortable and easy to throw on and spend the day in. You can also dress them up or down depending on the activity.
This pair from Wit and Wisdom not only has stretch in the denim but an elastic waistband that is as comfortable as maternity jeans but also keeps them from gaping at the waist when you move around.
If you have a toddler, you may really want that forgiving waist band for all the bending. And pants with a little give are great for the squatting that mom life seems to require. There is a way to wear leggings and have them look more like an outfit than like you're pretending to work out.
If you're going out for dinner, you might want to dress up a bit more with a dress or skirt and blouse. This can be when you wear something a little more fitted since hopefully, you've been able to find a sitter.
The right shoes can often be a great way to finish off an outfit just make sure you can run around all day without being in pain. I'm usually in sandals (like the ones in the photo) but jeans work with boots and stacked heels too.
Hint: I always have a few bandaids in my purse for blisters that can pop up because blisters can happen even with worn in shoes.
3. Choose Your Colors
When you're picking out clothes for spring it is fun to bring in bright and pastel colors. They evoke the feeling of new beginnings and warmer weather. Sticking to light colors will also help keep you cool as the temperatures start to rise.
But if you love black outfits as I do, that totally works. There's never a wrong time for black pants. For black tops, look for lighter fabrics with some movement. You can always add in some floral accessories to make your all-black look feel fresh.
Of course, you can wear colors that are "out of season". I promise the fashion police will not arrest you.
4. Layering is a Must
Another important thing to keep in mind is the weather. Since spring is a mix of cool mornings and warm days, you'll want to make sure your outfits are comfortable across a variety of temperatures. Having a light jacket or sweaters on hand means you won't be shivering at the park.
It's also a great way to add in personal style with mixing prints or adding pops of color.
5. Get Creative with Accessories
Accessories are also a great way to add personality to an outfit. Scarves, hats, and jewelry can all change the look of an outfit with very little effort. So don't be afraid to get creative with your accessories!
Layering some delicate gold jewelry (my fave is Gorjana! Most of it is inexpensive and it's great quality) is an instant way to look more put together even if you just have on jeans and a t-shirt.
A hat can help protect your skin from the sun, which is just starting to show off.
---
Busy moms should aim for outfits that are not only stylish but also practical. Spring wardrobe planning will help you put together outfit ideas that are cute and comfortable and perfect for all the family's activities.
Related Posts