I think I found a way to have the easiest party ever. Hummus. Well, and a few other things but seriously hummus is awesome. It's super versatile, pretty dang inexpensive and known to be highly addictive, as in you can eat a whole bowl by yourself without even realizing it. Not that I've done that. I am all about actually getting to enjoy the parties you throw so this party is perfect for that. A little ahead of time prep work and you can simply enjoy hanging out with your friends. Here are some easy party food ideas for your next get together.
A hummus party works great at home or as a picnic/ outdoor party situation. I made the hummus base, but you could just as easily purchase it from the store and jazz it up however you want. Here I decided to serve it three ways, 1) plain, 2) with a little more garlic and a roasted red pepper sauce and 3) a guacamole hummus hybrid (recipe coming soon!).
This hummus party food idea works great because even if someone doesn't particularly enjoy hummus (why are you friends with them?), they still have plenty of snack foods to eat in the way of the dippers. Pita chips, baby carrots and pretzel chips really make the perfect hummus eating vessels.
Similarly, you can round out the snacks with dried fruits and nuts. And I don't know anyone who doesn't love those coconut chips from Trader Joes. This adds a sweet element which all guests with a sweet tooth with appreciate (like this girl).
Keeping the drinks simple is another way to enjoy your party without putting in almost any effort. This ready-made sparkling sangria, by Lolea, is such a good idea. It comes in a red or white version and its ready to drink. Just pop the bottles. Or make some tea sangria (recipe coming soon) the night before the party and you are set. It's a light cocktail, with not a lot of alcohol, so it will keep your party drinks budget in check.
The white is my favorite. It's slightly sweet and fizzy with a light peach flavor. Yum! And so refreshing.
These roasted tomatoes served with burrata are crazy good and might be my favorite appetizer ever. They are a total crowd pleaser (recipe soon too – I've been busy you guys). Roast them the day before and set out a little before guests arrive to bring it up to room temperature. This is the BEST menu. For real. And if you are having your party elsewhere, just pack it all up in to-go containers and just pop the lids off to serve. Super simple.
Need more appetizer recipes? Try these!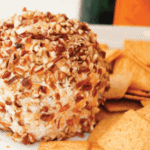 *Sangria was provided by Lolea for use in this post.