This delicious Brown Sugar Bacon Butter is a must for your Thanksgiving dinner rolls.
It's the perfect combination of sweet, salty and savory. And it's super easy to make!
It's become a holiday tradition that people ask for. And I can't wait to shovel it in my mouth.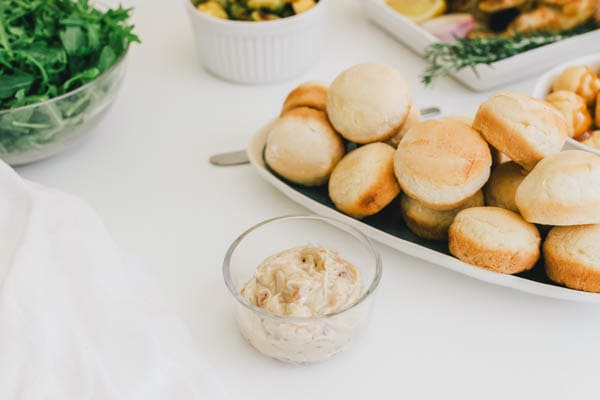 Some links in this post may be affiliate links. As an Amazon Associate in the Amazon Services LLC Associates Program, I earn from qualifying purchases by linking to Amazon.com and affiliated sites. I also participate in other affiliate programs for other retailers. Originally posted in May of 2012!
You Need to Make Brown Sugar Bacon Butter
Yup, Brown Sugar Bacon Butter. Remember that healthy smoothie recipe I posted about? Yeah, I still drink it.
And I still really like it. But sometimes I have to pump my body full of total amazingness, which what this bacon butter is.
A friend shared this recipe with me years ago. And I was hooked.
So when Thanksgiving rolled around, I decided I was going to make it.
You see, I'm usually told what to bring (green bean casserole) and there is no deviation.
Bring this bacon compound butter could be seen as stepping out of line (you know how family functions can be).
But I took that chance. Because this brown sugar butter is that good. And I wanted to cram it in my face with fresh baked dinner rolls.
What is Compound Butter?
Compound Butters are flavored butter. And they are a great way to make a dish seem fancier with very little work.
Essentially, you soften butter, add more flavors and then pop it back in the fridge to harden back up. So simple.
How Long Can You Store Compound Butter?
Keep flavored butter in the fridge for 5 days. But trust me, this brown sugar bacon butter won't last that long.
The first year I brought this to Thanksgiving, one other person tried it. The next year, a few more people did.
And now it is requested that I bring it. My evil plan worked.
Can You Freeze Compound Butter?
You can freeze compound butter for a few months. It must be wrapped very tightly and well to prevent the butter from pickup up other odors.
This recipe is really quick and easy to make so you really don't need to make it that far ahead of time.
How to Make Bacon Butter with Brown Sugar and Vanilla
Ingredients:
And by fresh-baked rolls, I mean frozen (I like the Bridgford Frozen Dinner Rolls). But I totally thawed them and baked them myself. So that counts as homemade.
The brown sugar is a tad gritty in the butter so it has this really velvety texture. Your mouth will really like it.
I usually use pre-cooked microwavable bacon for this recipe. Out of pure laziness. I also like that it doesn't make a huge mess.
And it usually crisps up really nicely and doesn't have those gross fatty parts that regular bacon can have.
Nobody wants gross fatty pieces in their bacon butter.
Instructions:
Soften butter to room temperature.

Cook bacon in microwave and set aside to cool a smidge.
Use kitchen shears to cut up cooked bacon.
In a bowl mix the softened butter, brown sugar, chopped bacon and vanilla.
Mix well.

Cover and refrigerate until firm.

Serve with fresh baked rolls.
This recipe is so good!
I never remember to leave the butter out ahead of time though. Here are 3 ways to soften butter in case you forget too.
Kitchen shears are my favorite way to cut up bacon. Actually, I use them to cut pizza and all kinds of other things too!
Brown sugar, bacon and butter are pretty good together. But you add in the vanilla and you get a symphony for your mouth.
The vanilla takes it just to the edge of tasting like cake batter stopping just short of being too sweet and allows it to pair perfectly with the bacon.
I'm not 100% behind the bacon-in-sweets school of thought. But THIS I can get down with.
Glass dishes with lids are my favorite. They are so simple and are perfect for going from the fridge to the table.
Printable Brown Sugar Bacon Butter Recipe
Brown Sugar Bacon Butter
You have to make this Brown Sugar Bacon Butter. It's my favorite dish to bring to Thanksgiving to serve with fresh baked rolls.
Print
Pin
Rate
Ingredients
1

stick of Butter

I use salted

3-4

pieces

bacon

cooked

3

TBSP

brown sugar

1

TBSP

vanilla

Fresh baked rolls
Instructions
Soften butter to room temperature.

Cook bacon and set aside to cool a smidge.

Use kitchen shears to cut up cooked bacon.

In a bowl mix the softened butter, brown sugar, chopped bacon and vanilla.

Mix well.

Cover and refrigerate until firm.

Serve with fresh baked rolls.
Notes
You won't want to share. I put that this makes enough for 12 but it really makes more than that and I don't know how to figure that. It's basically a stick of butter, so plan accordingly.
Nutrition
Serving:
1
g
|
Calories:
105
kcal
|
Carbohydrates:
4
g
|
Protein:
2
g
|
Fat:
9
g
|
Saturated Fat:
5
g
|
Polyunsaturated Fat:
3
g
|
Cholesterol:
24
mg
|
Sodium:
138
mg
|
Sugar:
3
g
This is seriously so easy to make. You'll look like a Thanksgiving hero without hardly doing any work.
That's my kind of recipe.
I originally made this butter to use on frozen waffles. Just look at all those amazing nooks for the brown sugar bacon butter to rest in…
Liberally spread the brown sugar bacon butter over your waffles. No one is going to judge you.
Don't be scared. They would have already judged you when you told them you were making brown sugar bacon butter. Sweet gluttony!
You seriously need to make this! Leave me a comment and let me know what you think!
More Easy Recipes
Pin This Recipe for Later
Don't sleep on this Brown Sugar Bacon Butter. It's the best way to turn ordinary dinner rolls into something amazing!