Bare walls are so boring! For my oldest son's room, we knew we wanted to make something ourselves. He's really into peace signs right now so this fun yarn wall hanging was a perfect idea. We made a really easy yarn dream catcher and it added a fun, whimsical touch to his room decor.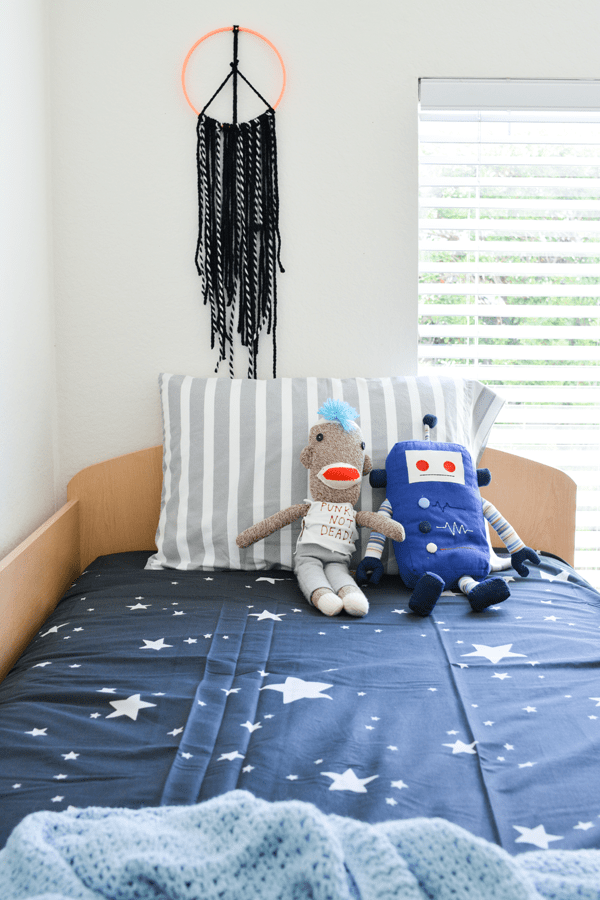 Some links in this post may be affiliate links. As an Amazon Associate in the Amazon Services LLC Associates Program, I earn from qualifying purchases by linking to Amazon.com and affiliated sites. I also participate in other affiliate programs for other retailers. Originally posted October 14, 2013.
You'll Love This Easy Yarn Dream Catcher DIY
My oldest son has been asking for a dream catcher for quite a while. So I decided to make him one with items I already had. If this easy craft keeps him from coming into my room at 3 A.M with a nightmare. I will be very happy. It doesn't happen often, but man, I really don't like getting up at 3 A.M.
I'm not the craftiest person. But once in a while, I know that I have the skills to tackle something simple. Plus, he really wanted a peace sign dream catcher and I couldn't find one anywhere.
Making yarn dream catchers are really easy to make and inexpensive too. And not only does it look cute on the wall, but it would also make a fun homemade gift idea.
How to Make a Dream Catcher with Yarn
Supplies
I loved this peach colored hoop I found at my Joann's craft store. But Amazon has a lot of colors too. And there is something to be said for the simplicity of the standard wooden hoops. If I was making one of these for my room, I would probably use muted colors.
But for a kid's room, a colored hoop is awesome!
I don't know why yarn makes me so happy. I love yarn crafts (check out this easy winter garland). They are usually super easy and inexpensive.
And yarn comes in so many different colors and textures. This black and white combo stopped me in my tracks. For this craft, I wanted to use something a little bit thicker. You can use the really thin, regular yarn, but it won't look quite as full, or it will take you double the time to double up on the yarn.
Instructions:
Cut about 40 lengths of string approximately 2-3 feet long. They don't need to be exact, as you can see from the image below the bottom is uneven.
Take one piece of string and fold it in half.
Loop a piece of string under the embroidery hoop and pull the ends back through the loop.
Then just pull it snug.
Repeat with all the sting, making sure to spread out the colors as you prefer.
To add the peace sign to a dream catcher made with yarn
Created a loop with a piece of yarn at the top of the hoop.
Pull it taught and knot it at the bottom of the hoop and tuck the knot under some of the loops hanging off the bottom.
Take two small pieces of string and attached them to the string going from top to bottom a little above halfway.
Attach each of those ends to the outside of the embroidery hoop so that it looks like a peace sign.
I loved how raw the yarn was at the bottom so I left it uneven. But you can trim it up if you want it to feel more organized.
I couldn't wait to show my son when he got home from school. He loved it. And then promptly moved on to his swords. I think he's been a ninja for Halloween for 4 years now.
This fun DIY yarn dream catcher would be fun to make with the kids too. Have them pick out all the pieces and then direct them how to make the easy loops. It really is easier than even making a knot.
The yarn dream catcher looks so cute on his bedroom wall. This DIY was super cheap to make and was done in just a few minutes! I can't wait to make more for the rest of the house.
I know most dream catchers have feathers and things. And some leather. But we decided to keep things super simple and just use yarn. If you want to make it more authentic, just grab whatever materials you prefer.
Make Your Own Peace Sign Dream Catcher
More home decor posts to check out:
Pin this Dream Catcher Made With Yarn Later
This easy yarn dream catcher tutorial will show you how to make a cute wall decoration for your kid's room!