Yuck. I don't like Greek yogurt. I'm not a fan of the tang. But it's a great source of protein and makes a great snack idea for busy moms. In an effort to not grow out of all of my clothes, I am really trying to make better food choices. Which means cleaning up my snacks as well as my meals. I figured out a way to eat Greek yogurt so I wanted to share it with you too. This easy Greek yogurt dip for apples is one of my go-to snacks. And while it doesn't taste as good as a piece of cake, it's not half bad.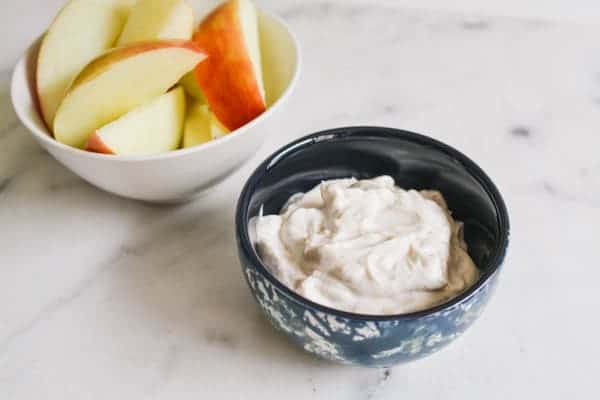 One of the things I always look for when I'm eating healthier is how to get the most flavor I can without adding a ton of calories. Plain Greek yogurt is really hard for me to eat. I imagine it's what eating paste tastes like. So I decided to try to make it more tasty with some vanilla and cinnamon.

While it may cost just a little bit more, I like to buy it in the single serving cups. It's the best way to make sure I am eating the right portion. It gets too easy to eat more than you need when you are scooping it out of a larger container. I keep these in the fridge which makes it super easy to grab when I'm hungry.
I'm sure the vanilla and cinnamon add a few more calories to the yogurt. But you gotta think that it isn't going to be as many calories as a bowl of ice cream. Even with the addition of the flavorings it's still a great healthy snack choice. Cinnamon also has anti-inflammatory properties and is full of antioxidants also.
To keep this snack super easy, I just add the vanilla and cinnamon right in to the yogurt container and stir it up. It keeps me from dirtying another dish and makes this recipe super fast.

When the dip is done, I just cut up an apple and it's ready to go. It's SO good! My kids even like this. It's one of my favorite, easy snack ideas that I don't feel guilty about eating. It's pretty easy to keep these items on hand so there's not really an excuse for not choosing a healthy snack…(but I will still eat Doritos, from time to time, because the heart wants what it wants…) My favorite apples to eat with this are Honeycrisp. Others will work, but I'm a bit of an apple snob.
Because I started eating this yogurt dip, with the delicious vanilla and cinnamon, I can now tolerate eating Greek yogurt plain too. I still don't love it, but it's easier. If I need a super fast protein-heavy snack, I will eat it plain. But if I have a few minutes, I'd prefer to make it in to the dip. I have also tried eating the yogurt dip with cocoa nibs, for a different flavor profile, but it's only slightly tastier than plain.
Are you a Greek yogurt fan? This simple Greek yogurt dip for apples is delicious. I'm sure it will be your new favorite healthy snack idea too!
Greek Yogurt Dip for Apples
This yummy Greek Yogurt dip is the perfect sweet treat for your afternoon apple snack.
Print
Pin
Rate
Ingredients
1

container plain Greek yogurt

Splash of vanilla

dash of cinnamon

1

small apple sliced
Instructions
Open your container of Greek yogurt and add vanilla and cinnamon to taste.

Stir well

Eat with sliced apples.
Nutrition
Serving:
1
Servings
|
Calories:
216
kcal
|
Carbohydrates:
29
g
|
Protein:
18
g
|
Fat:
1
g
|
Cholesterol:
9
mg
|
Sodium:
64
mg
|
Fiber:
4
g
|
Sugar:
23
g
Looking for more healthy recipe ideas? Check out these posts:
• How to "Boil" Eggs in the Oven
• Easy Microwave Egg Cups for Breakfast