Recently I've been hearing more and more about adaptogens and other wellness supplements. They're supposed to be amazing for helping to balance your moods, hormones and fighting adrenal fatigue. In particular, I came across something called ashwaganda. And I wanted its benefits. So I started to research how to add it to my life. And then I got super overwhelmed.
Not only did it supposedly taste terrible in powder form, but I'm really reluctant to just buy random herbs off the shelf without knowing how they were sourced or if they come from a reputable brand. I decided to reach out to a friend who had the knowledge to help me figure out how to get started with wellness adaptogens and supplements. And I want to share all the info with you.
This post includes affiliate links. That means, if you buy something through one of these links, I make a little bit of money off the sale.
To my husband, this is all just more "snake oil." But you know that I love anything that helps a gal look inward and take notice of what she needs (or even wants) in that moment. As busy moms, we are constantly working and helping others (our husbands, our kids, their schools, the extended family, etc.). But I think it's super important to make sure that we're getting taken care of too. I want to live a healthier lifestyle but sometimes, when you see all the new buzz words in the magazines, it's hard to figure out how to get started.
Candice is a holistic wellness expert, plant-based chef and owner of Beauty Bar Chocolate. I met her at a blogger conference up in LA and based on that meeting and browsing her gorgeous blog, A Whole and Happy Life, I knew she was the gal for me. We chatted on the phone and she agreed to help me write this post on how to get started with a life of natural wellness. Read her story here and you'll understand what led her to get started with adaptogens.
Anything written by Candice will be in italics. And I've been using these supplements for about a month now and I'll chime in with my thoughts too!
5 Wellness Supplements to Add to Your Daily Routine
Adaptogenic Herbs for Thyroid and Adrenal Fatigue
Adaptogens are a group of herbs that support your body in times of mental & physical stress. Our bodies are not supposed to be in a state of fight or flight mode every day. Most of us are trying to be Super Women and trying to do it all! I used to drink lots of caffeine during the day and wine at night to get through my day.
By living this way I burned my body out and ended up with adrenal fatigue, inflammation, my thyroid was off and the list goes on. It wasn't until I started to care for myself, from the inside out, that I started to feel better. The adaptogenic herb benefits I've seen in my life are they helped me with increased energy, healed my adrenals, and give me a sense of overall well-being.
It know it can be overwhelming to figure out what adaptogens to take. I have broken down my top favorite ones and a few ways on how they can help you.
Rhodiola Adaptogen is one of the most effective herbs for fat-burning, enhancing stamina, and increasing brain focus. It also helps balance the stress hormone, cortisol.
Schisandra Adaptogen (also sometimes known as shizandra) helps with the aging process, helps inflammation, supports adrenals, and gives you feelings of calmness.
Ashwagandha Adaptogen helps combat anxiety, stress, depression, balance hormones, helps harmonize the mind.
Where to Buy Adaptogens
Sun Potion uses powdered adaptogens. I love all of their products which are high quality. I add them to my daily lattes or smoothies.
If you prefer to take them in pill form here are a few of my favorite brands:
Hum They are one of my favorite lines of vitamins with adaptogens.
Medi Herb I use the Rhodiola/ Schisandra blend daily. You can find this on Amazon or a homeopathy. It's a practitioners brand and is very strong.
Gaia This brand is found at Amazon, ThriveMarket.com, Whole Foods and Sprouts. They have a store locator on their website to make it easy. Not every store will sell every herb so you may have to go to a few stores to find what you want.
Feeling a low-level of constant stress and anxiety coupled with fatigue, headaches and feeling like a sausage when I put my clothes on led me to focus more on what I am putting in my body and how my body is functioning. Ashwaganda originally stuck out to me (because of the benefits mentioned above) and after talking to Candice, I realized that the ones she noted above are all really good "starter" herbs.
I had trouble finding the Medi Herb brand (and I'm too lazy to find and drive to a local holistic doctor to buy them). Gaia is super easy to find at Sprouts and Whole Foods but I had some trouble finding Schisandra (I ended up just buying whatever brand I could find). Hum looks really interesting and I will be checking out their site to see what else might be good to add to my wellness routine. They have a survey you can take which will help them guide you to the products that best suit your needs.
Also, Thrive Market is a great way to find some of these things and save a little bit of money. It's like Amazon but for health focused companies. There are tons of good choices and better prices than I was finding in stores.
Because I wanted to dive a little bit deeper in to what these adaptogens do and how to work them in to my routines, I picked up this cookbook from Moon Juice. I'm sure you've seen their supplements (super cute packaging and really easy to determine what blend you need). Their supplements are blends of different adaptogens and herbs and have specific purposes which makes them really easy to use. Their site is easy to shop and also has tons of helpful info.
This book is full of information on what these herbs do for us and how to work them in to smoothies, etc. Most of the recipes in this book are easy to make at home (if you have their supplements). It's very no sugar, moon loving vibes but is a great resource for people starting out. I picked up their Bee Pollen to hopefully help with my allergies.
I realized pretty quickly that raw cacao is great for you so I ordered this from Sun Potion. And I picked up this maca powder from our local bargain market because I had seen it mentioned in some recipes. These two wellness supplements are easy to add to your morning coffee. Maca tastes a little bit like malt powder (although it is a bit bitter).
The cacao is unsweetened but a little sprinkle of cinnamon sweetens my drink up enough to not need any additional sugar. Both of these are great to add in to smoothies too. I've been making this Almond Butter smoothie (plus ½ - 1 teaspoon maca) in the afternoons.
Adaptogenic Mushrooms
There is a group of mushrooms that are considered medicinal and adaptogenic. These are my favorite ones:
Cordyceps is anti-aging, helps with mental focus, endurance, sexual dysfunction, helps heal the gut and autoimmune diseases.
Chaga is called the King healer. It improves physical endurance, fights off cancer, boosts the immune system, and helps reduce inflammation.
Reishi is called the Queen healer. It helps your body fight off stress and gives you feelings of calm and focus. It's perfect for the evening!
Lions Mane helps with focus and brain function. This is a great one to use in place of coffee.
Where to Buy Adaptogenic Mushrooms
Four Sigmatic mushroom coffee and mushroom elixirs are a great way to add adaptogens to your day. If you are trying to get off coffee they have coffee replacements and matcha green tea. You can find them on ThriveMarket.com, Amazon, Whole Foods.
Use Candice's code, awholeandhappylife, for a discount off your purchase on Four Sigmatic.
After getting all this info from Candice I wanted to get started right away. As I went to each website to learn more, sometimes I wasn't sure what to pick up because there were so many options. I headed up to Whole Foods to browse and see if I could learn anything new that would be helpful. I found that Four Sigmatic sells individual packets of a lot of their products (Sprouts had even more varieties). This is a great way to figure out what you want to buy a full size container of.
I'm going to tell you right now, the Mushroom elixirs are not for me. I tried to drink one and it tasted like sweet mushroom broth. It wasn't gross. Just not something I want to sip on. BUT! I can certainly try to add it to a smoothie or a savory dish. I really liked the Mushroom Hot Cacao, however. The dark chocolate hides the mushroom flavor just enough. They are delicious! Just be warned, it's a really small serving size not the comforting full mug that you may be hoping for. You could also put one of these cacao mixes in your coffee. Yum.
Speaking of coffee, they also make mushroom coffees that feature instant coffee and mushroom powders. These taste like strong flavorful coffees and aren't horrible.
Superfood Supplements: Chlorophyll and Spirulina
Spirulina and chlorophyll supplements are two superfoods that are similar but slightly different in color. Spirulina is a blue-green colored algae that grows in warm fresh water lakes, natural springs, and saltwater. Chlorophyll is a green colored algae and grows in fresh water. Its richer green color makes it richer in chlorophyll then spirulina.
Eating fresh greens and getting in enough phytonutrients is not always easy. I take either Spirulina powder or some liquid chlorophyll. Both will support your immune system. It also helps eliminate toxins such as metals and other pollution from your body. Having less toxins in our body will give us more energy and glowing skin. I drink some everyday! I call it beauty water.
Spirulina and Chlorophyll Water for Beauty from A Whole and Happy Life
How to Buy Chlorophyll and Spirulina
E3Live Blue Magik is a blue-green algae and the prettiest color you have ever seen! It's pricey but some of the best on the market. It will last you for at least 6 months. Always look for organic spirulina powder! You can find these brands on Amazon and at Whole Foods: Amazing Grass, HealthForce SuperFoods, Now, Sun Chlorella.
So. Spirulina was the first supplement I picked up because I had seen Candice's Beauty Water recipe and had to try it. The first time I made the Beauty Water the water was so green that you couldn't see through it. I'm still playing with it to see if I can find my tolerance.
Spirulina and Chlorophyll have been the hardest for me to add in to my diet. They taste like dirty aquarium water. I wish that I had bought spirulina tablets since it would be easier to ingest for me. I did find this superfood smoothie recipe (shown above) that has helped me work it in to my routine but I am not getting it in every day (I omit the pecans, simply because I didn't have any around, and the stevia because I don't like things sweet).
Probiotics
Probiotic benefits are great and something everyone can use! Probiotics help promote a healthy GI tract and improve overall gut health. It will help with constipation and bloating
Do not waste your time buying cheap probiotics as they will not work. I use one that is refrigerated called Natren. You can find them at Whole Foods, natural grocery stores, homeopathy's. They are the best on the market and go through your lower and larger intestine. It's pricey up front but you only need one every other day. It ends up being about $30 a month.
When I travel the best probiotic on the market that does not need refrigeration is Dr. Ohhira's. He is a genius and came up with a probiotic that does not need to be kept cool. In-fact it can be in a warm area in your suitcase and will still work. Hum nutrition also has some probiotics that work well.
I easily found the Natren brand in the refrigerated probiotic section of Whole Foods. I did not see her note about needing one every other day. I was taking one a day and had (sorry) some really loose stools. Of course, it could be all the other supplements I'm taking too, but I think, since these are directly linked to digestion, the cause could be these. So I would start off slow and get your body used to them and add more if you think you need them.
The Dr. Ohhira's were also in the refrigerated section although, per Candice and the company, they don't need to be. Turns out, it's also a favorite of Meghan Markle! Use can use code MEGHAN for $5 off any one box (can be used for Regactiv as well) plus one trial size Kampuku Beauty Bar (a probiotic soap with plant extracts).
Coffee Replacement | Matcha Green Tea
If you can only function with caffeine it's time to let your body and adrenals heal. Switch out to Matcha. It's finely ground green tea leaves. It's has tons of anti-oxidants and helps give you energy without feeling jittery. All matcha's are not created equal. Look for only organic as the non-organic has pesticides in it. There are so many options out there now!
I make a yummy matcha latte in the morning and I mix it up with things like adaptogens for added power & collagen.
My favorite Matcha brands:
Matchaful is a women owned company. She only uses the highest quality and it shows in the taste.
Four Sigmatic Matcha with Lions Mane is Matcha and mushrooms all in one. Find it on Amazon, at Whole Foods or use my code Awholeandhappylife at the Four Sigmatic site.
I don't like green tea. I think it tastes like dirt. So I was really reluctant to jump in to this and buy some. I am planning on taking a break from coffee (even though I love it so much!) but I think I have to ease in to it. I did get a Matcha Latte from Starbucks the other day so I could see what the flavor was like. Even though they don't add sweetener, there was a sweetness to the drink I didn't love. I think this is one of those things that I have to make myself and use trial and error to see what I can enjoy. I really loved the Matchaful site, though, and will purchase from them when I'm ready!
Collagen Protein Powder
Collagen I am all about foods that make me pretty and glow!! Our skin is made up mostly of collagen, about 70 percent. Collagen is what keeps our skin youthful and firm. When we get to our 20's the collagen starts declining. That's why adding collagen to your diet is important. Since taking it I have noticed strong nails, thicker hair, and my skin is more firm, soft and glowing. I have a lot of people asking me what I am doing and they think its Botox. It's collagen! (Just look at the photos of Candice on her site. SHE GLOWS!)
Further Food is a women owned company which I always love! They use the highest quality collagen. They have Marine and regular Collagen peptides. I love the Further Food website as they have tons of information about all the collagen supplement benefits.
Use code Wholeandhappylife10 for a discount.
Collagen was probably the first big wellness supplement I noticed and noticed it everywhere! I didn't just jump in but wanted to chat about it with someone first. I loved all the collagen benefits Candice told me about so I picked up a jar from Further Foods. It is the easiest thing to add to smoothies and coffee.
If you don't add anything else to your daily routine, add this! I don't taste it at all and it fully dissolves. You'll notice in the image above (near the mushroom section) that I also picked up a Vital Proteins serving from Sprouts. It really is super easy to take your new holistic routine on the road with you. But Further Food has travel sized options on their site as well.
Turmeric is also super trendy as of late. This one stood out to me for headaches and inflammation. I picked up the Turmeric Tonic blend and add it to my coffee and oatmeal. It's delicious and full of flavor!
I picked up this milk frother/ electric whisk to help blend the supplements. Most of them mix in easily (the maca can be stubborn). I use it just about every morning to add powdered adaptogens and other supplements to my coffee.
Because of all these new products, I had to make space for them. I picked up a super cheap plastic tray from a dollar store to keep them organized and easy to take out of the cupboard. I have them right above my coffee maker which makes it super easy to add the supplements to my coffee or take my pills throughout the day.
Here's what my daily routine looks like:
2 schisandra pills twice a day
1 rhodiola pill twice a day
1 ashwagandha pill twice a day
1 probiotic a day (although I think I'm going to move this to every other day)
1 scoop collagen protein powder a day in my coffee (with either raw cacao and maca or a scoop of the Turmeric Tonic)
I've been trying to do a smoothie in the afternoon that incorporates even more collagen and other supplements.
Results after a month of use:
At first it seemed like too many pills to take. But once you get in to a routine, it isn't hard at all. You also never taste them when you burp (which I know can sometimes be a deterrent for people). My moods have seemed pretty even. We were just on spring break, so maybe my anxiety was low to begin with, but I haven't had any crazy mood swings.
A lot of the adaptogens are great for fighting inflammation. I have a sever eczema patch above my right ear and I used to have to use cortisone and Aquafor on it every few days. It hasn't gone away completely, but I haven't had to use the creams in a few weeks!
I have naturally frizzy hair and was freaking out because I thought I had all these new broken hairs around my forehead but I think they are actually baby hairs growing. And my nails seem so much stronger than they used to be. I'm guessing this is a benefit of the collagen.
It has been fun to try out new smoothie recipes and find ways to add adaptogens into my life. In doing this, I have been paying more attention to what is going in to my body in general and helped me to sort of stay on track diet-wise.
How expensive are adaptogens:
Adding all these things, at once, was kind of expensive. I suggest choosing what stands out to you most and starting there. When you feel ready, add something else. I was most interested in the adaptogens so I spent money on those. It takes a while to get through the bottles. I don't think it is something I'll have to buy every month.
I also bought the collagen since it's so easy to use and the benefits are awesome. I'll be dabbling in Matcha pretty soon and probably have to get a spriulina tablet because I'm not sure I can get my head around tasting it every day...
A HUGE thank you to Candice for working with me on making sense of these supplements! Be sure to follow her!
A Whole and Happy Life | Instagram | Facebook | Pinterest
Have you added adaptogens to your life?? If you have more questions, let me know! I can have Candice get them answered for you!
Pin It!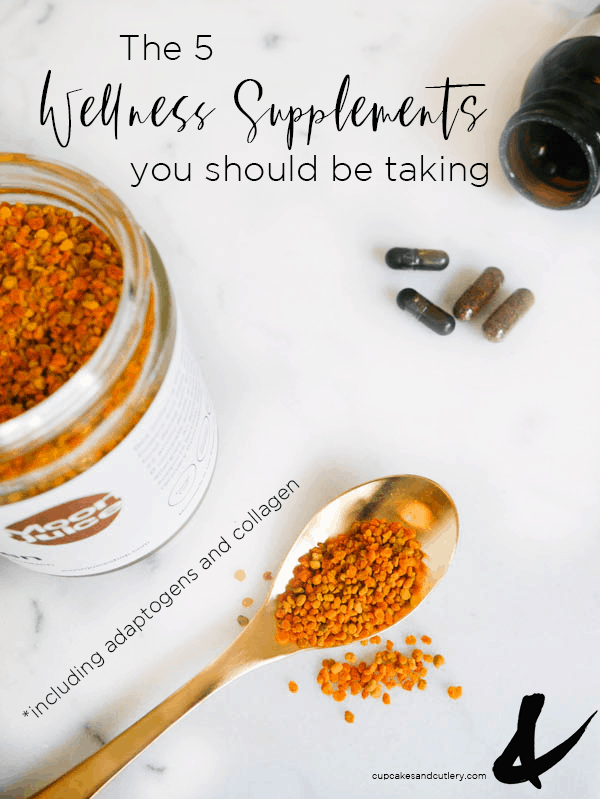 A list of the brands mentioned in the post above:
Adaptogens
Adaptogenic Mushrooms
Four Sigmatic | use code awholeandhappylife for a discount
Spirulina and Chlorophyll
Probiotics
Dr. Ohhira's | Use can use code MEGHAN for $5 off any one box
Matcha
Four Sigmatic | use code awholeandhappylife for a discount
Collagen
Further food | use code wholeandhappylife10 for a discount
Looking for more health and wellness posts? You'll like these:
Natural Oil Sunscreens to Use Year Round
My Favorite Anti Aging Skin Care
How to Make Yourself Feel Better When You Feel Blah