A few weeks ago my mom and I took a mother/daughter trip to Palm Springs. Her parents, my grandparents, retired out in the desert. I think that is one of the reason's that I love that area. And my mom hadn't been out to the actual Palm Springs area in about 10 years. So we decided to head out on a Sunday for two nights of rest, relaxation and yummy food. I'm going to warn you. This post pretty much only contains food. No joke. We got in to town right at lunch time on Sunday and since I had never been to the Saguaro, I thought we should have lunch there.
My mom is a very safe eater. And by that I mean that she will usually only order what she has had before and knows she will like. While I am not a very adventurous eater, I definitely like to try new things. So she got crazy and let me direct most of the ordering. At first she turned her nose up at my suggestion of this Duck Queso Fundido at El Jefe but it was delicious! And I think it really showed her that she doesn't need to be afraid to try something. I'm not sure why I find this so funny but I have no idea how I turned out willing to try new things coming from a lady that never did!!
El Jefe has a lot of tapas style plates to choose from so to go with our melted cheese, we opted for some tacos as well. How gorgeous is that presentation!!
I had been wanting to stay at the Alcazar for a while and was so glad to finally have the opportunity. I'm going to do a full review over on The Trend Tribe soon so I will be sure to point you over there when it is up. What I will mention here, though, is that the location is kind of amazing for this kind of a weekend. The Alcazar is located in the North end of town near Trina Turk and all the home design stores. There are two restaurants that are sort of part of the hotel but there as well as a few other great options in the area as well. What we loved about this is that you could walk to dinner, have a few drinks and then walk back. No one had to drive and you could immediately return to the room and get in to pajamas. Wild, I tell you.
If we weren't eating, we were doing this. I read probably about 10 magazines in those two days. And luckily my mom enjoys Bravo as much as I do. She really likes "that Nene."
I had been hearing amazing things about both restaurants run by the hotel, Birba and Cheeky's, but every time we had come to Palm Springs in the past, both had been closed. For the first night, we walked down a short path to the Birba.
The weather was amazing! High of 85 and sunny! We started with the Tricolore Salad that had fried garlic and was tossed in the most delicate olive oil and lemon juice for dressing. YUM!
My mom hates to have her picture taken but I managed to sneak her in as I was trying to take a photo of the rest of the patio (PS, this restaurant is pretty much all patio – perfect for Palm Springs).
Next we shared a pizza topped with potatoes, a whole bunch of cheeses and pesto. The crust was insanely good! I totally want to go back to try more kinds of the pizza. Had enough? Click through to read more!
And since I am my mother's daughter I also hate to have pictures taken of myself. But as I was going through my phone I realized that she had done the same thing to me as I had done to her. I had asked her to take a photo of the other side of the patio and so I am trying to lean out of the frame…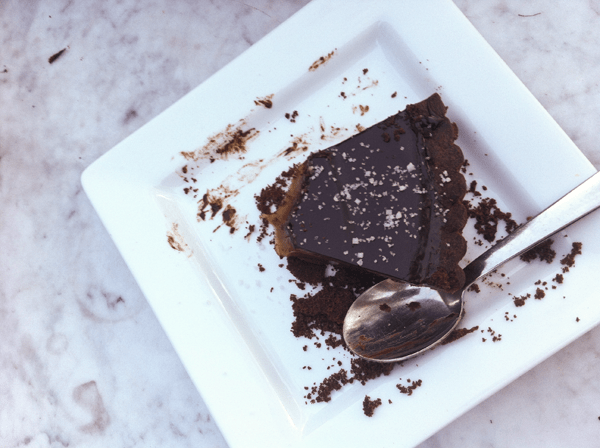 We ended this meal with the salted chocolate caramel tart. The caramel was so thick and the salt was so salty. How is that for the perfect food description. But for real, this was the perfect dessert to share.
Breakfast the next day was at Cheeky's. And it did not disappoint. We had a short wait, as apparently, this is THE place to be in the desert. I loved the decor and the staff was great.
The food! So good. Lots of the normal breakfast staples and then a few different things to shake it up. My mom got the chilaquiles above. Don't they look amazing! And they tasted great too! I got a scramble with squash blossoms and of course I had to get a flight of bacon. What is that, you say? Oh, you know it is five pieces of bacon each flavored differently. My favorite had a sweet glaze and rosemary. You MUST try it!
After breakfast, my mom and I got to go shopping. I'm not sure if you get the enormity of that. I got to go shopping. Without my two kids. And actually try things on. It was awesome! We shopped for hours but left with nothing! How dumb is that?! And then we headed back to the hotel for more magazines and reality TV. The best!
Like I said before, the Alcazar is a great location with great dining options. We ended up at Trio for dinner on our last night in town which is just about a block up Palm Canyon from the hotel. It had a great menu selection, a 3-course prix fix option and a nice little patio. I had the grilled veggie sandwich with goat cheese and it was divine, as were the homemade potato chips. There is also the Purple Palm Restaurant at the Colony Palms Hotel, which is on the street right behind the hotel. I've eaten there on previous trips and it has a really cool vibe, great cocktails and super yummy food.
Both nights we were back in the hotel and in pajamas by eight pm. That's how we roll. And I enjoyed every minute of it! But, um, you guys? What the heck is wrong with my elbows in this picture? Does anyone know a good plastic surgeon who specializes in elbow lifts?
Before heading home we made a quick stop for breakfast at King's Highway at the Ace Hotel. You guys, their parmesan hash browns are crazy delicious! And while I tried to resist stopping at Party Lab for things I don't really need, I couldn't leave Palm Springs without stopping at my favorite store. They have a fun selection of party stuff including a bunch of stuff that you don't see everywhere else. I really wish I lived closer to this store! I heard that there is a new owner and that a website is forthcoming so check back!
It was such a great, relaxing trip and I had such a fun time with my mom. I'm trying to talk her in to taking me on a cruise next…