This post was sponsored by Two Good by Light & Fit. All thoughts and opinions are my own.
Try these Yogurt Toppings combinations for your next mid-day or afternoon snack!
Yogurt is a great snack idea, especially on busy days. Full of protein and topped with some of my favorite flavor combinations, I'm ready to kick start my wellness and make better, intentional choices about what I eat.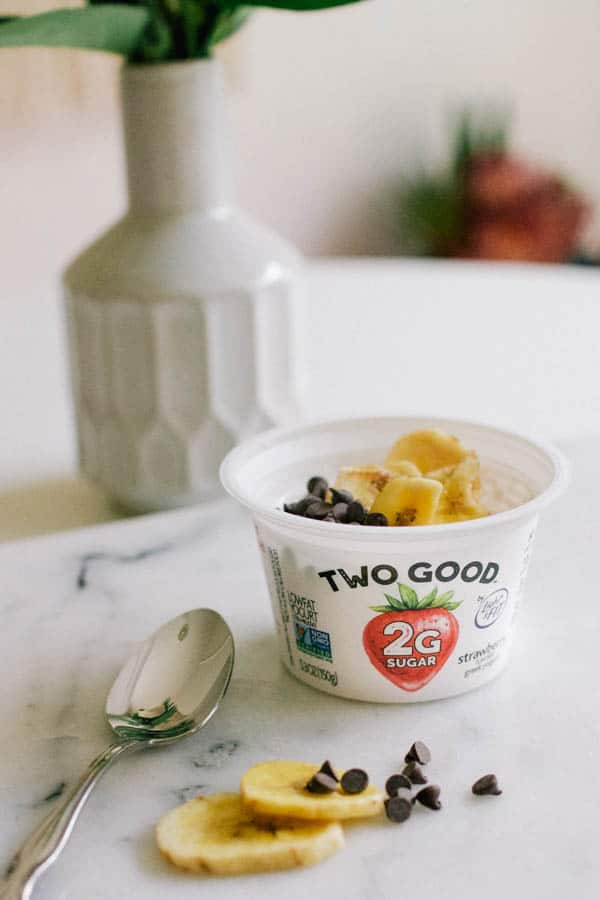 This post was originally published on January 5, 2021 and has now been updated with better tips for you to make the perfect snack every single time.
As I've gotten older, I've started to pay more attention to my nutrition. As a work-at-home mom, who spends a lot of time on the computer, I need to make sure that I make good choices with my diet (because goodness knows I'm not exercising as much as I should!).
I do pretty well with meals. I have a handful of healthy breakfast ideas that I make daily. Lunch is usually a salad with dark leafy greens and some chicken. And dinner is a pretty well-balanced meal that the whole family eats together. Snacks are where the wheels can come off the wagon for me.
The only way that I can ensure that I make the best choices is if I do a little bit of meal planning and make sure that I have good food on hand. I plan a weekly Albertsons trip to get everything my family needs.
I also make sure that I have easy snack ideas so I can stay on track easily. Two Good yogurt has 12 grams of protein and 80 calories per 5.3 oz serving. It's something that's easy to keep in the fridge.
And Two Good® by Light & Fit™ has 85% less sugar than average yogurts! I can't think of a better simple mom snack! Pick it up at Albertsons and save $0.50 off 1 Two Good Yogurt. Check out these yogurt toppings and mix-ins to make snack time even more exciting!
Because it's made using a slow-straining process that removes most of the sugar from the milk used to make the yogurt, it's a great snack option. I used to shy away from flavored yogurts because of the sugar content.
Two Good yogurt makes it possible to add it back to my diet, which means I won't burn out eating one flavor over and over again!
Yogurt Toppings to Try Right Now
The flavor on these Two Good yogurts is really subtle which I love! The texture is smooth and it's not too tangy (which is a deal breaker for me).
And because of the lower sugar, I feel like it frees me up to add some toppings and yogurt mix-ins.
Here are 3 pairings I created to inspire you to come up with your own delicious yogurt toppings for your next snack time.
Blueberry Two Good Yogurt + Toasted Coconut + Walnuts
Strawberry Two Good Yogurt + Banana Chips + Mini Chocolate Chips
Vanilla Two Good Yogurt + Diced Apples + Ginger Pieces + Cinnamon
These tasty yogurt topping ideas are just the start of the delicious flavors you can put together. What I love about the idea of adding some mix-ins to your yogurt is that you can tailor your snack to fit your specific dietary needs.
If you are trying to keep your sugar intake really low, you might want to skip the banana chips. Bananas are notoriously high in sugar.
Because Two Good has only 2 grams of sugar per 5.3 oz serving, I know I have a little room to play with topping choices. I'm always looking for ways to work in fresh fruit to my diet, so adding diced apples, or another fresh fruit, is a great idea.
Adding spices like cinnamon is a great way to add flavor without adding too many calories. While nuts are fairly high in fat, they contain heart-healthy fats, so it's totally ok to add a few.
And on those days when I'm too busy to worry about adding one of these yogurt topping combinations, Two Good tastes delicious on its own!
Plus, I love a brand that takes the time and energy to put a positive message on their packaging! It's a snack and inspiring pick-me-up all in one.
Two Good yogurt is my newest favorite grocery find and is helping me to stay on track with my diet plans.
Don't forget to download the Albertsons app so you can conveniently have coupons handy at checkout. And while you're at the store, be sure to pick up your favorite combination of yogurt toppings for your next snack break!