Looking for the best restaurants in Palm Springs? I've been traveling to the desert since I was a little girl and really started exploring the Coachella Valley as an adult on weekend getaways.
If you want to know where to eat in Palm Springs, this post was written for you. I'm not a legit restaurant reviewer. I just love great food, good atmosphere and superb customer service.
In my opinion, this is the best of Palm Springs dining. I update this list as I try new restaurants so check back!
My grandparents retired in the desert which meant that we spent tons of time in the Coachella Valley growing up. There is something so inspiring and restorative about spending a few days out there. I plan as many trips as I can, even if it is just a quick overnighter. If you aren't familiar with the area it can be hard to decide where to eat in Palm Springs. I thought I would share the restaurants that I think are the best in Palm Springs to help you plan your next trip. I have not had a chance to eat at every single restaurant in town, so please feel free to share your favorites in the comments!
When planning your trip to Palm Springs, you should be aware of the "seasons." During low season (summer) some restaurants close for a few months since business slows way down. Always check with each of these places before heading over to ensure that they are, in fact, open. It took me years to finally try Cheeky's because I was never in town when it was open! Some restaurants don't close for months on end, but modify their hours to suit slower business. It can be a bummer when your fave spot is not an option but my there are tons of other great restaurants in Palm Springs.
All the coffee
Sure, you can usually get a cup of coffee from your hotel lobby. But there are several coffee spots in Palm Springs with fantastic lattes and tasty espressos.
Whether you're looking for an independent coffee house or a chain, the Coachella Valley has you covered.
The best coffee shops in Palm Springs are spread along Highway 111 making it easy to get your caffeine buzz on.
Where to get coffee in Palm Springs
---
DO YOU JUICE?Palm Greens Cafe is a little spot located in a strip mall by one of my favorite thrift stores in the desert. This cafe serves organic, clean foods, free of additives and corn syrup. I have never eaten here but have gotten a few of their fresh juice drinks which were amazing! And I just love their recreation of the Endless Summer poster on their small patio. Suzanne Somers is rumored to bring her excess home-grown fruits and veggies here for the restaurant to use so they don't go to waste.
BREAKFAST TIMEKing's Highway
Breakfast is my favorite meal to eat out no matter where I am. These pancakes, at King's Highway at the Ace Hotel, might be the best I've ever had. For serious. This is one of my favorite breakfast restaurants in Palm Springs. They are open for lunch and dinner as well, but their breakfasts always kill it. The food is great, the atmosphere, with its 70's macrame art and hipster clientele, is always fun people watching. The rattan elephant on the wall is a great photo opp.
Their menu is diner-esque but with modern, foodie twists. This Coffee Cake french toast was kicked up with the basil shortcake bread and a lemon caramel sauce. YES! Tasted as good as it sounded. We come here even when we are not staying at the hotel. It is worth it. And the location is easy to get to from downtown Palm Springs and the Saguaro farther north.Cheeky's
Cheeky's is another favorite breakfast spot in Palm Springs. It is VERY popular and the wait times can be long, but in my opinion, totally worth it. I always try to go on an off time to beat the crowds. The interior of the restaurant is really small with not a lot of tables. They also have an outdoor patio but as you might be aware, the Palm Springs heat can be rather oppressive. This restaurant has a bacon "flight" of 5 flavored slices of bacon that you HAVE to get. It's so good! The menu is fairly small but delicious. They serve chilaquiles (yum!) the most fantastic yogurt parfait and delicious fresh juiced blends. Cheeky's is open for breakfast and lunch only. I adore the decor. From the orange chairs to the bright wall art the restaurant is casual but cool and fun.Farm
This little hidden gem, Farm, is another one of my faves. Their site describes it as a "Country-chic crêperie serving locally sourced, French & Spanish-inspired fare in a secluded setting." The restaurant is tucked back behind some retail stores and next to a tiny outdoor wedding chapel. Open for breakfast and lunch, they are a quiet, comfortable change of pace to the high design and hip spots elsewhere in Palm Springs. They serve French presses to each table to brew your own coffee and have great savory and sweet choices. This mushroom Swiss crepe was SO good. And they have some sort of banana brulee'd french toast with a bourbon sauce that will make you cry.Wilma & Frieda
I had been hearing good things so on a recent trip I made a point to try out a place called Wilma and Frieda. Since we mostly stay closer to downtown when we go to Palm Springs, this restaurant is a little out-of-the-way in Palm Desert. But on this trip, we stayed in Indian Wells and this was about 10 minutes away. Wilma and Frieda is only open until about 2 pm every day and is THE place to go for breakfast or brunch. It's on the 2nd floor of the open air mall in the El Paseo area and they only take reservations for parties of 8 or more which means there WILL be a long wait. But it is SO worth it! They have the most amazing baked goods including these homemade pop tarts which they offered in three flavors. It was crazy good! And they serve my favorite unsweetened tropical iced tea so that makes them a winner straight away in my book. My girlfriends and I decided to order three things that sounded amazing and share them all. I encourage you to do this so you can try more of their dishes. And the tater tots!!!! Best ever. We ate here two days in a row because we couldn't get enough. They allow you to put your name in and leave a cell phone number so you can wander around the mall while you wait. We put our name in and then walked to the Starbucks across the street to hang out which worked out perfectly. It kept us out of the heat and we got our morning caffeine fix.
There are several great coffee spots in Palm Springs. All have baked treats that you can grab on the go and delicious coffee.
LUNCH BUNCHAppetito
Appetito is a fantastic lunch spot! It's located right across from The Ace Hotel and I can't get enough of their food.
The decor is cool with a nod to mid-century modern. The dining room is bright and airy and the staff is fantastic. They have a small bar near the rear of the building that has great happy hour specials.
The shishito peppers are super yummy. Just know going in that 1 in 10 is super spicy. Found that out the hard way. But that won't stop me from eating them. The flavor is amazing! The menu is great for sharing and, trust me, you'll want to try as much of the food as you can. These meatball sliders are an absolute favorite of mine! And the fresh pasta on the menu will make you wish that this restaurant was right down the street from your house. I would absolutely be a regular here if I lived in the desert. The staff is super friendly, helpful and all around fantastic. Reservoir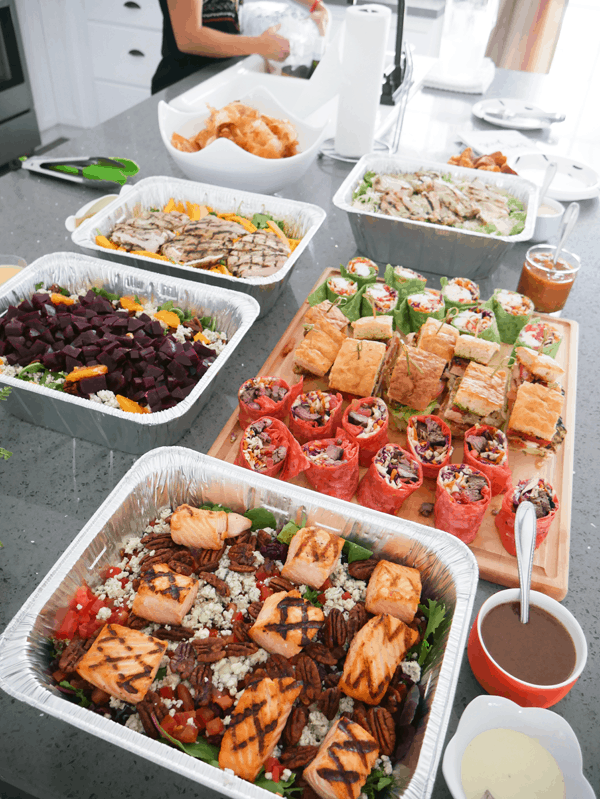 When the Arrive Hotel opened, it was the new cool spot and I couldn't wait to check it out. While I haven't had a chance to stay there yet, I did get to have lunch at their restaurant, Reservoir. You'll the love the patio with its colorful tiles and rustic wood. The pops of blue keep it fun and interesting. Their menu is fantastic with familiar dishes done in a new way. Check out this slider trio where you can mix and match different flavors, like the ahi tuna. Yum! And my carne asada tacos had french fries IN it. So that's right up my alley. Plus they have a great beer and wine list. This is the place to go with your best gals as you head in to town for a weekend visit. Kaiser Grille
Each year, I co-host a creative blogger retreat to Palm Springs and this past year we were lucky enough to have Kaiser Grille provide lunch for us. The above photo shows the delicious sandwiches, wraps and salads they provided. The food was AMAZING. All the attendees raved about it. It really made me take note and put it on my favorites list of places to return to next time I'm in the desert. They make homemade potato chips that are ridiculously delicious. While I can't speak to the service and experience of dining in the restaurant, their food was exceptional!
DO IT FOR DINNER
Workshop Kitchen and Bar
A favorite dinner restaurant in Palm Springs is Workshop Kitchen and Bar. It's in the north part of town tucked back in the small courtyard of a cool retail center. The decor is amazing. Concrete tables, slick light fixtures and an industrial feel comes off welcoming and warm.
Their craft cocktails are delicious and have a great little wine list too. And then there's the punch. You can't not get the punch. You must have at least 4 people in your party and know that you WILL need a driver. It's crazy good. And then there is the food! All of it. So good. The menu features names and locations of the local ingredients. And there is something to please everyone. The best thing to do, in my opinion, is to order several items and share them amongst the table. That is always the best way to get to taste all the things that sound good to you.Rio Azul
Rio Azul is a local favorite for Mexican food in the desert. Their house margaritas are delicious and you'll want to order them by the pitcher. The ambience is not high design and has a dive bar feel, but their food is crazy good. I can't wait to go back for more of the sweet corn tamales and their homemade churros! Birba
Another favorite restaurant in Palm Springs is Birba. Birba is owned by the same people who own Cheeky's and is literally right next door. This restaurant is all outdoors except for the covered bar area. The atmosphere is cool and it's rad to be able to dine outside under the canopy of trees. There are nice little fire pit areas to relax around as you wait for your table or just order some apps with your friends and chill there. Their pizzas are delicious! This one was a potato pizza that I had a few visits ago. SO tasty! Their Brussels Sprouts are a must. As is the heirloom tomato peach salad. OHMYGAWDSOGOOD. And I just found out that this same restaurant group also reinvented Mr. Lyons. I don't know much about it other than they have a Lounge and a Salon and it seems like a steak house with a great happy hour vibe.
Trio
Trio is a great spot, near Workshop, for a great meal. This burger was delicious, as were the homemade potato chips, and Mac and Cheese entrée. This is also a great place to come for a night-cap. The bar area is low-key, dim and has a great selection.
Las Casuelas is a small chain and can be found throughout the desert cities. If you haven't been, it's a must. Put this on the top of your list. Their food is fantastic. Their chips are thin and crispy and the guacamole never disappoints. Margaritas, duh. This is a great place for lunch or dinner and the atmosphere, especially at the location in downtown Palm Springs, is really fun. They have live music on certain nights and weekends are especially boisterous.
DRINKSBar
If you are looking for a great bar to check out, head to Bar. Yup, Bar. They serve craft cocktails and have a really cool vibe. I loved the music they were playing and it feels dive-y without being scary. These bartenders know their stuff and can guide you to the drink that you would enjoy most. I had a ridiculously delicious Old Fashioned here and am looking forward to my next visit.
Bootlegger Tiki
This tiny tiki bar is only a few years old but it's a real good time. They serve several types of punch and the decor is totally kitcshy. We hit this place before dinner (we're old) but I'm sure it's a great after dinner drop in as well. The bar literally seats about 4 people and there are just a few booths. It looks like there is also a small patio, perfect for those warm summer nights. This is located behind (like, you walk through Ernest Coffee) to get to the bar.
ALSO WORTH NOTING
If you have the time, and a fat wallet, check out Norma's at The Parker. I've had breakfast and lunch here and the food is really great. But SO pricey. Sure you start off breakfast with a little smoothie shot, but dang. I think they have also started posting a guard at the door to the property so no more strolling around checking out the croquet field. But you have to go at least once to experience the hotel just know you will feel like you can't afford to pay your car bill next month. (slight over exaggeration…)Lulu is a bistro located right in downtown on Palm Canyon. They serve a nice little breakfast and have a great atmosphere. They have a pretty standard menu but it never disappoints. I've heard that if you are looking to do a bachelorette party up right, they can cover you there too. Although it sounds a little too risqué for me. You will find none of that during the breakfast hours.El Jefe at The Saguaro Palm Springs is a great place to stop in for an afternoon margarita and snack or late night shot. I've never seen it busy, which I prefer, so it's fun to bring your own friends and have a little fun. The Duck Queso Fundido is UHmazing. And the tacos! It's a great light bite with fantastic flavor!On our most recent stay in the desert we tried out BluEmber, which is on property at Rancho Las Palmas. Not knowing there was a large shopping center directly across the street from the hotel, we decided to try out the hotel's fine dining restaurant. We were happily surprised to find that we had an awesome experience and ended up eating there the next night too. The kids dined with us both nights and were not out-of-place at all. In fact, the restaurant had a kid's buffet set up, that both my kids LOVED (and my kids can be really hard to please)! And they had a summer promotion going on where the kid's eat free when the adults order entrees. Not a bad little deal! At the same time, they had a special summer deal for a 3 course meal for $30. The first night I started with the Cesear salad, then had mushroom ravioli and ended with strawberry shortcake. YUM! The food was delicious, the service was fast and it was an awesome find especially great for families.
I don't have a photo for it but you also should check out The Purple Palm at the Colony Palms Hotel. I've had breakfast and dinner here and it's delicious. The restaurant is set behind the pool so you can eat on the patio or inside the dining room which is decked out in printed wall paper and has a bit of a Moroccan vibe. The food and service is perfection.
Also check out Mr. Lyon's. I know I mentioned it above in terms of design but it's a gem. There is a lounge and dining room, with slightly different menus and an old-school rat pack type vibe.
Man. This post makes me want to go to Palm Springs. And eat.
What are your favorites? Leave your go-to spots in the comments so I know where to check out on future visits!