I wasn't going to have a birthday party for my 3 year old this year.  You know, just save the parties for the milestone birthdays.  That lasted a few months but as my son's birthday started getting closer, ideas just kept popping in to my head.  I knew it wasn't going to have a theme per se. It was just going to be an old school birthday party.  I just wanted it to be like a party from when I was growing up, with balloons, cake and confetti. I used a very simple invitation that was basic and cool.  At the beginning planning stages, I only wanted the party to be black and white.  That didn't last long because apparently I love all the colors.  P.S. These amazing photos, unless otherwise noted, were taken by Dez and Tam.  They are super awesome and I love them.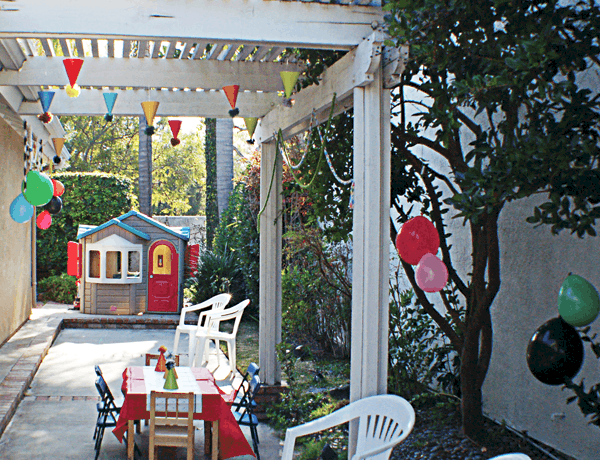 I kept the decor pretty simple for this old fashioned style party. Of course we had to have balloons. I decided to hang the balloons to change up the usual look. I didn't need any helium either! I tied the balloons to some black and white bakers twine and added some party blowers for a little flair. 
I also hung party hats from our patio cover. I added simple yarn poms to bring in more color. Party hats are a staple at birthday parties but hardly anyone keeps them on. They work much better as decor in my opinion! I wanted some garlands but didn't want to use the paper kind. I used yarn to finger knit garlands in all kinds of colors. It was a fun look and made it feel homemade.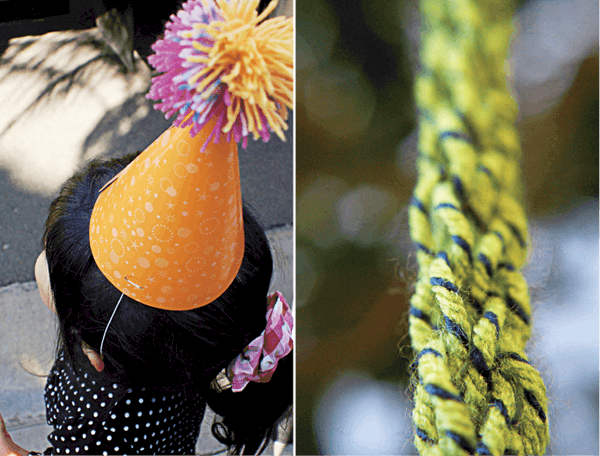 I kind of have a thing for yarn, can't you tell. There are so many textures and colors to choose from and you get a lot of it for (sometimes) very cheap. I finger knitted the garlands while watching TV (I watch a lot of TV).  I loved that they seemed sweater-like which made them the perfect winter garland. The are also reusable which is pretty cool! 
I really love how this simple happy birthday banner worked out. It looks perfect with the yarn and black chain I draped. I used a bold black and white Ikea fabric as the tablecloth and then added in color to the food table in a few different ways (2 of which you'll see below!). I'm a big snacks person at parties. I hardly ever serve a full meal. And, yes, most of the time they are of the sweet variety. But if you look carefully to the far left of the photo there are grapes and carrots.  So there.  Fruit and vegetables, represent!