Portland. Have you been? My husband and I recently spent 5 days there and got to explore. And eat. Mostly eat. When I knew I was headed to Portland, I reached out to a blogger I know from the area, Sam Rosen. I asked her if she wouldn't mind sharing some of her favorite spots with me. Because she is awesome, she put together a really comprehensive list of places for me to try, organized by neighborhoods! Check out her Portland recommendations here. Be sure to pin it to save it for later! And today I am sharing places to eat in Portland with you based on our favorites from the trip including tons of spots from her list.
This is a map of Portland that I found on my last day in town. This is why knowing things by neighborhood is a great idea and this would have been so helpful to have for the whole trip. I used a big old Triple A map while we drove around. Do you guys remember how hard those are to fold back up? When I had it open in the car it basically took up the whole front seat of our rental car…And I apologize in advance for the post full of mostly iPhone photos. Wait, I don't apologize, that is how the trip played out and I was experiencing things and not worrying about photographing them correctly. So there.
There are a bunch of hotels in downtown Portland to choose from and is a really great spot to stay. It is pretty centrally located to everything and finding restaurants and things to do within walking distance of the hotels is really easy. We stayed at the Heathman Hotel, which was really nice. Apparently this is the hotel where the Fifty Shades of Grey characters had their trysts in the book. So there's that. This hotel was in a great location and their restaurant and bar were delicious. There's also a chocolate cafe attached to the lobby which serves hot chocolate and coffee beverages as well as fine chocolates. Go there. One thing to note about the Pacific Northwest: they love their coffee. And local products. Each room at the Heathman has french press for their coffee service. As I am not too familiar with french pressing it was a little daunting. And messy. But delicious. The hotel decor is fairly traditional but nice, and felt upscale. And the staff was super nice. Another note about Portland: everyone is SUPER nice! From the staff, to downtown bums to drivers, all of them were nice!
Other hotel options: The Hilton (where my husband has stayed for business several times and says it is a great option) and the Ace Hotel (SUPER cool atmosphere. Sometimes a large price tag).
Places to Eat in Portland
One of my favorite things to do when traveling is trying all the food spots I've read about! This trip was all about eating and lucky for us, there are all kinds of amazing places to eat in Portland. And coffee. Tons of coffee places in Portland. We were so lucky that the weather was really lovely for the most part. But it is still pretty darn chilly. A cup of nice hot coffee was always the perfect choice. Sam suggested Heart Coffee and Blue Star Donuts to me so one morning I took a walk around the downtown area and tried both. I think there might be an east coast/west coast style battle over whose donuts are better between Blue Star and Voodoo Donuts. I didn't get a chance to try Voodoo Donuts but I have to say that Blue Star was AMAZING! The flavors were inventive and SO good. That is a passion fruit donut above with cocoa nibs. Best donut I've ever had. It was messy and wonderful and I inhaled it. I ate several others (yes, several) and they were all delicious as well. The atmosphere of Heart Coffee was modern and clean and super hip. As were the employees. But the difference with hipsters in Portland compared to anywhere else is that, again, they are SO nice! Portland as a whole, is the friendliest place I have ever been.
You guys. Pine State Biscuits. Do it. You know I had to do a breakfast sandwich and try one with honey butter. Just a note, you will smell like biscuits for the rest of the day. But is that a bad thing? This place started out as one of Portland's well-known food carts and then opened up shop in a legit restaurant space. Be prepared for lines. But oh my gosh. So worth it. We actually didn't try anything from any of the food carts but everyone couldn't recommend them enough! There was a really wide variety of carts all over downtown and the other neighborhoods ranging from breakfasty to all kinds of International food.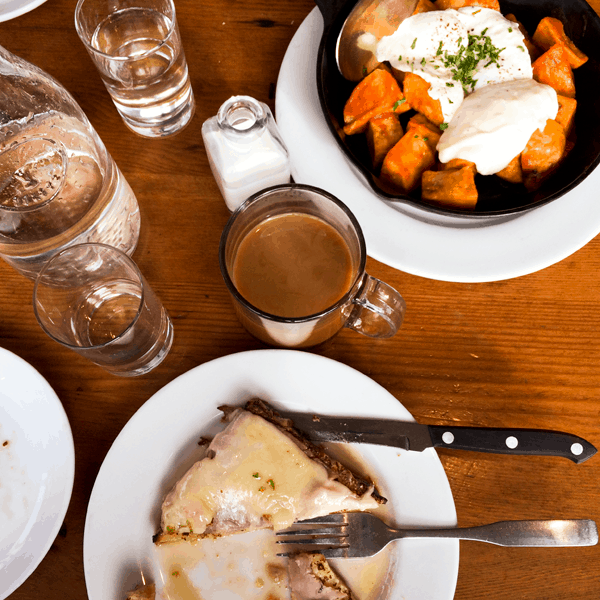 Tasty n Alder. We heard that dinner is really great here but we ended up there for brunch. There can be a bit of a wait but they will call you when your table is ready so you are free to roam around. We put our name in and then walked over to grab a cup of Stumptown Coffee from the Ace Hotel And then it was our turn for breakfast. Order everything. It's all delicious and it's too hard to choose just one thing. And when you see patatas bravas on a menu you have to order them, don't you? I hear dinner is all about meat. Big cuts of meat. We considered early birding it one night to miss the wait but finally decided on trying out something new instead.
Grassa!!!!!!! We had headed to Lardo on our first night in town on the recommendation of a few different people. But I was in a mood and we decided to try Grassa, right next door to the Lardo downtown, instead. The place is pretty tiny with four booths and two long communal styles tables in the center of the restaurant. We managed to find the last two seats at the counter seating attached to the working kitchen. This place is all hand-made pastas and love. Mine was fresh pasta with truffle butter, sea salt, black pepper and grana and was SO GOOD. But then I tasted my husband's Pork Belly Mac and Cheese and it was even better!!! The atmosphere was loud but fun. This was definitely one of my favorites.
Other Places to Eat in Portland That we Tried
Laurelhurst Market – They are all about meat here. For dinner it was dimly lit with a nice energy. The design was cool and low-key, leaning towards industrial. Our meal was really great and this would be a great place to meet friends out for dinner.
Picnic House – This one is downtown and is eclectically decorated. We tried them out for lunch and while I'm not a sandwich person, the shaved turkey with white cheddar and green apple rocked my world!!! SO delicious. And I paired that with their mushroom soup…I could have eaten that meal over and over. This seems like a great spot to meet friends for lunch or to do an early dinner out for date night.
Jackknife Bar – One night I got to meet up with a few Portland Bloggers (A Well Crafted Party, Moments by Macey, The Spicy Bee), for dinner and drinks. They chose Jackknife downtown and it was super cool. It's a bar with great cocktails and a dark, cool vibe. You order your food at the bar and they bring it to your table but that is about where the service ends. But it works. The burger was fantastic and the Brussels sprouts were a total thumbs up. P.S. there are tons of great bloggers in Portland! It was so fun to get to meet up with these gals!
Irving Street Kitchen – This place is in the Pearl District downtown and is awesome. Loved everything about it from the rough wood tables to the fried chicken. This restaurant was really spacious, especially compared to some of the other cramped downtown spots. There were three of us for dinner that night so we ordered a few different items to share including a dish with octopus and another with short ribs. Loved this place. Also heard it was great for brunch.
For more casual meals I highly suggest Little Big Burger. I got to meet up with Jessica from Modern Moments Design (who I had just met the week before at Bash Conference) for lunch one day and this is where she suggested. It has a very small menu, a la In N Out, but their signature fries have truffle oil. Enough said. It was delicious!
Portland is still having a really big Brussels sprouts phase. They were served at pretty much every restaurant we went to. And full disclosure, I ordered them almost every time. Because apparently I'm having a Brussels sprouts moment too. These (shown above) were from Tasty n Alder and had a sweet, sticky, savory Kung Pao like sauce. I need to recreate this. They were out of this world!
Like I mentioned, coffee. You just have to try Stumptown in The Ace Hotel (where my husband offended every single employee when he made a joke about them looking like Sleater-Kinney). As far as I know, we only have one place in Orange County that serves Stumptown and it's crazy good so I knew I had to try it in its hometown. So good. This is where I got to meet up with Sam Rosen one morning. It was really fun meeting her and getting to hear more about the area. The hazelnut pop tart also did not disappoint. And you know The Ace Hotel is going to be designed well so be sure to at least pop your head in.
See See Motorcycles is a must when you need a coffee break. Part coffee shop, part motorcycle shop, the vibe is cool, the art is cooler. And motorcycle merchandise would make a great souvenir from the trip. I really wanted a coffee mug but it was heavy and I knew my luggage was just about maxed out…
I saw Saint Cupcake on the Cooking Channel the week before our trip so I immediately put it on my list. You know I love a good cupcake. It was a short walk from our hotel so I grabbed a couple to snack on. Delicious, of course, and I loved the orange and white palette of the shop. Do not pass this up if you pass it on the street!
Oh Salt and Straw… The lines are SO long but you have to do it. Luckily there are a few of these around the city so you can try to figure out how to miss the wait. I highly recommend the location we went to NW 23rd. It's the most adorable neighborhood with lots of fun little shops and a great atmosphere. It was the perfect place to spend a sunny Sunday afternoon. And of course you have to do a taster. Keeping in mind it is probably a good idea to share the taster as it really is 4 scoops of ice cream… I tried Honey Lavender, Stumptown Coffee and Burnside Bourbon, Almond Brittle with Salted Ganache and Sea Salt with Caramel Ribbons. FREAKING AMAZING. If there is one flavor that sounds good to you and whoever you are traveling with, skip the lines and grab a pint from the freezer, that gets you priority for checking out and you get to eat your ice cream faster.
And if you are looking for a great spot to grab a drink after dinner, go back to Clyde Common at the Ace for their punch. You can't pass up punch.
Also check out Barlow for some of that cocktail fanciness with dry ice flourishes and an old-timey vibe.
Where to Shop in Portland
You must track down Quin candy in Union Way Mall (this is not a mall in the traditional sense. It's a really cool corridor across from The Ace Hotel with cool little boutiques including Quin candy). Quin is a small shop that features artisanal candy with super cool packaging. It's on the pricier side for candy but worth every penny.
Grand Marketplace is the place for you if you love thrifting and searching for vintage treasures. It's a large warehouse space with stalls run by individuals selling their finds. You could spend hours in here going through the vintage toys, decor, and clothing. There are some new items, as well, like the cool planters above and small gifty items like candles and stationery.
Cargo is a super cool shop to spend time in. There are party supplies, imported items, jewelry, apothecary items, furniture, and so much more! Give yourself time here to browse and not rush through it. I ended up with a few fun things to bring back to the boys and a few photo props. There is also a party supply shop right across the street but I didn't have time to run in and check it out. I really need to go back and finish the to-do list I had.
And if you have boys or like to shop for boys, you need to check out Boys Fort in downtown. Everything inside is masculine and cool. It covers everything from gift items to home decor pieces. It also shares space with a florist and is another place you should give yourself a little bit of time to explore so you don't miss anything. The Archie's Press maps, from earlier in the post, were found here.
Things to do in Portland
You guys! There is some great wine from the Willamette Valley so you can either head a little ways out of town to do some formal wine tasting or find out if they have any wine rooms in town. What I did was just try to talk to as many people while we were dining out to find out more about the local wines. I was pleased to find out that they make pretty great Sauvignon Blanc locally (my fave) but a Pinot Gris was what you found most often. My fave Sauvignon Blanc was by Andrew Rich.
There is really cool street art all over Portland. I'm sure there is a map or guided tour of it, but if you just keep your eyes open as you explore, you are sure to find some. This particular wall (right by Pine State Biscuits) said, "you are confined only by the walls you build yourself." Truth.
We got to go to a Trailblazers game while we were in town. It was really fun. They served local wine, Salt and Straw ice cream and a lot of other local favorites in the stadium. There is also a popular soccer stadium near downtown that I heard a lot about while there. So it sounds like your professional sports cravings will not be a problem here.
I'm not a hiker. I'm not a nature lover. I don't love to go to parks. But oh my gosh. We drove around several and they were all gorgeous and magical and forest like. I really felt like you were about to see a fairy or troll at any minute. This one is Mt. Tabor which we caught on a fantastic day with ridiculous lighting. And I HIGHLY recommend checking out Forest Park. Although we didn't even get out of our car to explore (I knew Salt and Straw was close and I wasn't about to postpone ice cream eating for walking around, puh-lease) but you can just tell its crazytown awesome. The neighborhood surrounding it is not to be missed. The houses were so pretty!
And you should probably go check out these huge Adidas shoes which can be found at the Adidas North America offices. I don't care how old you are, huge shoes are exciting.
I really loved my Portland visit. I hope we end up there again in the future. We were totally lucky with the sunny days and only minimally misty mornings. We met some awesome people and had a really great time exploring. What are you favorite Portland spots? I SO appreciate Sam for taking the time to list out the places she thought I should see. It made it way less overwhelming than trying to figure it out on your own! So now I'm paying it forward and sharing these awesome places with you. Where are your favorite places to eat in Portland?
Looking for more travel? Try these posts:
Family Vacation to Rancho Las Palmas in Palm Springs