I'm not a fan of traditional perfumes. They tend to give me headaches and I hate feeling like I'm walking around in a cloud of stink that I can't get away from. Essential oil perfume, on the other hand, is much easier to wear and my sensitive nose doesn't mind it. Aside from the handful of the Le Labo perfume samples I like, these are my go-to scents to wear daily.
I always share things that I love and think you will like too. This post contains affiliate links, which means, if you make a purchase from one of these links, I am compensated.
Essential Oil Perfume to Wear Daily
Yes, I'm one of those people that love essential oils. I use my DIY oil diffuser around the house (and my lava stone aroma diffuser in the shower) and it makes me happy when I come home to a house that smells like fresh lavender. So finding essential oil perfume was awesome. They don't sell it everywhere, so you have to keep your eyes open for it.
I love that the scents are generally fresh or musky, which I prefer, and don't smell different as the day goes on as some traditional perfume does. I hate when you put it on and it smells great then a few hours later, the scent smells a totally different way.
Lavender Based Perfume
This Good Vibes Oil from Moon Rivers Naturals is my favorite! I would say it is a lavender based perfume but is mixed with other essential oils to make it more than just one note. Sometimes I think this one wears off too fast, but then I'll stop in a store and someone will comment on how lovely I smell. This one comes with a little dropper and I just add a little bit to my wrists and neck.
My 9-year-old son also loves this one. I bought one for him and put it in a rollerball so he can take it with him to school and apply it when he wants to. You know how some fragrance can have that cloudy, powdery smell?? This one doesn't. It's a great one if you're looking for something fresh that can be unisex.
This company also just came out with two new oil blends that I'm dying to try, High Vibes and Night Vibes. Each bottle has pieces of gemstones too so you feel like a fairy goddess.
Essential Oil Perfume Spray
This essential oil perfume spray is a bit more feminine but still fresh. It has a super clean smell, with a touch of baby powder, which in this case, I don't mind. I tend to like citrus fruit in my perfume and this one is a little bit orange-y. If I am re-wearing a shirt that might not smell the freshest (it happens), I like to spray this on and then I feel put together and ready to go.
Mbeze is a natural skincare brand that has several different fragrances. I tried all of them and while they were nice, I totally gravitated towards this one called Sweet Sanura.
Essential Oil Perfume Roll On
I found these essential oil perfume roll ons by Kuumba Made at Whole Foods and love that they have testers so you can try out the scents and see which you like best. For these, I was looking for something a little "hippie" smelling. Both of these are great. I love patchouli but sometimes it can be WAY too overpowering. This Tunisian Patchouli is not. And the Amber and Sandalwood is musky without being rough, if that makes any sense at all (you should hear me describe wine…). I couldn't find that one to link but here is another Sandalwood scent that isn't too different. There's a bit of a floral note that I really like, too.
With these little perfumes, I get my hippie vibes and can try a bunch of different scents since they are small and inexpensive. I remember a coconut roll on I would like to investigate further…
These are the essential oils perfumes that I wear daily. They are all inexpensive and smell awesome! These are also a great gift idea for your girlfriends. Perfume is definitely one of those things that you like to buy yourself but these seem versatile and like they would appeal to a wide audience. If you know your friend likes essential oils, they will probably like these perfumes as well.
Shop Essential Oil Perfume

You may also like these posts:
How to Make Your Home Feel More Like a Spa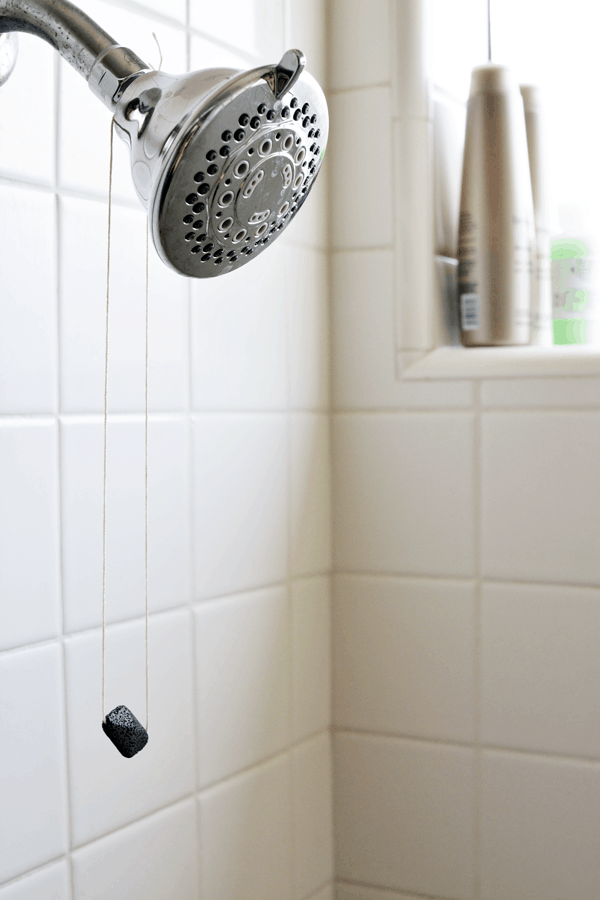 How to Make an Aroma Diffuser for your Shower