I wasn't going to have a birthday party for my 3 year old this year.  You know, just save the parties for the milestone birthdays.  That lasted a few months but as my son's birthday started getting closer ideas just kept popping in to my head.  I knew it wasn't going to have a theme.  It was just going to be an old school birthday party.  I just wanted it to be a birthday party, with balloons, cake and confetti.  I loved the printables Jenny created for The Sweetest Occasion so I had Lauren help me whip up an invitation inspired by them.  At the beginning planning stages, I only wanted the party to be black and white.  That didn't last long.  Apparently I love color.  P.S. These amazing photos, unless otherwise noted, were taken by Dez and Tam.  They are super awesome and I love them.  P.S.S. this post is crazy long.  You better get started.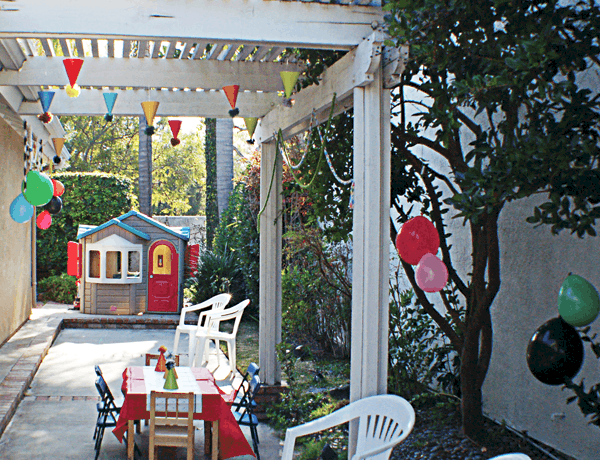 I kept the decor pretty simple.  I hung balloons and party blowers from black and white twine.  And hung party hats and garlands around the backyard to keep it festive.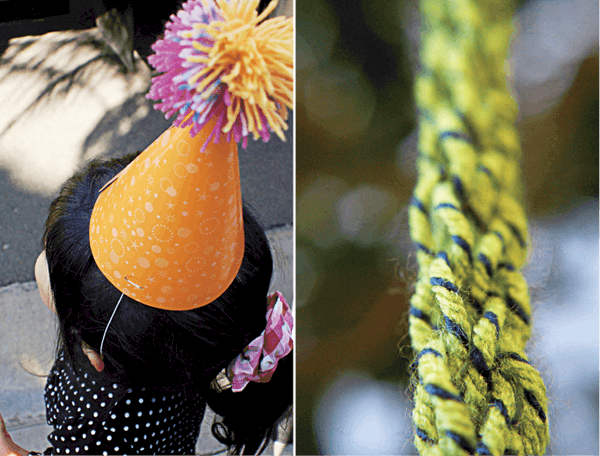 I kind of have a thing for yarn.  There are so many kinds and colors to choose from and you get a lot of it for (sometimes) very cheap.  For this party I had seen a post about finger knitting and became obsessed with it over the holidays.  I finger knitted all the garlands for the party while watching TV (I watch a lot of TV).  I loved that they seemed sweater-like which made them the perfect winter garland.  And I wanted to add lots of colors so I made all kinds of poms for the hats.
I really love how this banner worked out.  Totally simple and not perfect.  I like my parties to be a bit unfinished, not too perfect.  I mentioned to my sister-in-law that maybe she could try to write my son's name in yarn and she totally did it!  She is a crafty crafterson (she started this blog with me WAY back).  And it looks awesome.  I'm a big snacks person at parties.  Yes, most of the time they are of the sweet variety.  But if you look carefully to the far left of the photo there are grapes and carrots.  So there.  Vegetables, represent!