*This post is sponsored by Rich Products as part of their Give Bakery Because program.  A grocer's bakery is the convenient and ideal location to purchase delicious baked goods that can be customized for any gift giving occasion.  Rich's and I encourage you to head to your local in-store bakery the next time you need delicious, sweet treats – or just because.  But all these opinions are mine.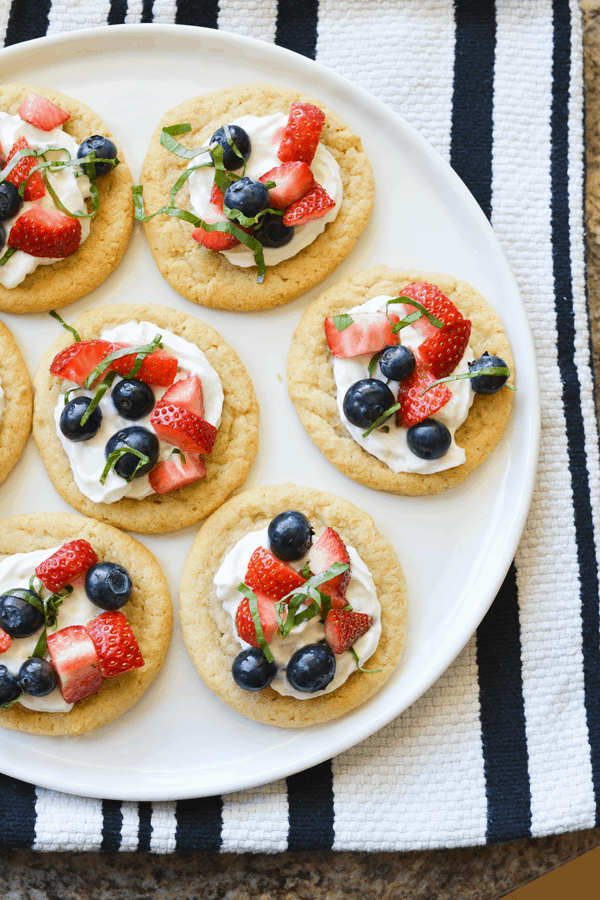 How is 4th of July in a little over a week?!  Life is moving too quickly for my taste.  I think we all just need to slow it down and make sure we are taking time to enjoy life and spending it with the ones we love.  I'm really looking forward to our annual block party on Independence Day.  It starts with a city-wide parade where the kids participate by riding their decorated bikes and throwing (and subsequently picking up) lots of candy.  Then we chill for a few hours and then head down the street to hang with the neighbors and a HUGE bounce house/ water slide/ ER-visit-inducing contraption.  Everyone is supposed to bring items to share.  I hate just bringing chips.  I always feel so lazy setting those down when the cute gals from around the neighborhood show up with crazy delicious homemade brownies and cookies, etc.  And while I want to step up my potluck game, I still don't want to spend a lot of time on it.  The perfect solution is starting with a store-bought base and then adding my own touches.  This year I'll be bringing a berry, basil dessert bruschetta (served on the perfect store-bought sugar cookies).  Boom.  Fruit desserts are perfect for summer.
You only need a few ingredients for this dessert and they are so yummy!  I also love that you don't really need any serving utensils for this and they are super easy to grab.  Start by cleaning your fresh berries (for this I used strawberries and blueberries but of course you can add others – raspberry seeds freak me out and their color is not patriotic enough for me but if you want to use them, I guess YOU can) and rinse your basil (Mint would be another good option but use your favorite fresh herb.  I find that the fresh herb helps to cut the sweetness of the berries and cookies a smidge).
I chopped my strawberries and put them in a bowl.  I decided to keep the blueberries whole for their color and have you seen the insides of a blueberry?  Off putting.  It makes me think of zombies.  Which is not super appetizing in terms of dessert presentation.
Once your fruit is prepared, and you have added your chopped herbs (mine are chiffonaded because I'm fancy like that.  I also make up tenses of words) toss it altogether and grab your store-bought cookies.  In this case, I added some store-bought whipped cream to the cookie first and then piled on the berries.  If these are going to sit out at all, though, you might want to let guests add the whipped cream themselves as it can melt.  These could easily be set out as a "station" so people could make them themselves.  For a do-it-yourself bar, I would put the bowl of berries on top of a bowl of ice and keep the whipped cream in a wine chiller.  Then set the cookies and a spoon and your job is done.