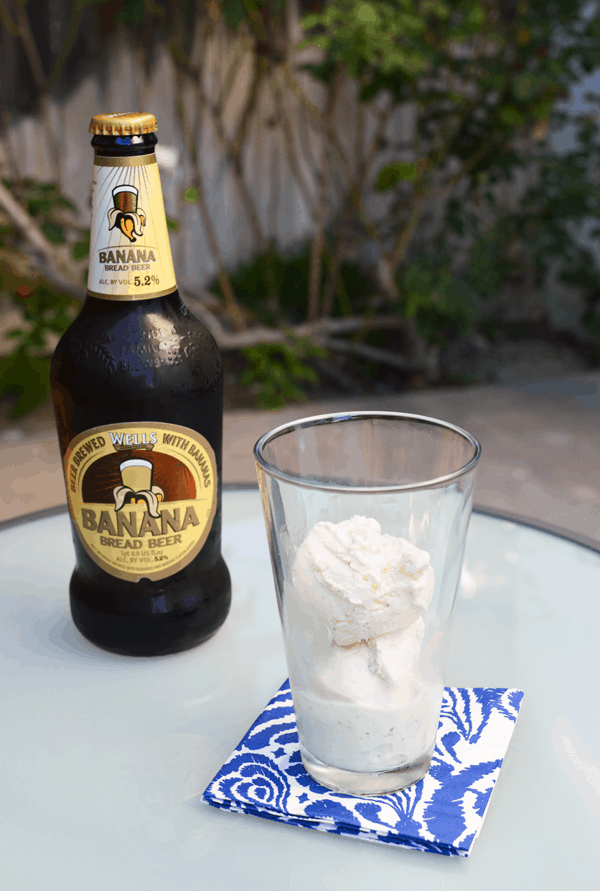 Do this.  For real.  Beer floats are kind of amazing.  And this one, with banana bread beer(!) is super yummy.  I was thinking these would be fantastic for Father's Day celebrating.  Or a man's birthday.  Or Saturday.
My local supermarket has been carrying craft beers for the last year or so, so I didn't even have to go track this down any where fancy.  They also have a chocolate stout version (which I used here) that is GOOD.  There is no recipe for a beer float.  Add scoops of ice cream, pour beer on top.  Drink. 
It's dessert and adult beverage in one.  I don't see why you wouldn't have one of these on a balmy summer night.  Have you ever tried a beer float before? 
Just like a regular float, the beer foams up when you top the ice cream.  But please drink responsibly, and by that I mean make sure the kids know this is not a root beer float.  And don't drink and drive.  And don't drunk text.